What is Ear Infection For Dogs?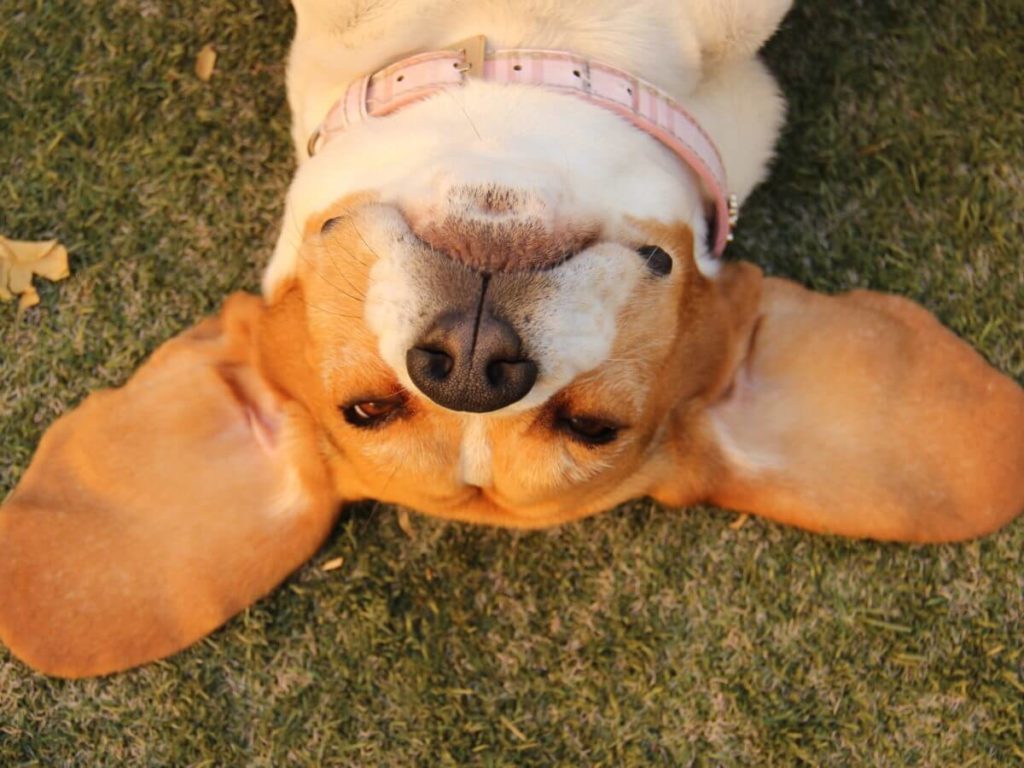 Source: rd.com
Now, first of all, we need to understand the ear infection that your dog can have as a human ear infection can be quite different from that of a dog's ear infection. A dog can have an ear infection in one or both ears and that can take place in any part of the ear through the symptoms would be kind of similar. A Dog Ear Infection is one such problem that dogs often face and it can be very painful for your paw friend so that needs to be treated soon.
Different dogs can show up different symptoms as they go through pain as well as inflammation but in the case of some dogs the symptoms show up early which is a good thing as in this case treatment can also start early. Nowadays you would see a pet in each home and people are so much into adopting a pet which seems to be a great thing and dogs are the most popular pet option followed by cats.
Now, having a pet is more than enjoyment and training your pet rather it is about caring for your pet. A true dog lover would be in pain if his/her would be suffering and sadly there are so many health issues that always take over a healthy dog and make it sick. Apart from some noticeable issues, there are some other issues that we often fail to understand because a dog cannot come to you and tell you about the problem it is facing and that is the reason that you need to be extra careful even for minor problems.
Now there are a number of reasons for a dog getting an ear infection but the most important thing here is to know the symptoms so that the treatment could be done easily. You might be wondering about the common symptoms or signs of dog ear infection then here are some of them listed below: But in some cases, dogs may not come up with lots of symptoms so it becomes really difficult to understand the situation, and this results into delayed treatment and this is why getting your dog for checkups once in a while is very important and you should not miss that.
The worst thing about ear infection is that it keeps on spreading so a small infection can end up with a dangerous problem so it is important to treat while the infection still small.
Also Read: Can Dogs Have Down Syndrome?
What Type Of Dogs Mostly Has Ear Infections?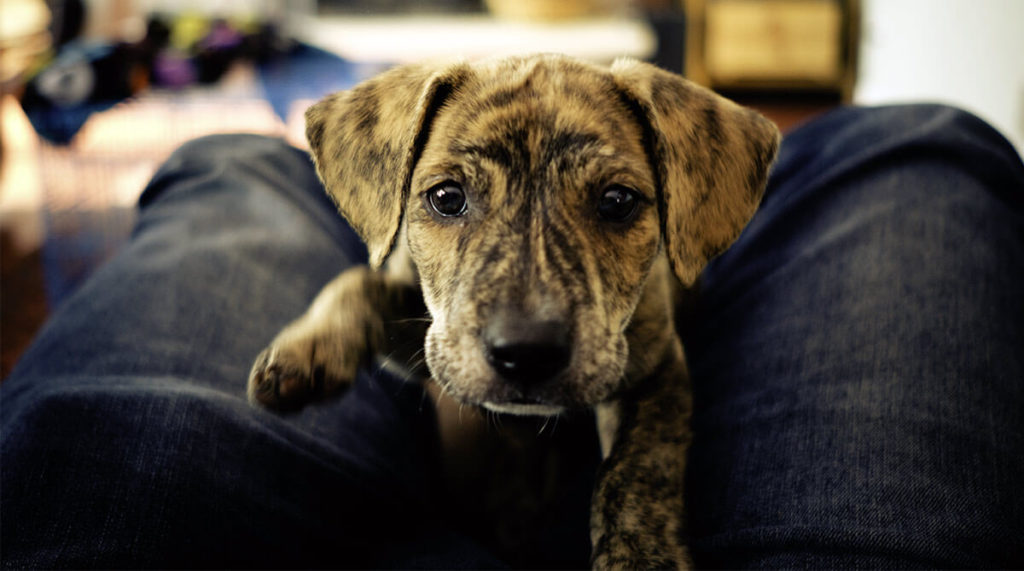 Source: thehappypuppysite.com
An ear infection can take place in any dog's ear but there are some dog breeds that are especially affected by ear infections in general and this can be a breed problem or can even take place due to ear shape. Dogs that have kind of long ear tend to get ear infection easily as compared to those who have short ears. This happens because long, as well as floppy ears, tend to lock moisture within which leads to bacterial outgrowth there in the ear which ultimately leads to an ear infection.
Trapped dirt can also be a reason for ear infection in dogs and big year develop more dirt which is often hidden due to the structure of the ear. There are some dogs that are prone to allergenic reactions which can also lead ear infection in them. Such dog breeds include poodles, pit bull, Shar-pei, Cocker Spaniel, Bashar, etc.
Causes of Ear Infections
Yeast or Fungal Infection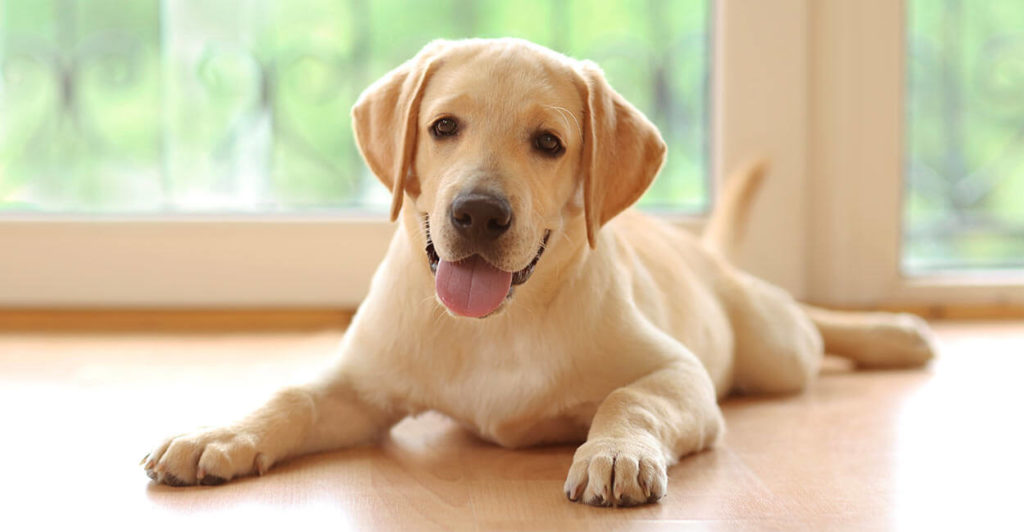 Source: thelabradorsite.com
Fungal or yeast infection is common and that takes place on the skin and if your dog would have a fungal infection around the ear then there are chances that it can spread towards the ear and at the same time it can result into an ear infection as well. Sometimes dogs were Infected by Outdoor Dog.
Locked Moisture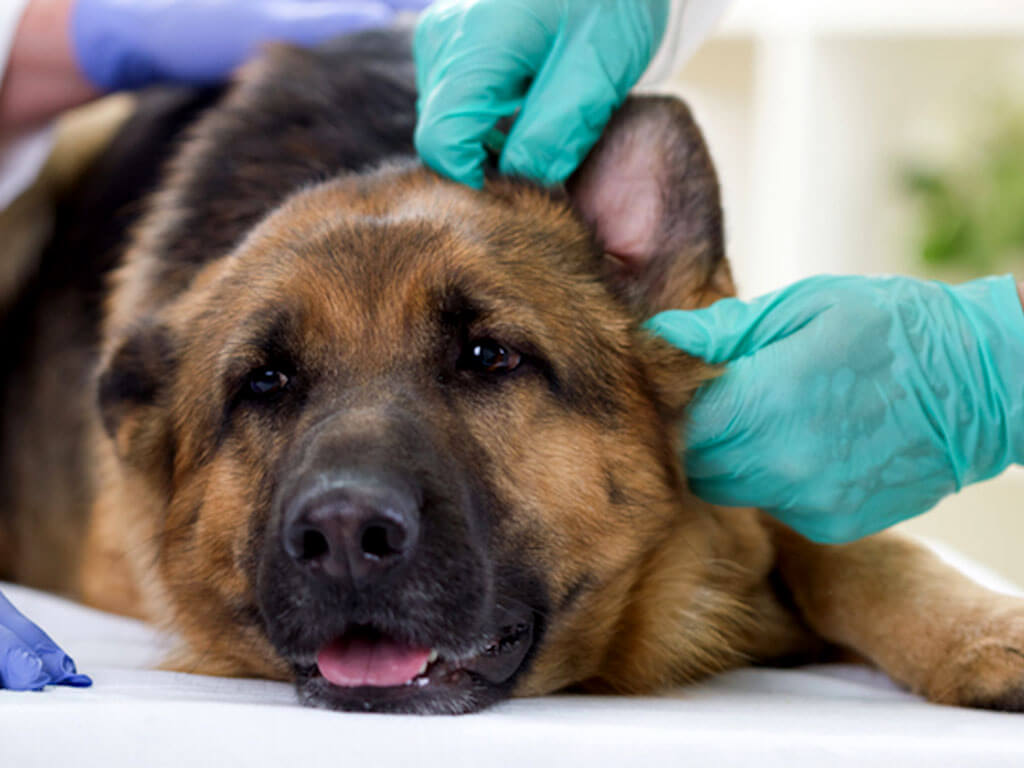 Source: globalk9protection.com
If your dog's ear would be kind of long as well as floppy then there are chances that your dog would often get locked moisture in his ears which can turn into an infection if not dried down. This happens mostly if you would not dry your dog properly after bathing him.
Drug Reactions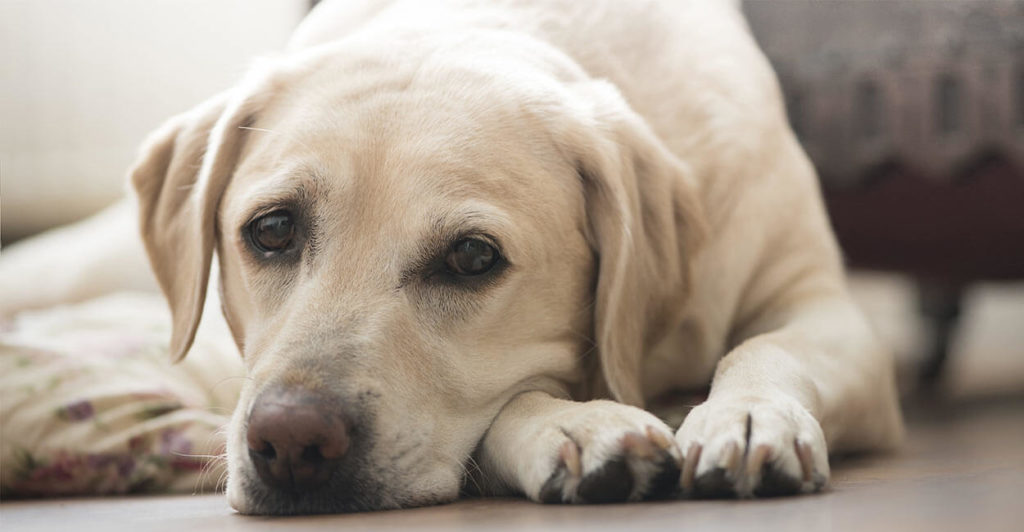 Source: thelabradorsite.com
The body does react with drugs and if your dog is already in some kind of medication and if that medicine would react in your dog's body then there are chances that the medicine can also cause ear infection in your dog so it is important to check whether the drug is safe for your dog or not.
Allergies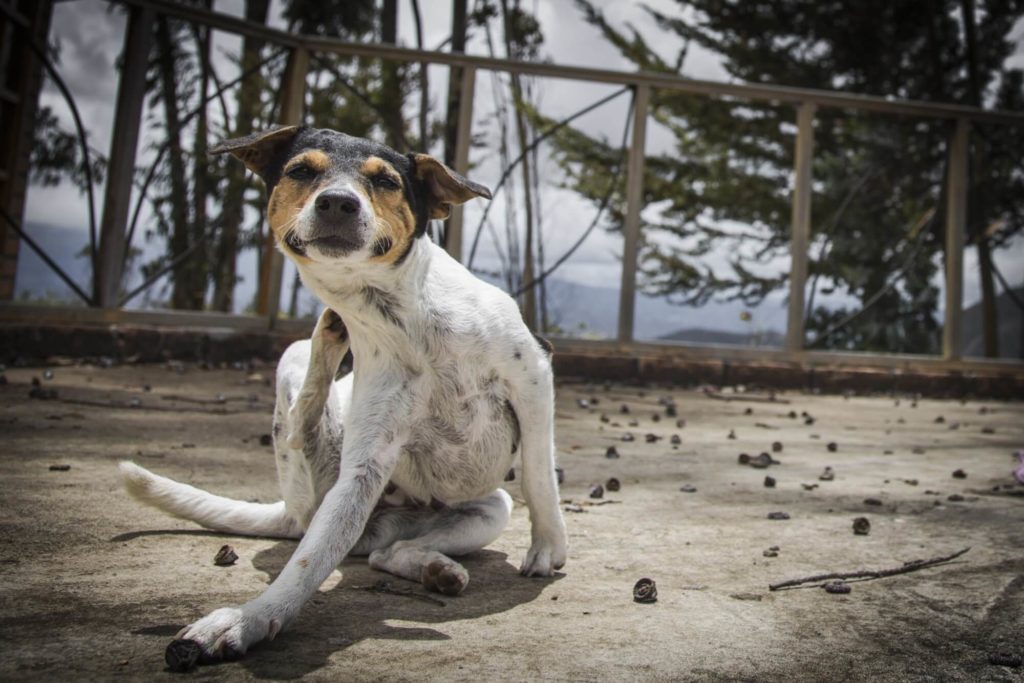 Source: wp.com
If your dog is already suffering from some Kind Of Allergenic Reactions then there are chances that the allergy can turn into an ear infection and in this case, other kinds of infections can also take place. Allergy mostly takes place due to bad food as well as pollution so you need to make sure you serve your dog with healthy food.
Autoimmune Issue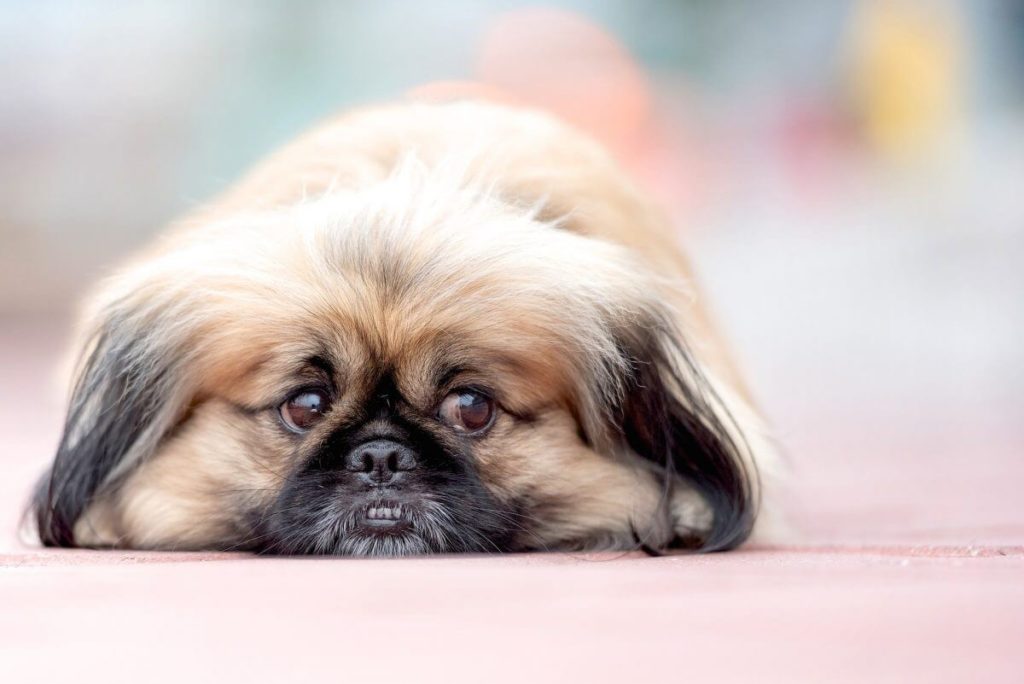 Source: canna-pet.com
If the immunity system of your dog would not be well then your dog would keep on getting such kind of infections way too often and moreover, your dog can also suffer from other health complications as well in this case so you need to consult with a good vet if the infection is due to the autoimmune issue and get medicines.
Wax Buildup in The Ear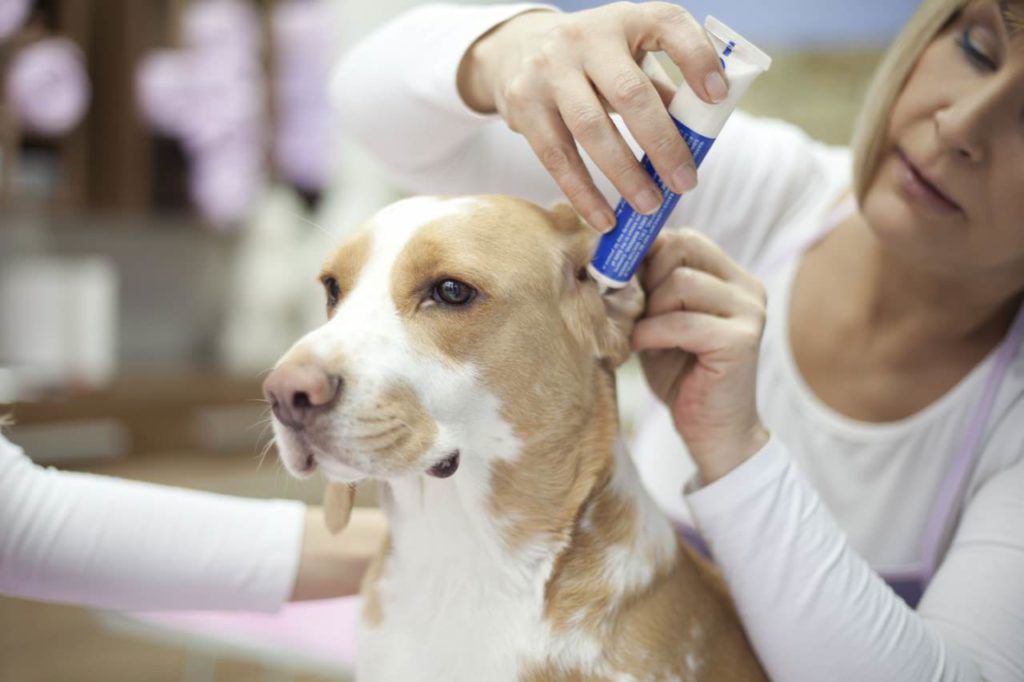 Source: diavolettolabel.com
Now here comes the most common cause of ear infection in your dog and this is a real problem for sure. Many dog owners though clean their dog properly but they often forget to clean their dog's ear which results in ear wax buildup which seems to be dangerous is not cleaned for a long period of time so once in a while you should clean your dog's ears as well.
Injury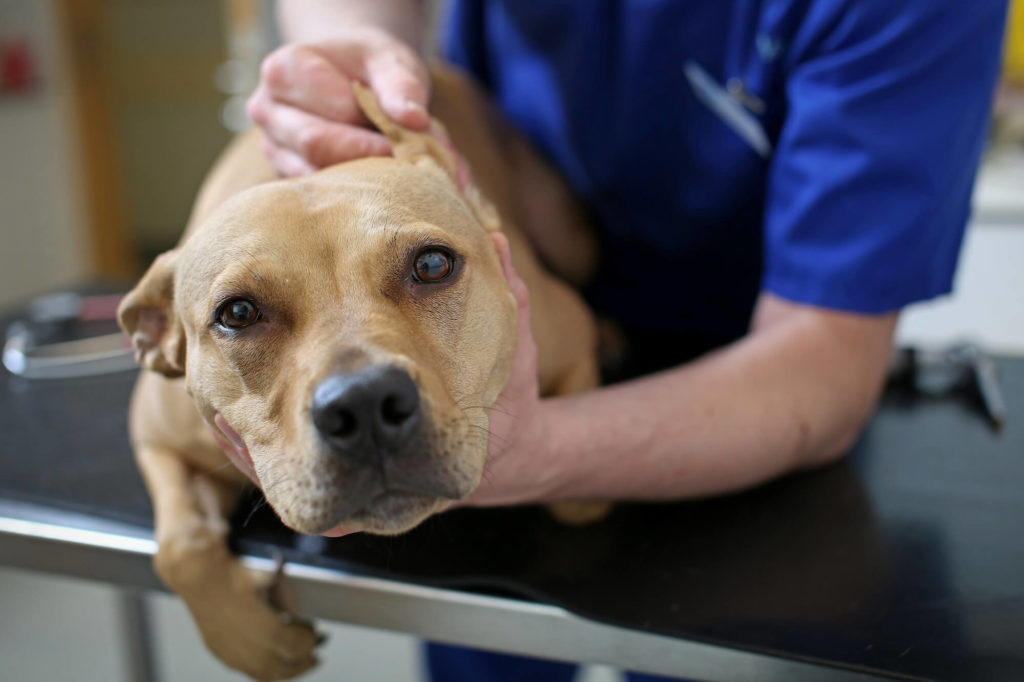 Source: bluecross.org.uk
If your dog ever met an accident which caused his head injuries then there are chances that your dog would get an ear infection and here even if accidentally any foreign thing would get into your dog's ear then that can lead to ear injury resulting ear infection and in this case, you need to seek medical help otherwise, it can be very problematic.
Wrong Ear Cleaning Procedure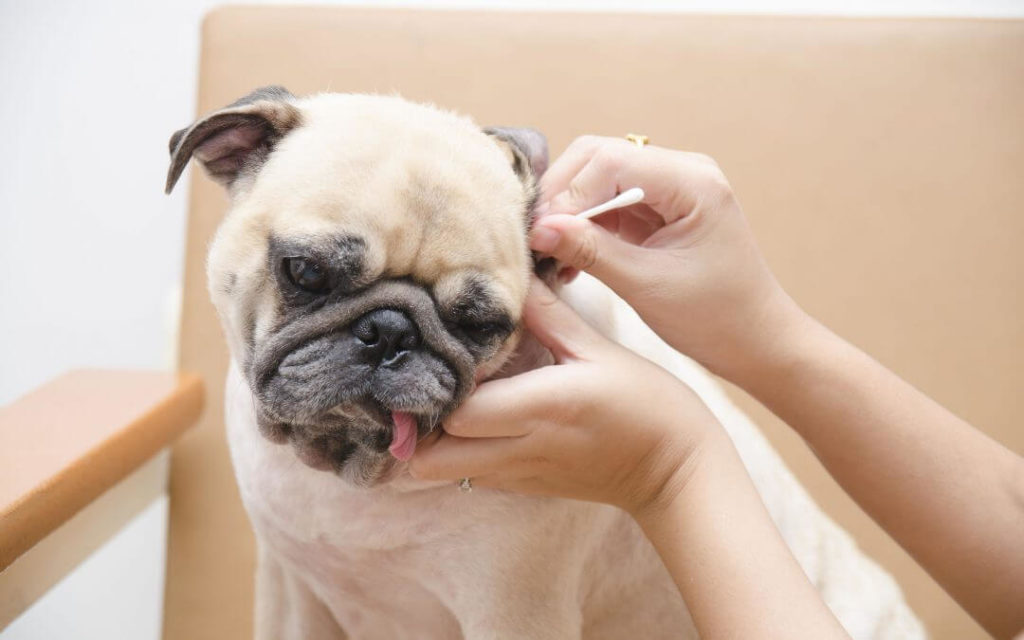 Source: rentigos.com
Cleaning your dog's ear is very important but often owners follow a wrong procedure for cleaning the dog's ear and also the product that they use for the cleaning purpose can be very dangerous and these things can lead to an ear infection. Nowadays there is Dog Ear Cleaner available in the market which people should use for getting their dog's ear cleaned.
---
Cleanaural Ear Cleaner For Dogs
---
Some Common Signs That Indicate That Your Dog Might be Having Ear Infection
Excessive Head Shaking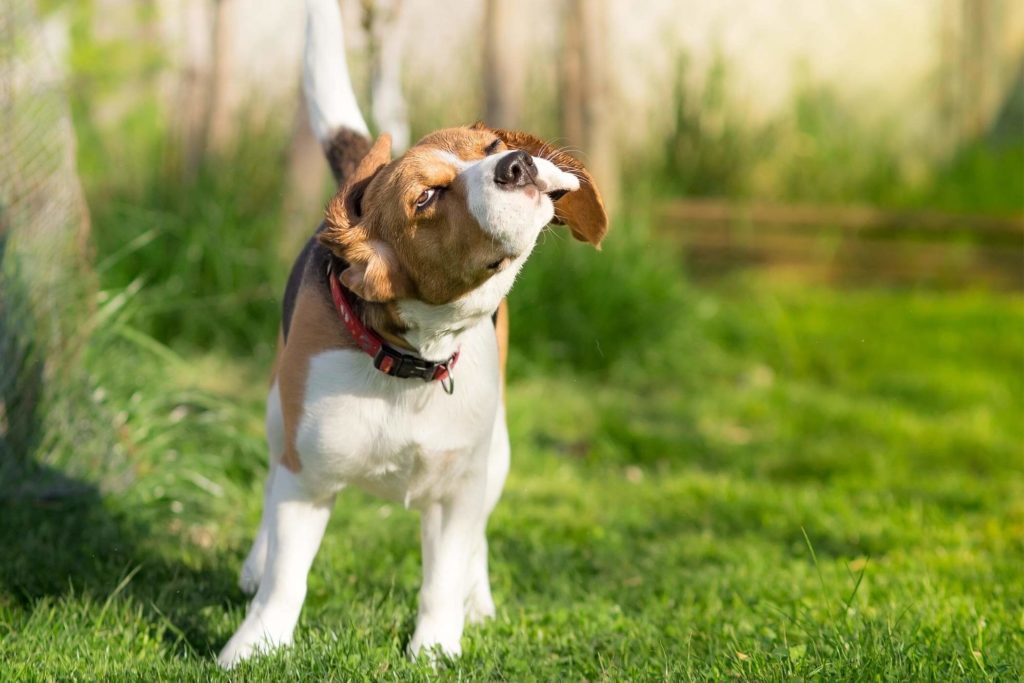 Source: wagwalkingweb.com
Head shaking is a common thing for dogs and mostly every dog shakes head often. But when you would notice that the number of times your dog is shaking head is increasing. Then it is a matter of concern because this can happen when a dog has complications in the ears. So it tries to get rid of the problem by shaking head. Shaking head though does not help them rather makes the situation. A little worse but it can be a good indication for the owner. That now it is the time to take the dog to a good vet.
Bad Odor From Ears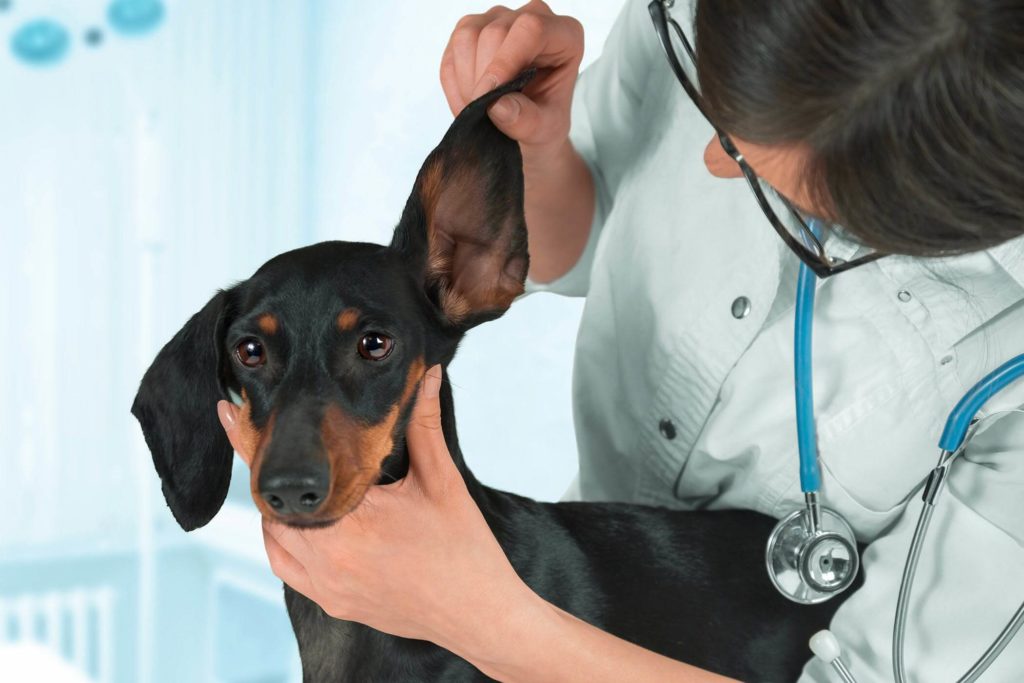 Source: wagwalkingweb.com
This is something very common if your dog is suffering from any kind of ear infection. This one symptom is enough to identify that it is an ear infection. Most of the time this symptom helps the owner to identify the problem. Here you would be able to get a very weird kind of bad odor from your dog's ear.
The odor would come whenever your dog would be near you. At first, you may not be able to understand that from where the odor is coming from. But if you would be attentive then soon you would get to know about the bad odor.
Scaly Skin Around Or in The Ears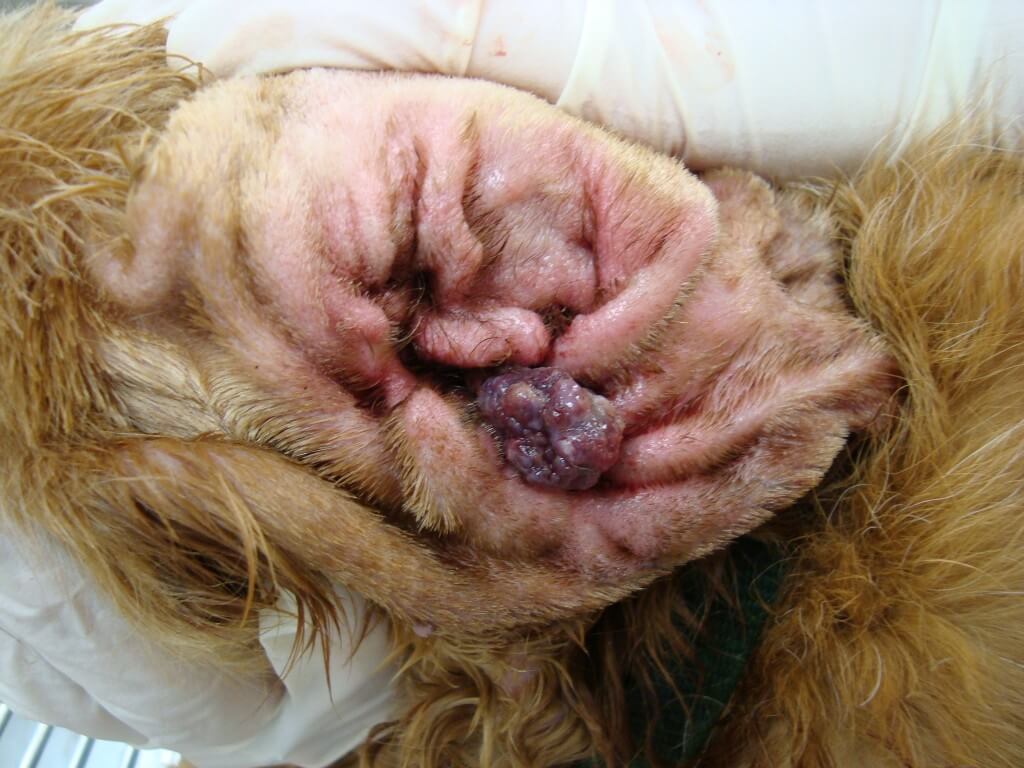 Source: criticalcaredvm.com
This is again a good indication that your dog might be suffering from an ear infection. This kind of symptom can also take place in case of skin infections as well. So mostly you would be able to see such scaly skin around your dog's ear. If the infection took place due to fungal or bacterial outgrowth.
Most people ignore this sign assuming it as a dry patch. This is not a very uncommon thing but if this symptom would be surrounded by other symptoms as well. Then there is no doubt that this is a fungal infection.
Pawing Towards The Ear Way too Often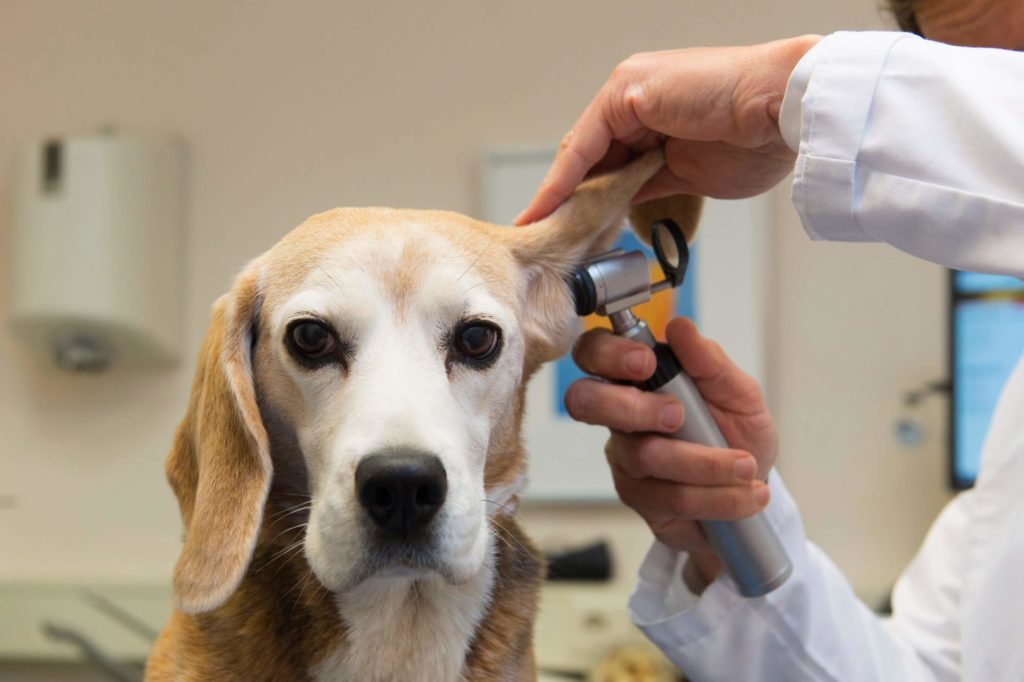 Source: greymuzzle.org
There are some indications that your dog would try to give. As a pet owner you need to be very attentive towards those signs otherwise your pet would keep on suffering. You would never be able to understand why your pet is in pain.
Pawing towards the affected area way too often is one such sign that you should always follow. If your dog would do that indication of its ears. Then it is probably because your dog is having some issue in his ear. Which is irritating him. Here you should check the point your dog is indicating. So that you could recognize the problem.
Smelly Brown Discharge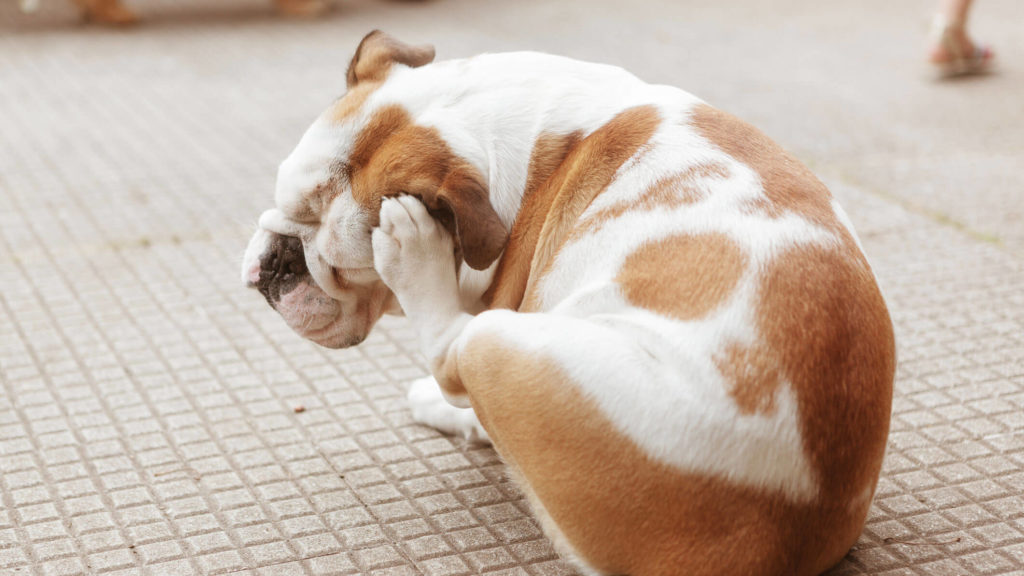 Source: hswstatic.com
This is again a strong sign that can tell you if your dog is suffering from an ear infection. This is a very common thing that takes place when the ear infection is not treated for a long time. This mostly happens in case of a moisture-trapped ear infection.
Here you would see that some sort of yellow to light brown. Kind of fluid is getting secreted from your dog's ears. That fluid would contain very bad odor as well. Here this kind of secretion happens when the situation of the infection is worse. It seems to be the ultimate sigh that now it is the time for you. To take your dog to a vet and get the treatment done.
Redness And Swelling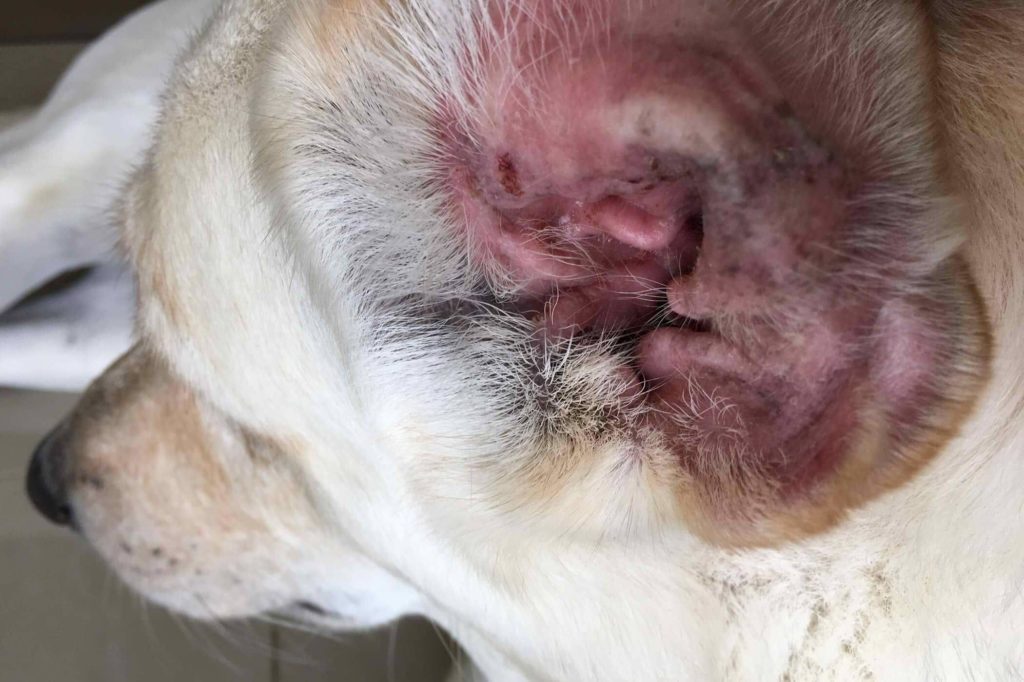 Source: wagwalkingweb.com
This one thing is also a common thing in case of ear infections in your dog. Even humans get this symptom in case of a human ear infection. Here you would see that the area around your dog's ear would turn red. Swelling can also take place and this symptom can appear in the early stages of ear infection.
If you would find such redness around the ear region then it is either due to an ear infection or it can also take place due to Fungal Infection a well and both the situations need good treatment otherwise your paw friend would keep on suffering.
Itchiness as Well as Pain in The Ear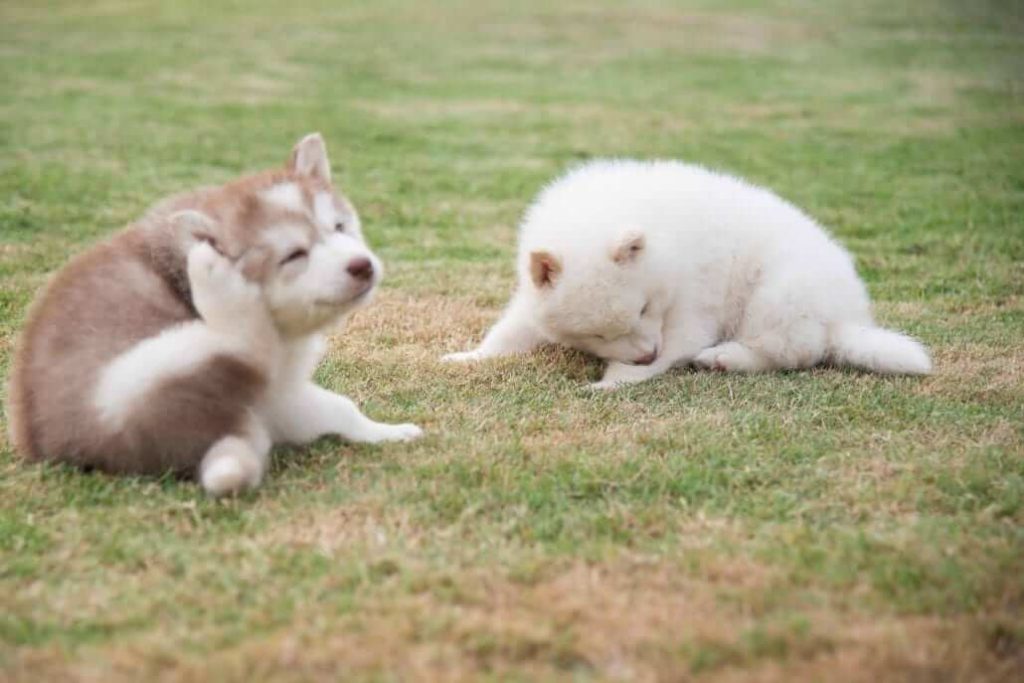 Source: naturaldogcompany.com
Ear infection always comes up with both itchiness as well as pain. Your dog would suffer from both these things. Here you would be able to see that your dog would scratch his ears way too often. You would indicate there so that you can also scratch his ears. Here you would find that your dog would rub his ears against the rug or any cloth or rough surface. Most of the time your dog would lie down with tilted head.
You would clearly be able to see that your dog is in pain. Your dog would avoid playing around rather he would prefer lying down all the time. These things seem to be enough for one to understand that. Now is the time to take your dog to a good vet. So that the problem, as well as suffering, would be resolved.
You can, of course, avoid such kind of ear infection with regular cleaning of the ear region of your dog and also you should be careful about the cleaner that you are using and in case your dog still gets an ear infection then there is Dog Ear Infection Medicine in the market that can help your dog a lot.
These were everything that you need to know about a dog ear infection and for more such information you can always browse through Petsnurturing.