Keeping fish as a pet has been a new trend these days. It is inexpensive and convenient for all people especially working people who do not get a lot of time to look after their pets. It is also easier to feed and take care of them. Moreover, they come in various shapes and sizes and with all vibrant colors. So let's check some Fish Bowl or aquariums that can be well suited for your fish as well as your house!
However, it is very important to keep the fishes in clean aquarium water as that is their only requirement and can keep your fish alive and healthy for the longest time. Also, an aquarium, if well maintained, can add to be a beautiful décor in your room. 
1) Artificial Marine Aquarium: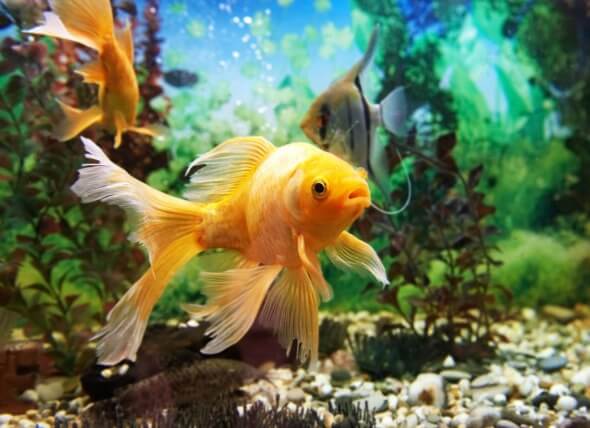 Source: petmd.com
These are the normal basic glass containers, whether big or small, as per your requirement that has an opening at the top of the box to let in new fishes, corals, stones or fake fishes. The lid can come off easily and allows easy pouring and taking out of things from the aquarium. This is very much convenient and also not very expensive. It requires very little maintenance as the corals or fake fishes put in can be taken out and cleared by a brush or the like. This is an easy choice for someone who isn't looking for much effort after their aquariums. A good option to put in a Silver Dollar Fish in this aquarium.
Also Read: Top 5 Freshwater Fish Types That Can Live In a Bowl/Small Aquarium
2) Clear Fish Shaped Bowl: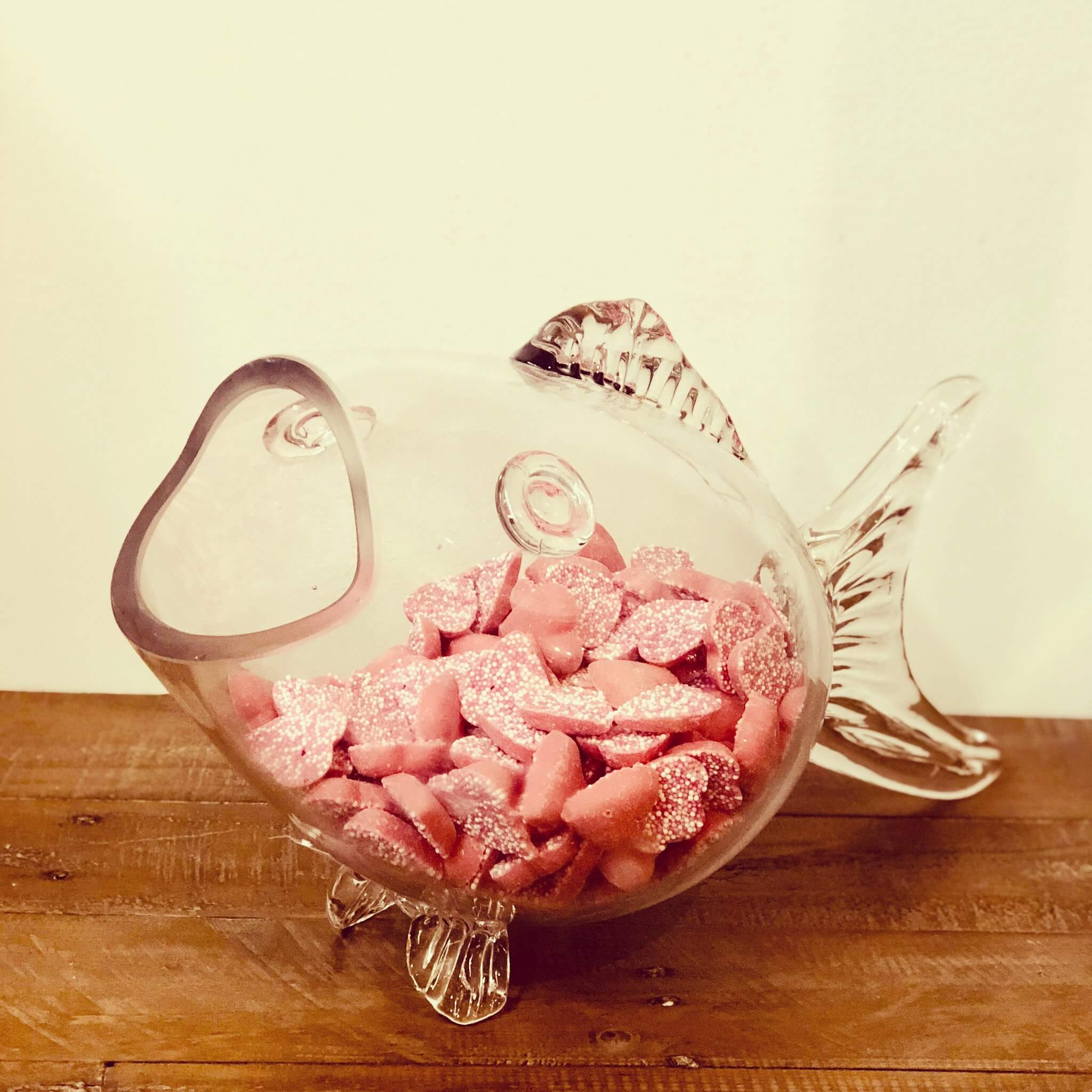 Source: scapeinteriors.co.uk
This is a fish-shape bowl made of pure glass and is a choice for someone who does not like the classic square or rectangular shape aquariums. This aquarium has the capacity to fit in 14 liters of water providing enough place for fishes. Also, it is not made of cheap plastic thus providing a better view of the fish inside. It also has a plus point of being use as home décor stuff and also like a container for stuffing candies! However, this aquarium runs the risk of letting the fish jump out of its wide opening mouth.
3) Tetra Betta Bubble Aquarium: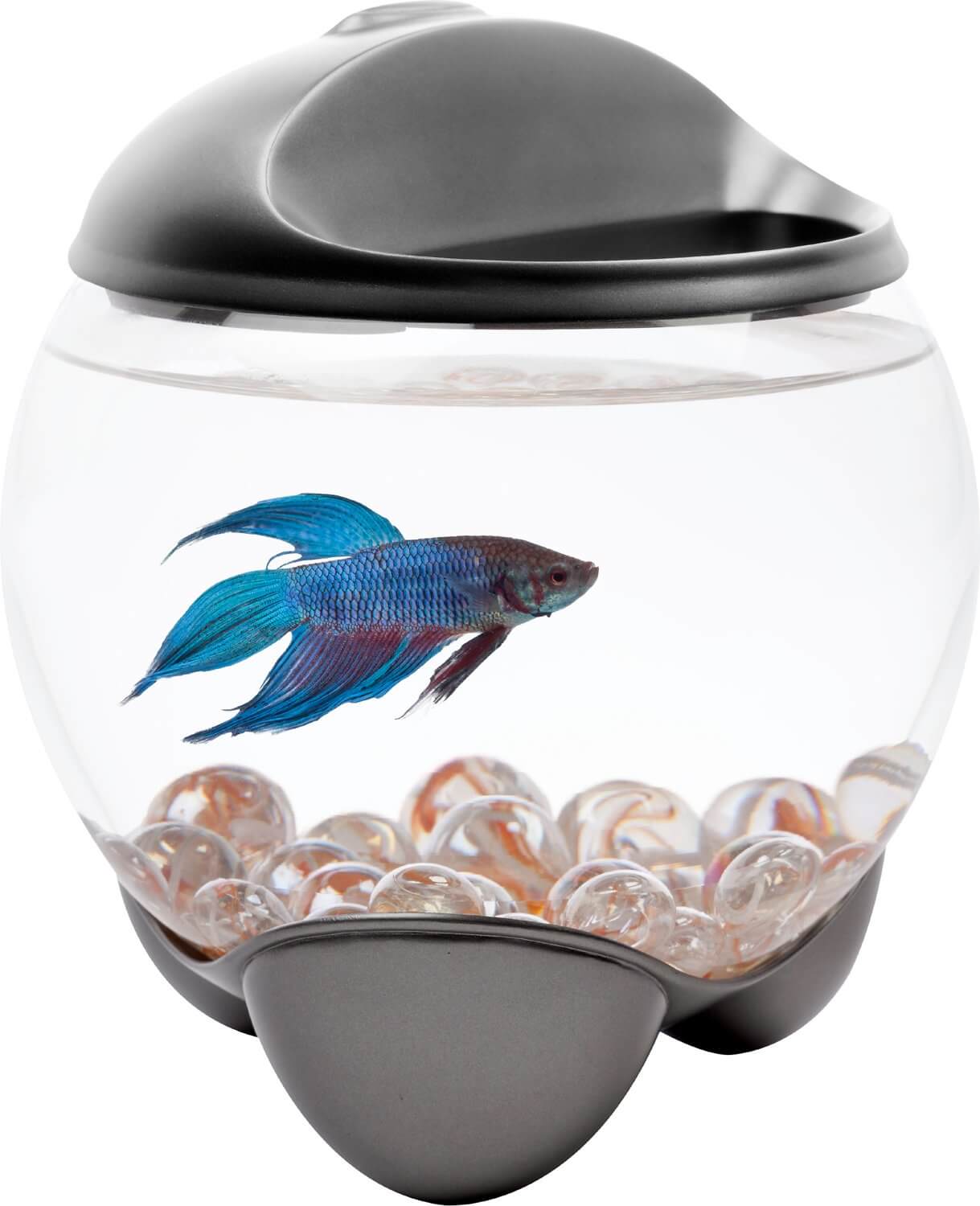 Source: chewy.com
This aquarium is a convenient and portable one as it has few stands at the below to place it anywhere you like it. This also has a clear crystal glass and comes with built-in LED lights. This becomes beneficial for the fish to swim inside if the room lights are switch off and the LED lights can guide them. It also has an opening at the top to help you customize it with pebbles or other decorative stuff as per your fish's shape or color. This is not very expensive and can be carry with you even on your trips and vacations.
4) Globe Fish Bowl: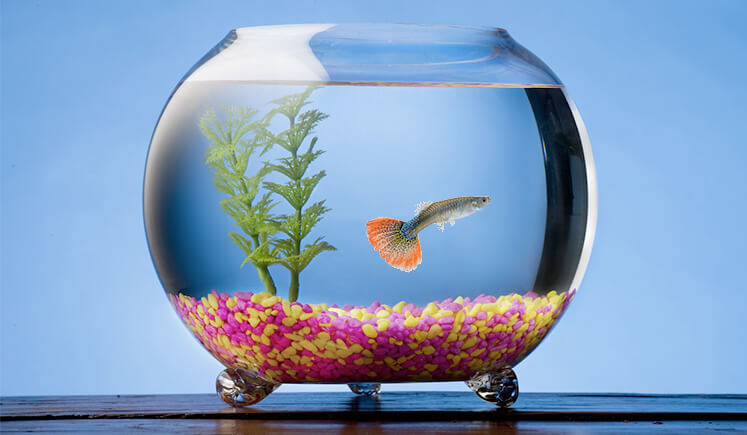 Source: guppyaquarium.com
This is yet another classic globe-shape bowl that is clear and transparent. However, the material can be both made of plastic or glass. Although the glass one is more preferable because of its quality. This aquarium is slightly expensive as compare to the product that it is but it is large enough to fit in a lot of fishes as per your choice. This aquarium is advantageous to the rest of other aquariums as it has the biggest opening at the top and can fit in almost a fist in it! These aquariums also give an elegant and aesthetic look to your room making it more desirable.
5) Wall mounted Acrylic Fish Bowl

: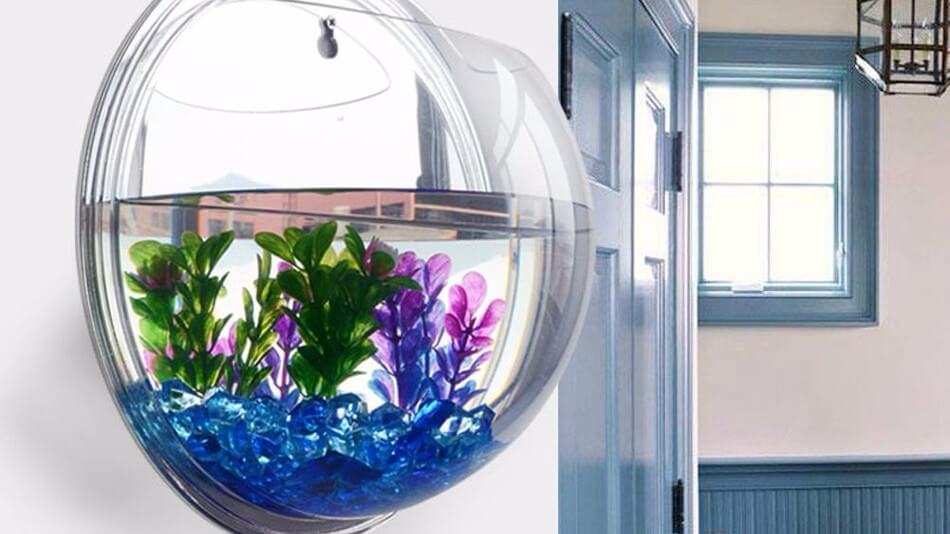 Source: mashable.com
These aquariums are in the shape of an eclipse protrudes at the front. Also, flat at the end to perfectly sit against the wall. These fish bowls are unique and mounting them on a wall helps them stay away from pets. However, it has a lot of disadvantages. These mount aquariums always run the risk of falling and cracking. Also, the fish inside can get a bit stir-crazy hanging from a platform so above. Also, this does not really have a lot of capacity.
Aquariums are a much better option than those Cheap Fish Tanks. That neither does look good nor is comfortable for the fish. Durability, sizes, colors, and shapes should always be kept in mind. While buying these and make for a perfect home for your fishes! Visit Petsnurturing for more such information.