Thanksgiving is all about having fun and giving thanks. Do you know who deserves your 'thank you' the most? Your four-legged friend, who was there for you when no one was. A loyal and trustworthy friend. We know even you want to thank it with all your might. Then what are you stuck at? Don't say; you are also worried about thanksgiving meal for dogs. What? We are going to share with you some information about thanksgiving food for dogs. Be with us the entire time.
This problem has been haunting almost every pet owner. If we see it from their point of view, it's genuine. Which parent would want to hurt their baby even unintentionally? For this problem, you can consider us a 'Rescuer.' 
First of all, what is traditional food for thanksgiving? From turkey to pumpkin pie, it's going to be the grand feast preparation. Humans can gobble up anything, but what about your dog? Dogs can't eat everything because of gastrointestinal issues. Food containing high rat and rich in sugar level can be dangerous to your pup.
You wouldn't want your pup to see your face with that puppy face (indicating me too!). Prepare a small feast for it too. To help you with it, stay tuned with us. We will cover almost every element of the thanksgiving dinner that will be healthy as well as a tasty treat for your furry baby.
Also Read: Choose The Healthy Dog Food That Your Dog Deserves
We will start off with the basic as well as most important dish and commonly asked question,
Can Dogs Eat Turkey?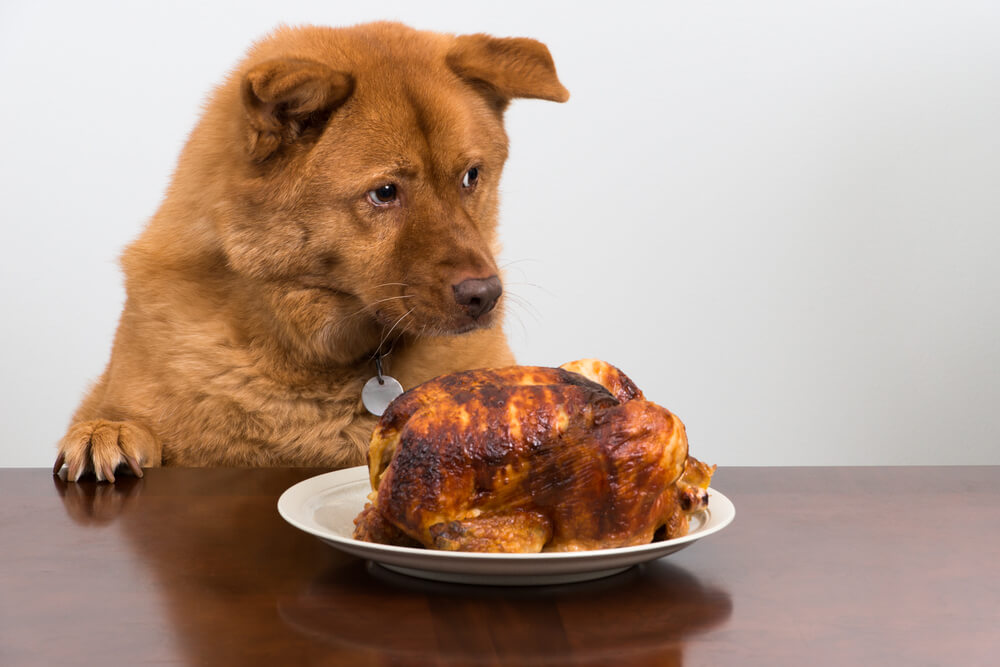 Source: vida.mt
Just hearing the word turkey can get your mouth watery, and the same is with the fido. Good news, you can feed turkey to your fido. But there are some things that are to be taken care of, such as, peel of the skin of the turkey, remove the bones and don't season it. Turkey's skin is full of fat that can make its gastrointestinal upset. Fido can chew the bones and turkeys bone easily splinter and crush, which can cause internal bleeding or intestinal damage.
Give it meat, but in limited quantity, as it can lead to pancreatitis in a dog.
Now let's move to others,
Are Mashed Potatoes Safe for a Dog?
Source: apartmenttherapy.info
Potatoes are safe for dogs as it contains vitamin C, vitamin B6, iron, and magnesium. All these help in the improvement of the immune system, nutritional absorption, nervous system, and many more. When they provide this much nutritional value, it can also be harmful to it if it is diagnosed with diabetes. In that case, potatoes should be neglected.
While preparing mashed potatoes for fido, keep certain points in mind, like,
– Don't use onion and garlic (not even powder); they are toxic food for dogs.
– No marshmallows
– And, less salt. (dog whose salt intake is higher gets quickly dehydrated)
Can My Pup Lap-up Gravy?
Source: hearstapps.com
Your pooch might be willing to devour all the gravy. But its a strict no to the gravy, when it comes to Thanksgiving food for dogs. Gravy is usually rich in salt and some in fat too. It can cause diarrhea to your pooch.
Are the Green Beans and Corn safest option for Thanksgiving?
Source: imgix.net
Veggies are high in protein and fiber, so are green beans and corn. Usually, green beans are a casserole staple fro us humans with seasoning. And corns are used as a gravy or transformed into a sauce or grilled whole corn (on the cob). As for dog's meal, raw french beans are preferable as they are rich in fiber and vitamins K and C. Even corns provide them protein, carbohydrates, linoleic acid, and antioxidants. But make sure your furry baby isn't eating with the cob and specifically chewing on the cob. 
Can Pooch Eat Dinner Rolls?
Source: petmex.pl
Obviously, yes, there is no harm in eating dinner rolls. What are the dinner rolls? A small piece of bread. But take care of the amount and what kind of bread it is consuming. 
Is Cranberry Sauce Harmful to a dog?
Source: peaceloveandlowcarb.com
It's good for you, not your pooch. Raw cranberries are still fine but cranberry sauce, a big NO. It contains alcohol and sugar that are harmful. Keep them away from cranberry sauce.
Can dogs eat Pumpkin Pie as a dessert?
Source: twimg.com
A celebration without pumpkin pie is impossible. The most favorite dish of the night is a dessert that too pumpkin pie. Don't directly give them pumpkin pie. Desserts are full of sugar. And sugar is totally going to harm your baby. "A safer option for dessert is to prepare a small amount of cooked or canned plain pumpkin puree, but be warned: the fiber content in pumpkin and potatoes can increase your pet's regularity — leading to more frequent trips to the yard," says Dr. Maniet.
Source: independent.co.uk
Finally,
You are ready to make a mini feast for your furry baby to thank it. Just make sure it doesn't get excessive. An excessive amount of human food is harmful to dogs. Take your pup on a pre-dinner dog to tire him out. For more information on pet care, visit Petsnurturing.