Maine coon cats are among the most adorable cats in the world. Of them, black Maine coon cats are the most loved ones. With its long legs, bubbly behavior, and dog-like personality, the Maine coon has won the hearts of many. The Maine coon cats come in many color variations but black is preferred most by pet lovers.
So, what exactly is the black Maine coon?
Do they have a natural black color, or is it a result of some breeding tactics? What does black Maine coon cost? Is their personality different from normal Maine coon cats? Let's get answers to all these questions with our article on the black Maine coon cat.
What is a Black Maine Coon Cat?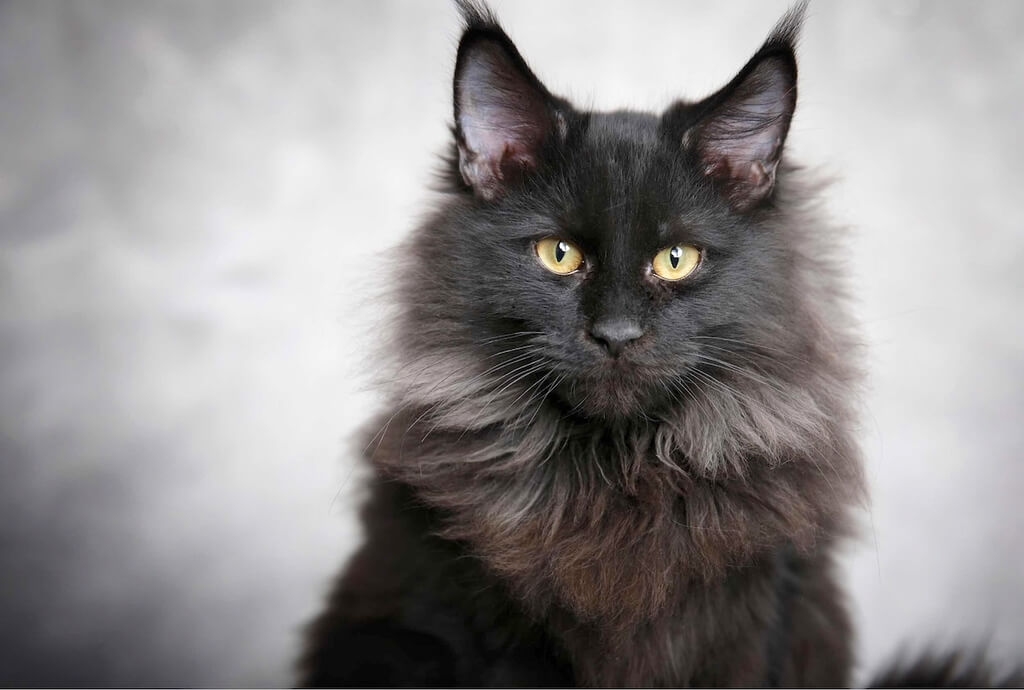 Source: petsgal.com
In addition to their black coats, Black Maine Coon cats have a variety of black features. Their whiskers, noses, and paw pads are all black. Even though they don't have eyebrows, they do have long vibrissae hairs above their eyes, which are also black in color. So, when you say out black Maine coon cat, it is not just the fur, but the entire black cat breed!
Also when you say Maine coon cat, you are talking about the largest domesticated cat breed you will ever come across. They are famous as gentle giants and are native to Maine with the origin of the United States.
Black Smoke Maine Coon Cat Personality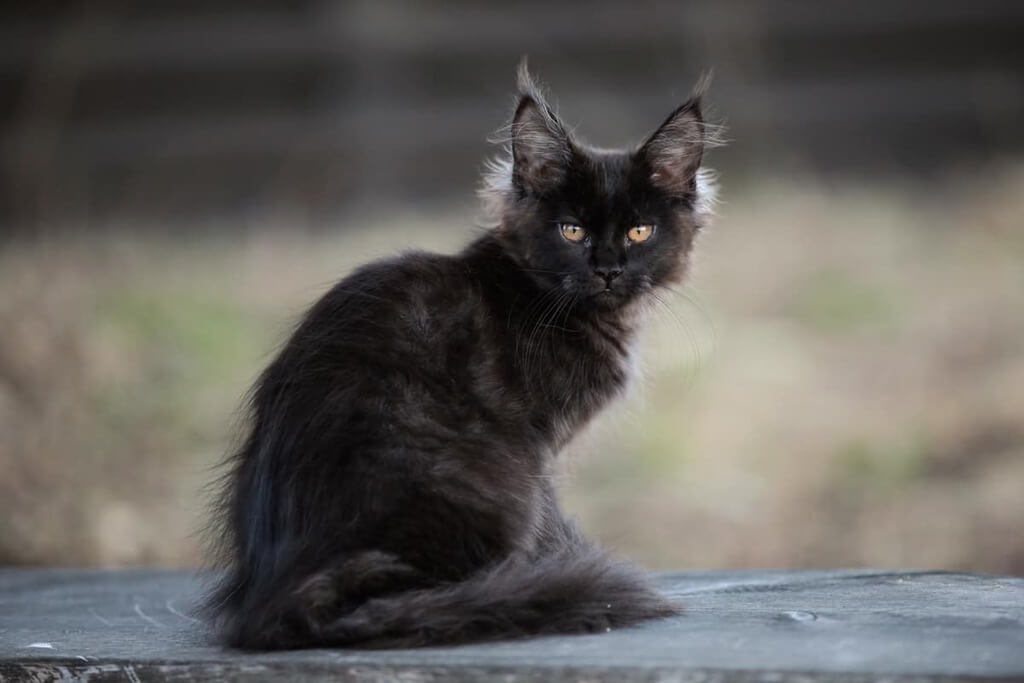 Source: bubblypet.com
Well, there are pet parents who want to know, does their color affect their personality. Like black color with black personality! Well, the answer is no. In this section, I will tell you about the Black Smoke Maine Coon cat personality that you need to know, before getting one for yourself.
Unlike other cats, the Maine coon loves to be with its family and play around.

It is playful and has a huge heart as its body.

Black Maine coon is unaware that black cats are meant to behave mysteriously.

Maine coon will always want you to hold it, play with it, and cuddle it. 

It is a highly intelligent cat, making it easy to train.

The Black Maine coon cat is loyal to its owner and will follow him/her around.

It has a laid-back personality, which makes it easier to travel with it.
I guess the above are the reasons that these Maine coon cats are also known as "the dogs of the cat world." It loves all the things that cats hate and dogs love. You might have noticed how cats run away and hate being given any attention, but the black Maine coon loves it!
Physical Appearance of Full Grown Black Maine Coon Cat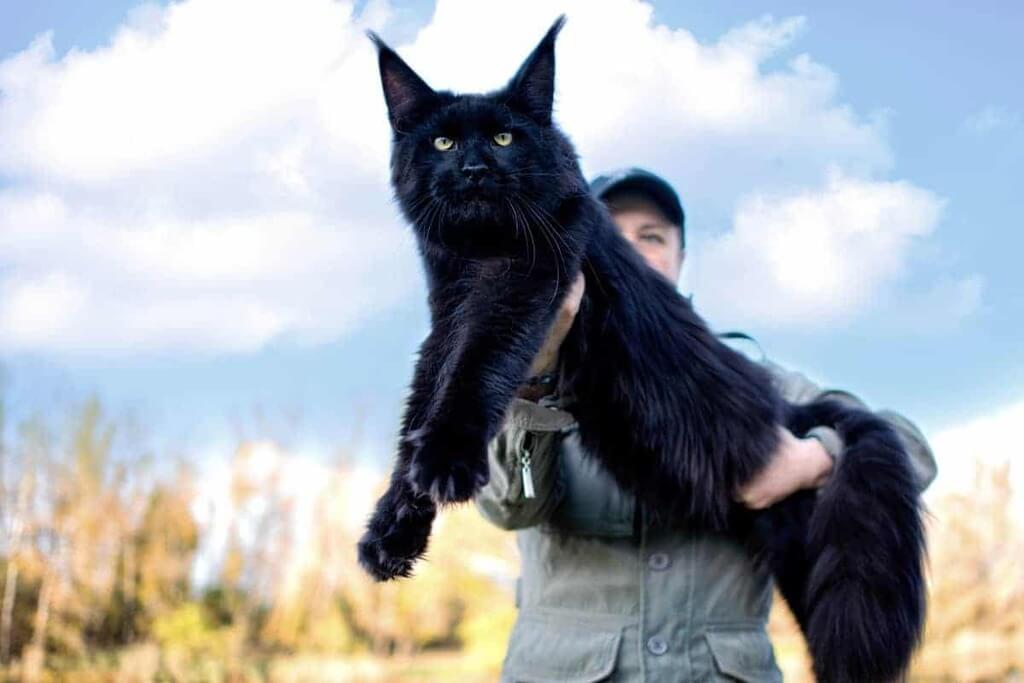 Source: bubblypet.com
As you've read about the personality traits of a Black smoke Maine coon cat, it's time you look at its physical appearance as well. The image will tell a lot about it, however here we have described it in words.
The black Maine coon cat reaches full grown size between the age of 3 to 5 years.

Weight (males): 13-18 lbs

Weight (females): 8-12 lbs

Average Height (full size): 10-16 inches

Average Length (full size): 38 inches

It has a heavy but silky long fur coat.

Black smoke Maine coon has a white undercoat, while black Maine coon has all the layers of black fur and coat.

It has a Lion-like muzzle and long pointed ears with fur that extends to ear tips.

It has a muscular, broad chest with a long and fluffy tail.

The eye color of a Black Maine coon kitten is blue, which turns into yellow or gold once it has grown to full size.
Taking Care of a Black Maine Coon Cats!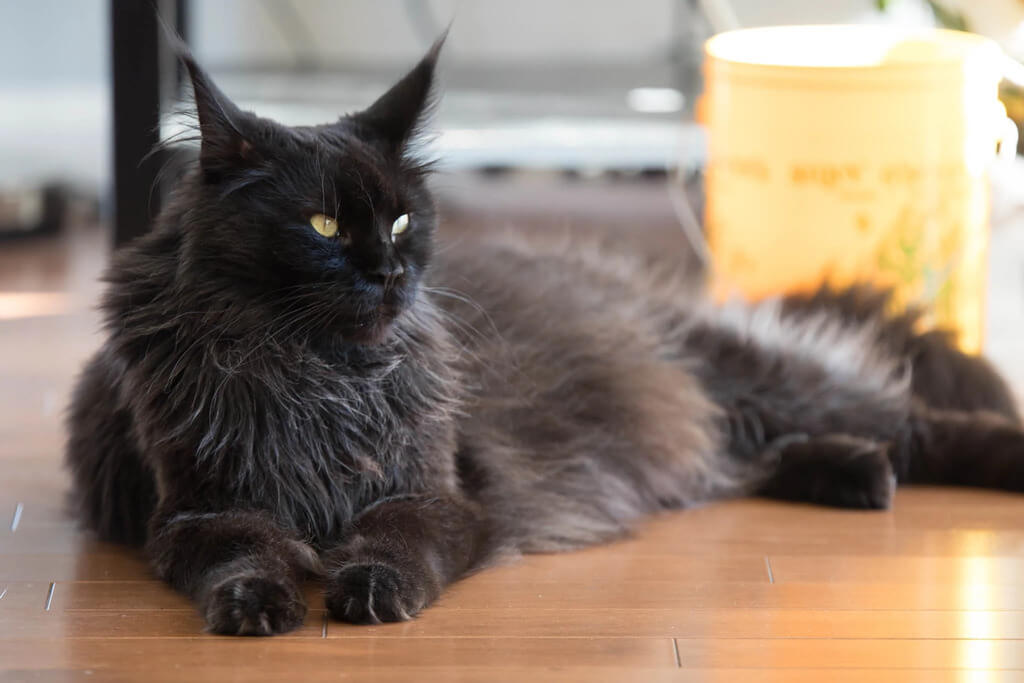 Source: shopify.com
If you decide to take the black Maine coon home, you need to have knowledge on how to take care of a Maine coon cat, especially the black one. Here's a guide on taking care of a black Maine coon cat:
Even as kittens, Black Maine Coon cats are large. Hence, it is difficult to take care of its food and nutrition, in order to not get overweight. Remember they don't reach full size, till they have completed the 3-year mark. 

To avoid the overweight issue, you will have to feed your cat very carefully and give it a balanced diet that is high in protein. Look out for the portion control as per its age.

Cats are meant to eat freely, but that's not the case with Maine coons. You have to keep them on a strict feeding schedule of three to four meals per day. Also, you can't let them eat too many treats or they will gain weight.

Black Maine coon cats should be fed nutritious good wet pet food with additional supplements and vitamins as recommended by the vet. Your Black Maine coon is always going to be hungry, hence it is better to consult the vet beforehand and follow the feeding routine.

With so much fur, your Maine coon black requires daily brushing if possible, if not that the minimum requirement is twice or thrice per week. Get your black Maine coon cat a specific brush for long-haired cats to avoid tangles and matted hair.

Apart from the fur, you'll have to take care of the large ears. They will collect dirt easily, so clean them regularly to avoid any unnecessary diseases. Clean them off with a soft towel and warm water, but make sure you are gentle with their ears.

The same is with its claws. Your black Maine coon will also grow long and thick nails to match their big paddy foot. You'll need a special type of nail cutter to get rid of them. Be extra careful while cutting the nails, so as not to harm your gentle giant.
Last but not least is taking care of its teeth. Confused? The black Maine coon is prone to gingivitis, so you will have to get a toothbrush and toothpaste specially designed for Maine coon cats.
Fun Facts About Black Maine Coon Cats!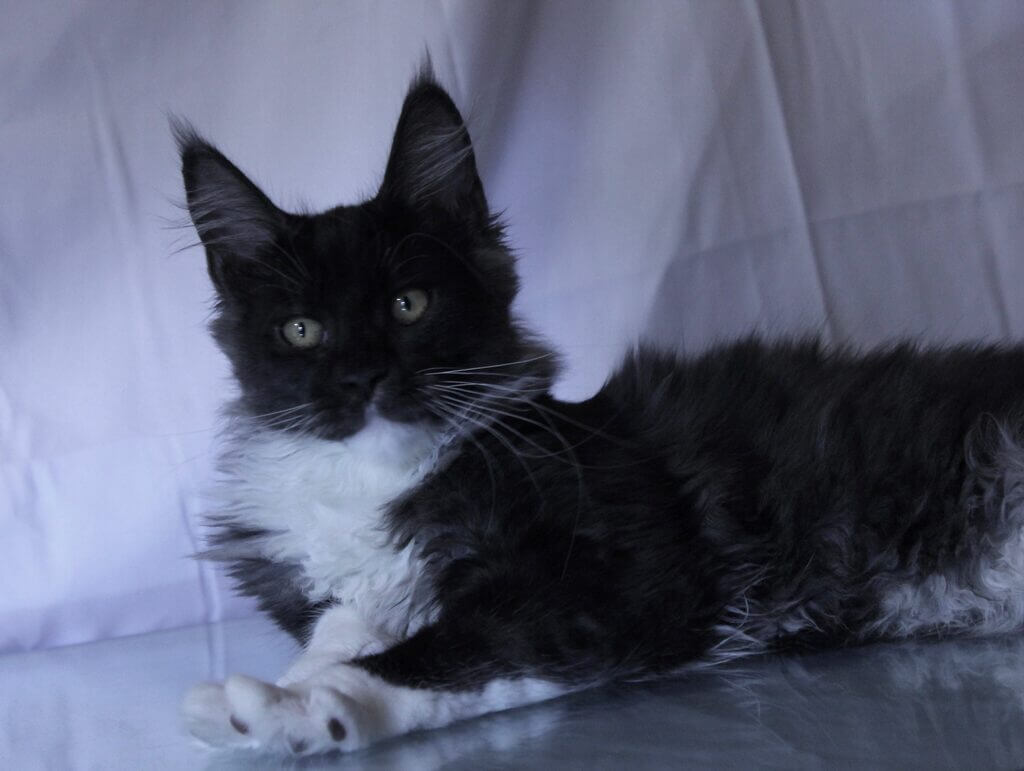 Source: sassykoonz.com
Here in this section, I will tell you about a few facts that you didn't know about our loved black Maine coon cats. Let's go!
The Maine coon cats are designed to tolerate the heavy winters. They wrap their bushy tails around them to keep warm. The ruffs, flanks, and stomachs of these animals are covered in thick, water-repellent coats to keep those most sensitive parts warm.

Even though they look like big monstrous cats, they are lively and make a good home and family pet. It can be your perfect companion if you are more of a cat person but your heart yearns for the qualities of a dog in a cat.

They are excellent swimmers and like to be in the water. You'll see your cat laying or playing in the ponds or pool in the summers. They are cool cats to have!

Black Maine coon cats have amazing and distinctive meows. They have a range of meows from deafening to chirping. And they prefer the chirp, which you'll hear while they're pleased to see you, excited, or engaged in a good ear scratching session.

Some Maine coon cats are born with six toes and that is totally normal in this cat breed.

Black Maine coons have the highest life expectancy and are known as the healthiest breed. But they are prone to certain diseases like hypertrophic cardiomyopathy, spinal muscular atrophy, and hip dysplasia.

They will always be the kittens at heart, no matter their age. Even if they grow old by 11 years, they will still be kittens at heart and will still love cuddles and good ear scratching. You'll always see these cats causing mischief around the household.
You can read more facts about the Maine coon cat here.
Pictures of Maine Coon Cats In Their Black Version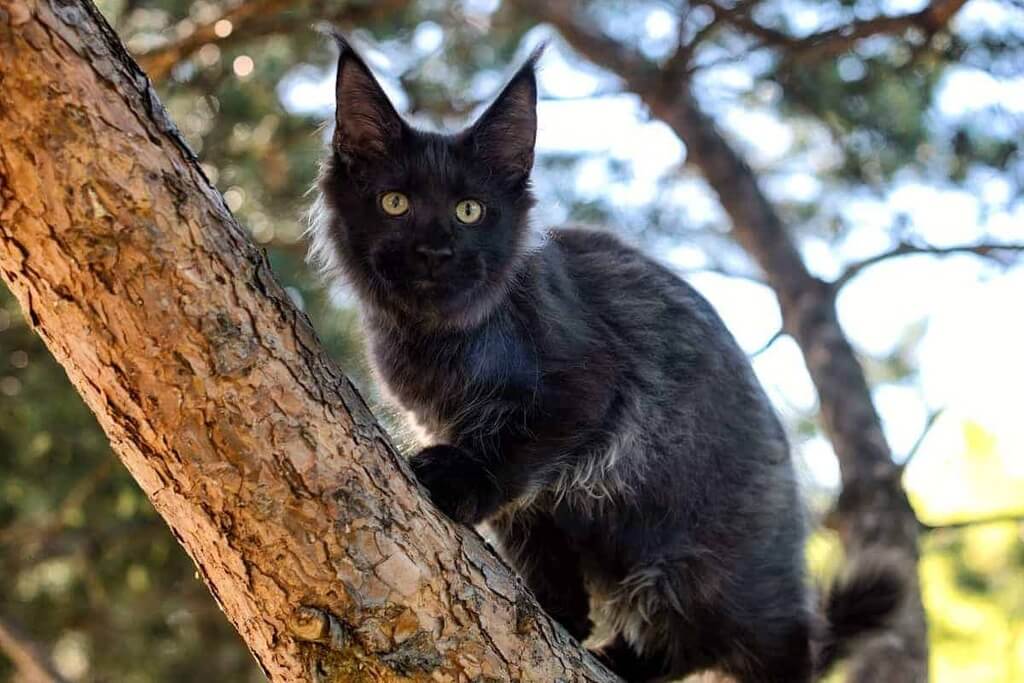 Source: bubblypet.com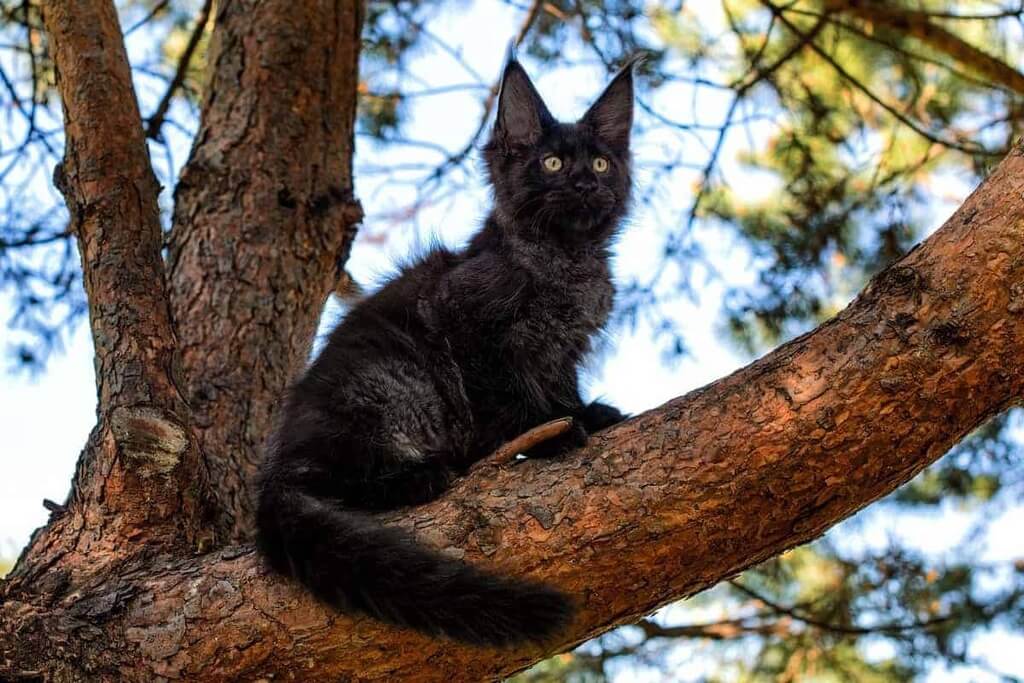 Source: bubblypet.com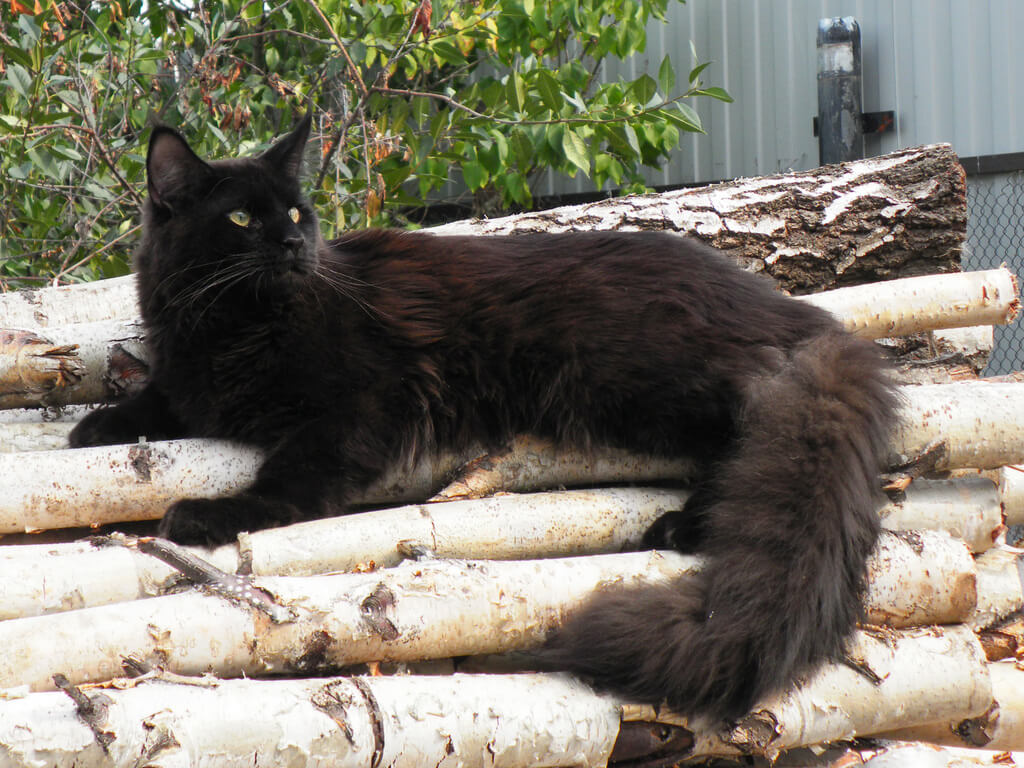 Source: askideas.com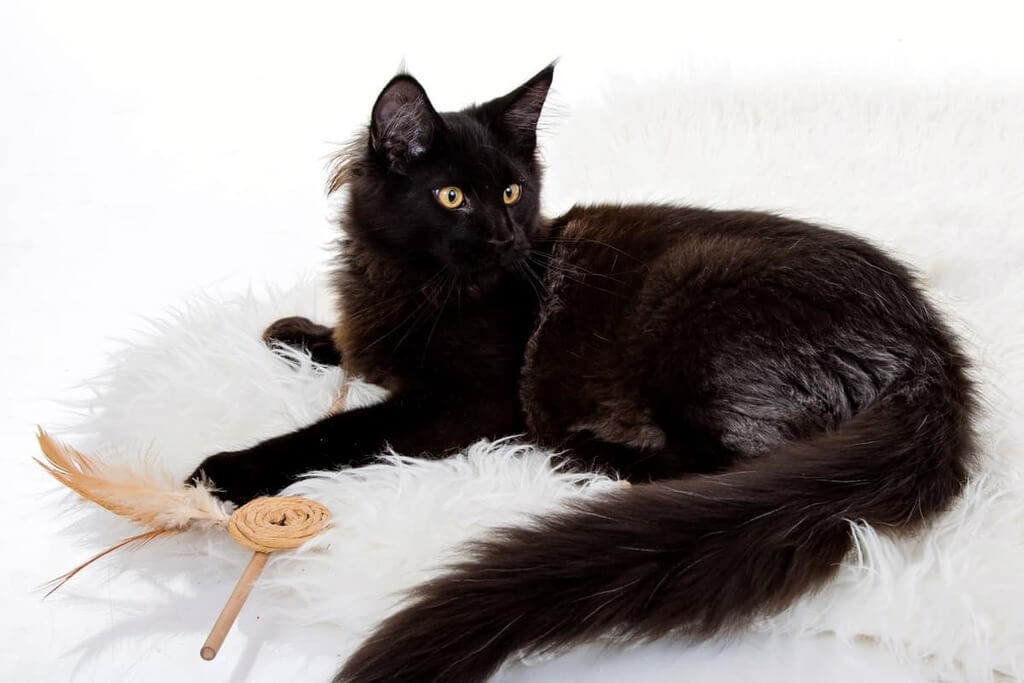 Source: bubblypet.com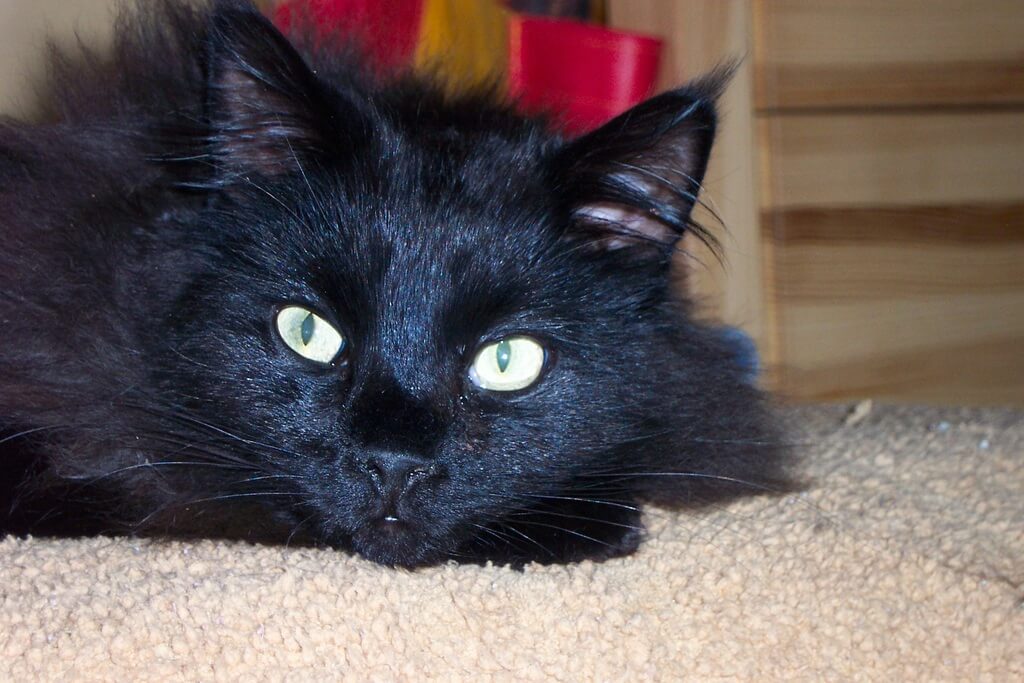 Source: wikimedia.org
Also Read: 9 Gorgeous Black and White Cat Breeds ( with Pictures)
Frequently Asked Questions (FAQs)
1. What is the Lifespan of Black Maine Coon Cats?
If you are wondering how much black Maine coon lives, they have a lifespan of 12.5 years. Whereas, the healthy breed of Maine coon has a lifespan of between 10 to 15 years.
2. How Much Are Maine Coon Cats?
Another most searched and asked question is about black Maine coon cost. The Black Maine Coon is between $1000 – $2500 for both kittens and adults. You can check out websites that have black Maine coon cat for sale. 
However the normal Maine coon cost around $800–$2,000, you can also check them on websites that have listed Maine coon cat for sale. If not, you can also adopt them. The adoption will only cost you around $400 to $800.
3. Are Black Maine Coon Cats Rare?
Yes, they are pretty rare. In reality, all the black cats in other breeds are also rare. The black color itself comes under the arrest section in the cats. The origin of a black cat is not because of the breeder's tactic, but it is the result of the mother or father kitten having dominant black color genes.
The Black Maine coon can only be bred if its parent cats are purebred Maine coons. There are many color variations in Maine coon cats, of which the rarest is solid black and the most commonly found are bi-color, black smoke, and tabby.
Final Words!
So, this is where I put an end to an article on Black Maine Coon Cats. you read how they are a living dog in a cat's body. This black Maine coon cat has the soul of a dog that will make you fall in love with it every time you see it doing some mischief or chirping the meow upon seeing you. What are you still waiting for? Get one for yourself!
For more information and details on cats, dogs, or any other pet breed, visit PetsNurturing.
For quick pet tips and adorable pictures, follow us on our Instagram page pets_nurturing.