Halloween is a fun-loving event for all of us. Just like we love to get dressed in all the weird costumes, you never know even our pets would like the concept. Especially if you have a cute little cat in your family, they will enjoy wearing these costumes. However, there are various cat Halloween costumes in the pet world now.Cats usually don't like to wear all the funky costumes, as they irritate their coats. It is crucial to understand that we have to choose some soothing and comfortable cat costumes. When we never fail to look our best in every public appearance, why fail when we look for our sweeter ones. 
In this blog, I have compiled some of the best cat costume ideas. 
Cat Halloween Costumes and Outfits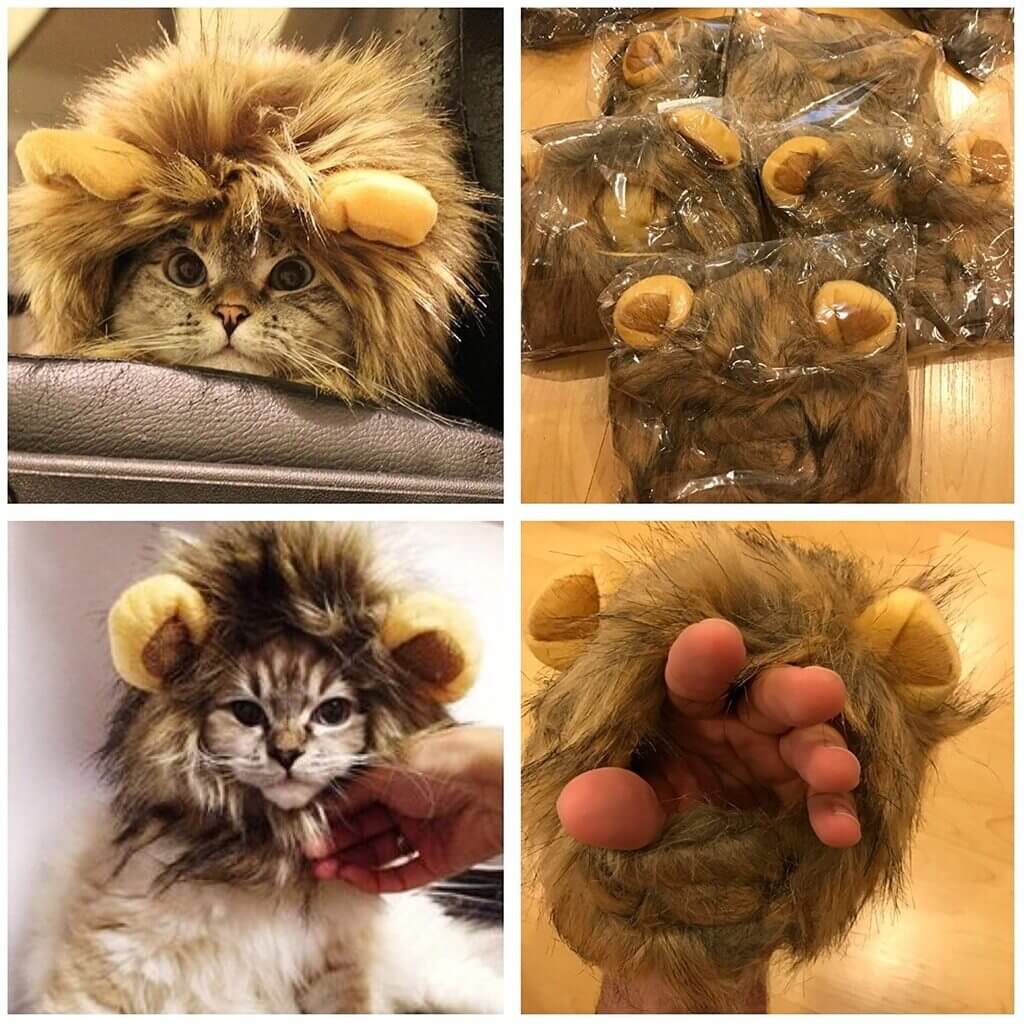 Source: amazon.com

The Lion cat cap is one of the most comfortable and exciting cat Halloween costumes. They are incredibly comfortable and soft material-wise. Though they don't seem to look like scary costumes, they are still set with the theme. Lion Mane's forceful costume is a great escape. They make your cats look picture perfect and highly adorable. 
The comforting cat costume ideas are perfect for all age groups. They are comfortable and provide a lot of breathing space for your cat. This lion mane's costume is one of the best cat Halloween costumes. This particular costume is perfect for newborn cats or older-aged cats. Usually, both these age groups of cats prefer cat costumes and outfits that are comfortable to them.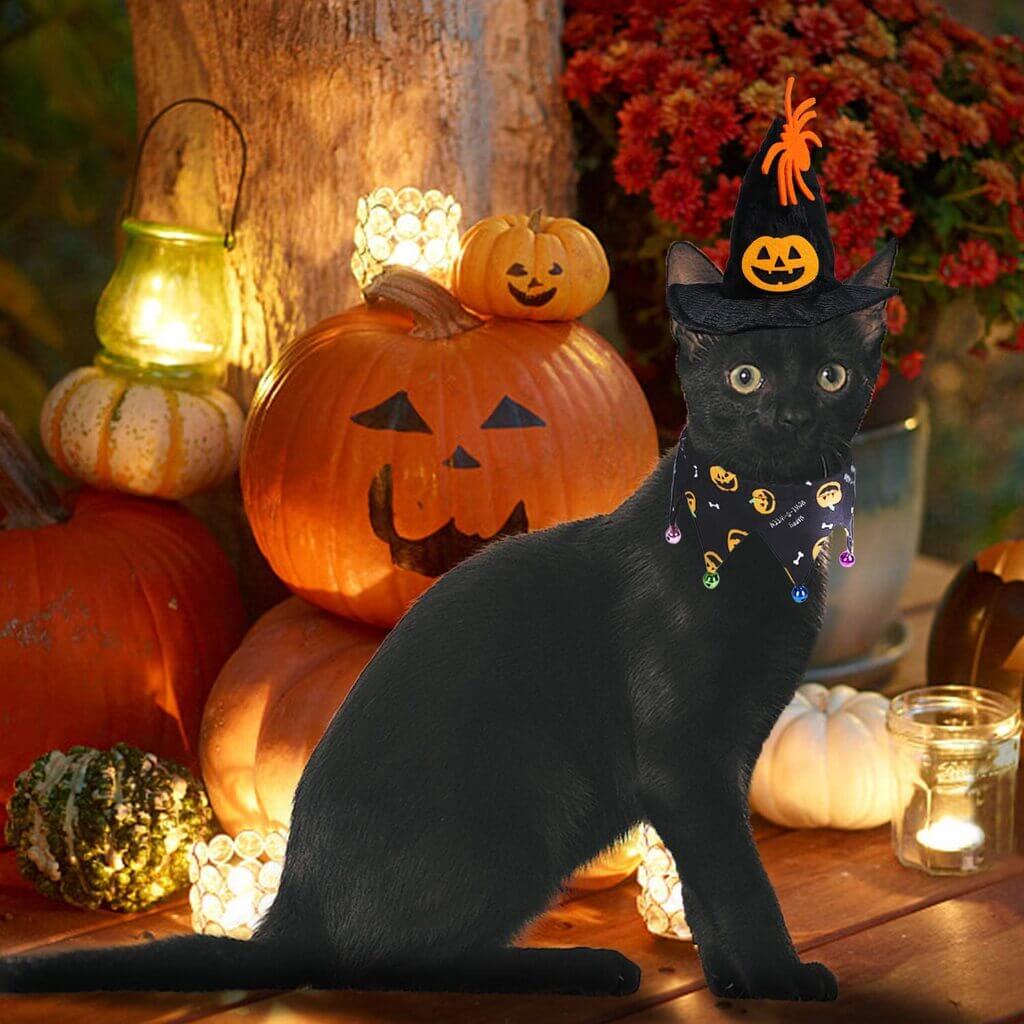 Source: amazon.com

If you are looking for something exciting and straightforward, here is your answer. The perfect pair of a Halloween cap and collar bet makes your cat picture-perfect ready. At times cats felt uncomfortable with all the fancy and closed costumes & outfits. If you want your cat to enjoy the party, get them ready with a comfortable cat Halloween costume. 
The set of a cap and collar belt will be easy to wear and handle all around. The collar belt has six jingle belts on each of the triangular ends. The sound of the bells creates excitement amongst the cats. If you examine this product set, it is one of the most comfortable, appealing, and perfect cat Halloween costumes.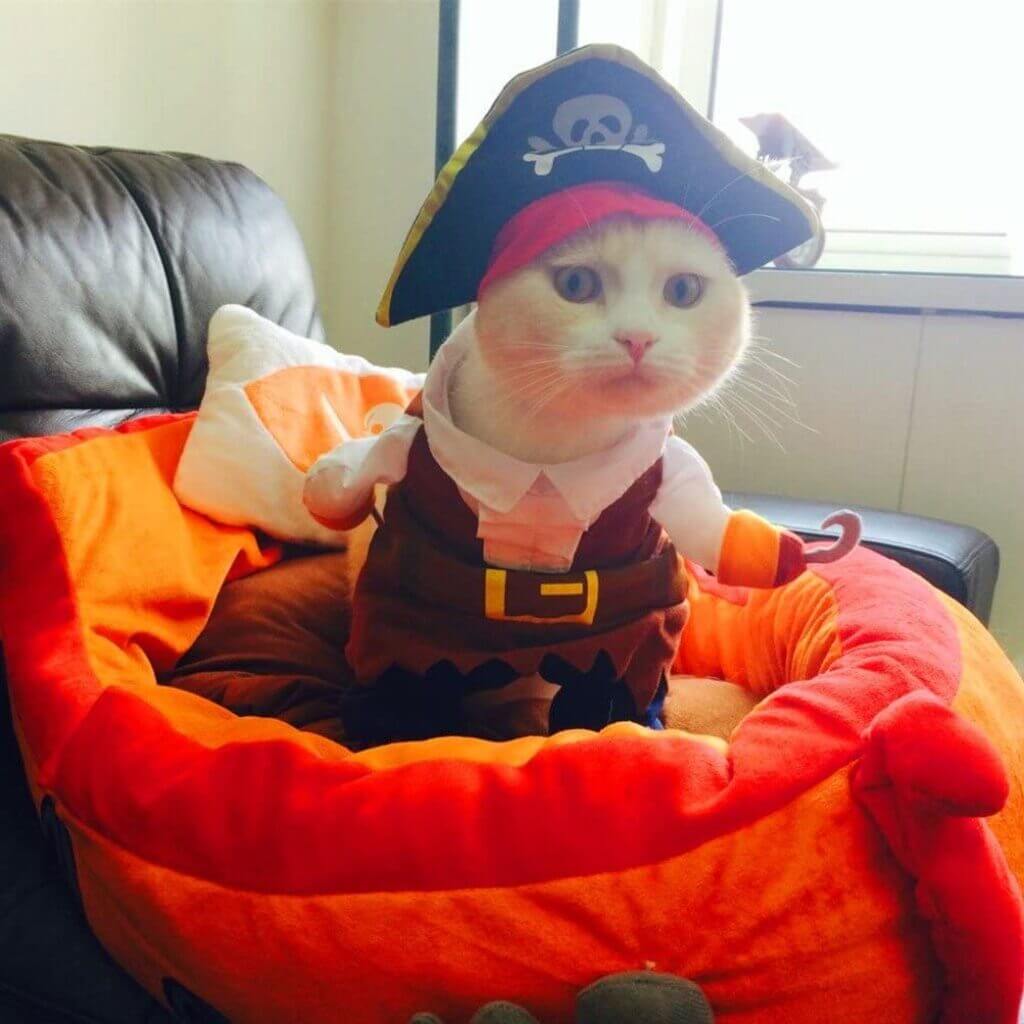 Source: amazon.com

The Pirate Cat Costume is a perfect stitched costume for your cats. Your cat can look like an interesting character in the entire Halloween get-together. The costume is designed in such a way that it provides enough space to build. The polyester material is very comfortable for your cats. 
Before selecting the size, analyze the size of your cat. There are different sizes available that can fit your cat. If you are unsure of the size, measure your cat's size before finalizing the Halloween cat costume. They are comfortable and easy to carry. The Captain pirate cat costume is a great deal.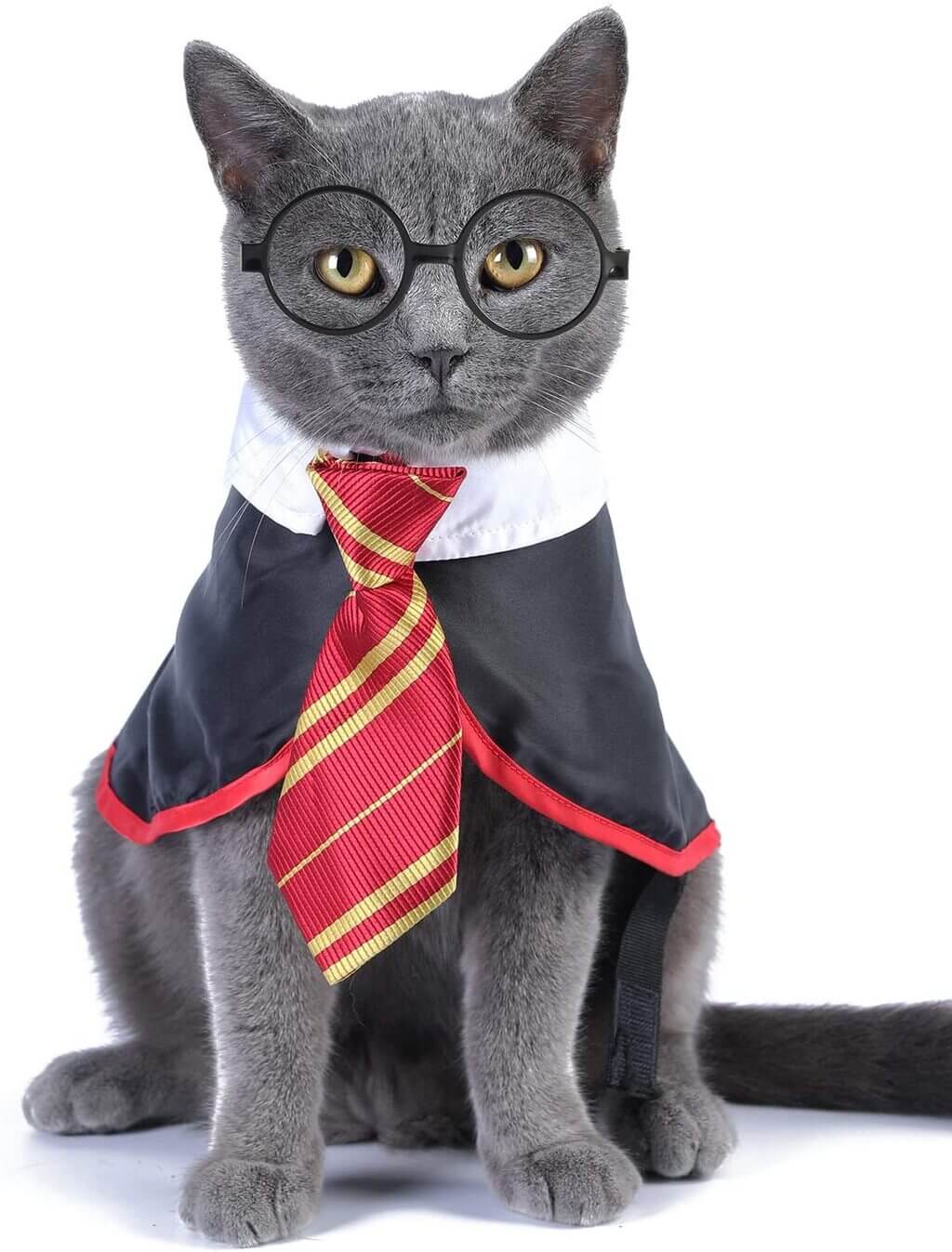 Source: amazon.com

'The Wizard' is one of the most trendings and admired Halloween costumes. If you want, your cat can twin with you, wearing the wizard cat costume and outfit. The point of interest is the material of the costume. This cat Halloween costume just surrounds the neck. Other than that, the costume material is glossy, which is very comforting for all age groups of cats. 
You have to ensure that you are choosing the correct neck size while purchasing the costume. If you feel it is too low or disturbing for your cat, look at the design and pattern. It just covers the collar and the back, which won't create any hindrance. Your cat is at ease to move and play comfortably. So, isn't this an exciting way to style your cat?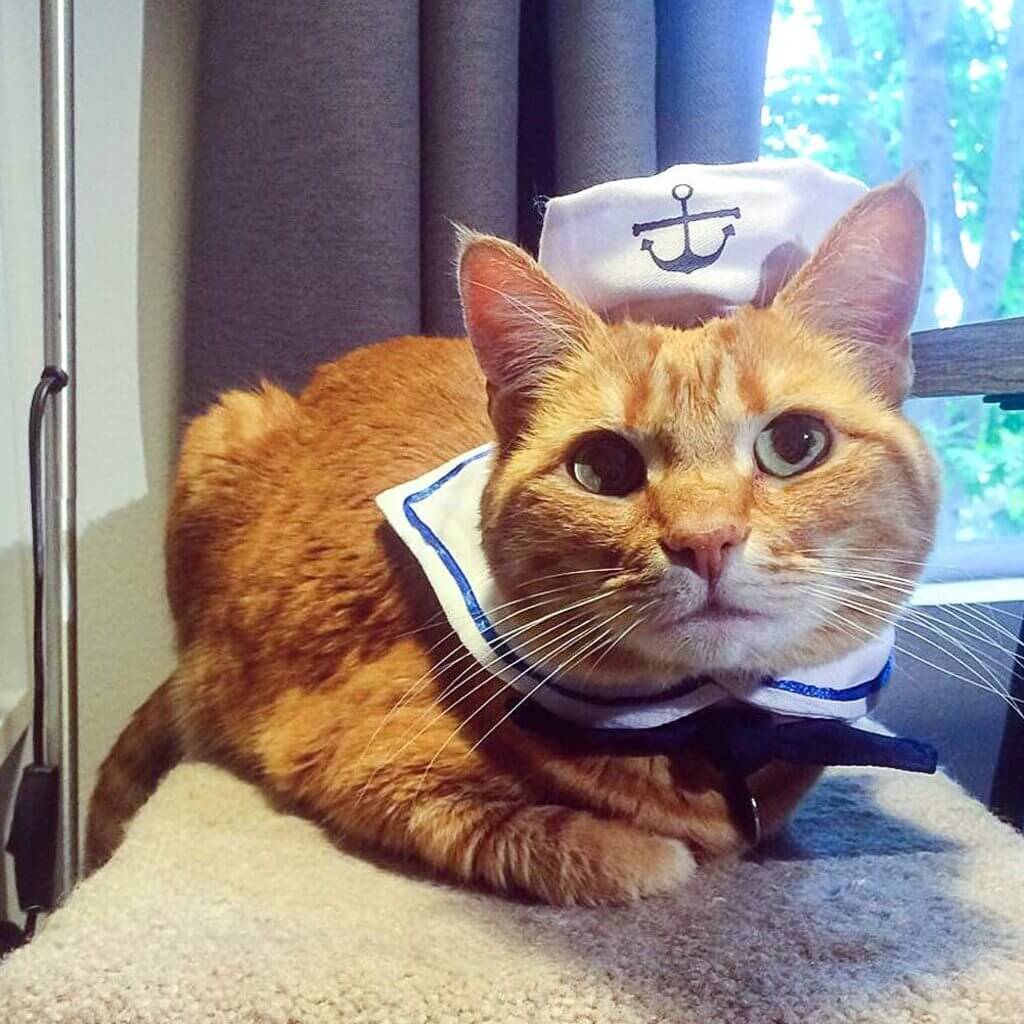 Source: amazon.com

If your cat is fond of enjoying its own rules, why don't you try a sailor costume for your cat? It is effortless and comfortable for your dog. This cat Halloween costume comes in a set. You will get to discover a hat and a sailor coat. The collar coat is a great escape. You need not worry about your cat's comfort and breathing space. 
The design and shape of the collar coat are very comforting and easily adjustable. To add a style of confidence, the hat will work the best. The set of a collar coat and hat is a perfect combination of Halloween cat costumes. The material is very comforting on your cat's coat. Ensure the size of the collar coat to maintain the breathing space for your cat. It has an adjusting belt, which will help you adjust the fitting as per the requirement.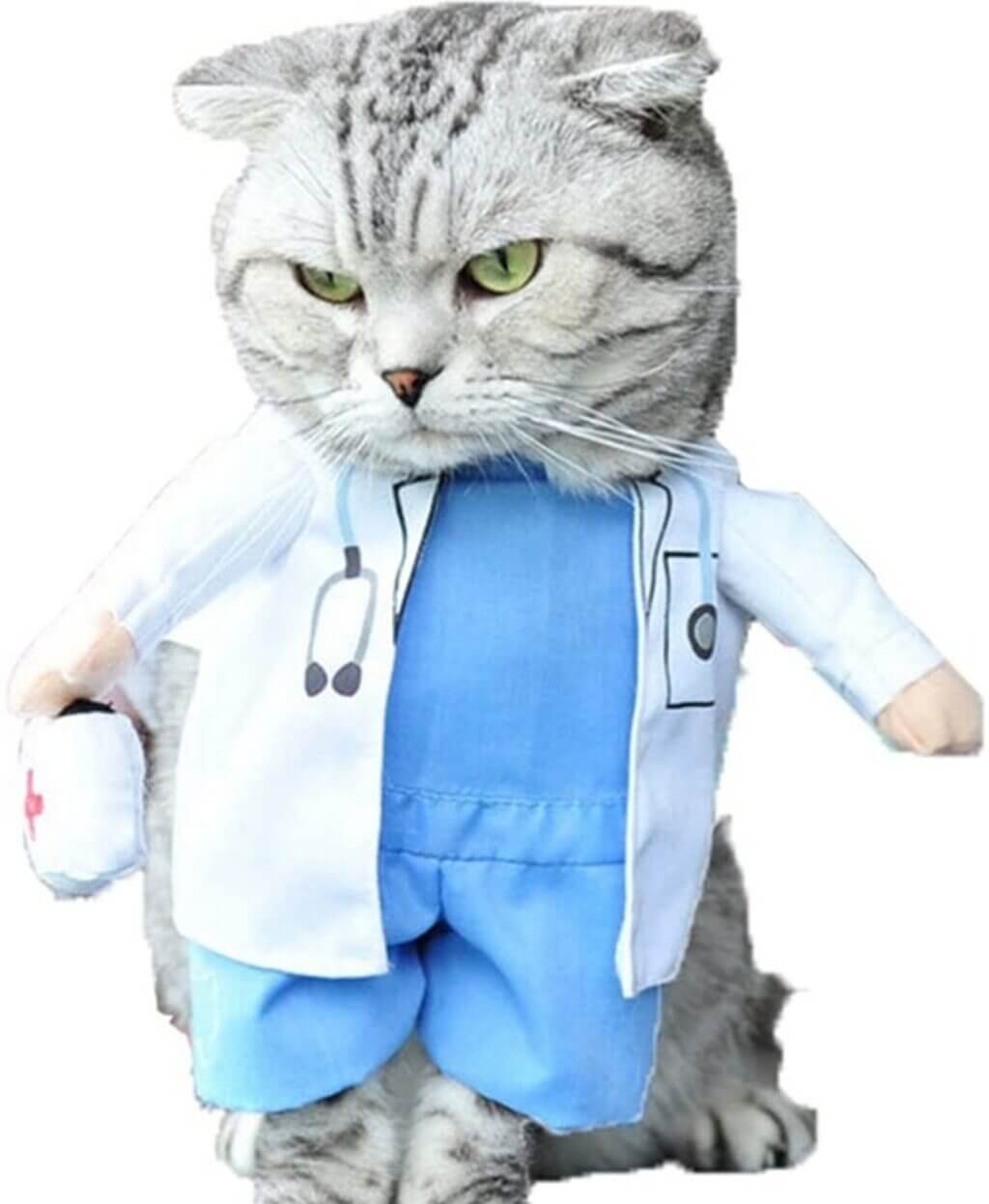 Source: amazon.com

If you expect your cat to enjoy some admiring characters for Halloween, consider this doctor cat Halloween costume for your friend. The most inspiring character can be a doctor too in a Halloween theme party. The costume is made from pure cotton fabric. The material is comfortable and skin-friendly. 
It allows clear breathing space for your cat and allows freedom of movement. The Halloween costume is easily adjustable and available in different sizes. Ensure that you are getting a comfortable-sized costume for your cat. Their comfort is our priority. So, make sure you are getting what they like and feel comfortable in.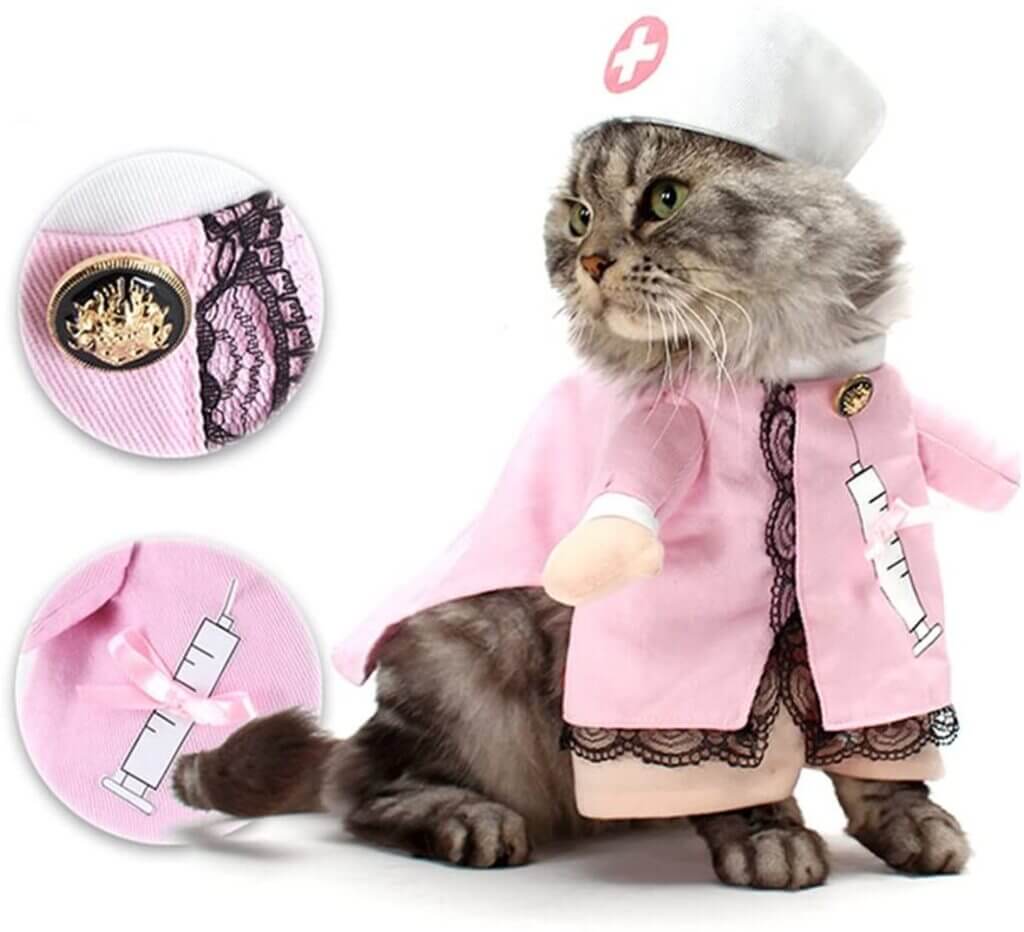 Source: amazon.com

Isn't this nurse uniform adorable and the sweetest way to present your cat at a Halloween party? The most comforting material is used to make this costume. Cotton is a great escape when you want your cat to enjoy comfort and freedom of movement. The costume is adjustable and available in different sizes. 
The costume comes with a nurse coat and a cap for the crown. This adorable Halloween costume is worth the try. It is better to buy a costume that is comfortable for your cat. The costume allows breathing space for your cat and allows them to enjoy the complete feel.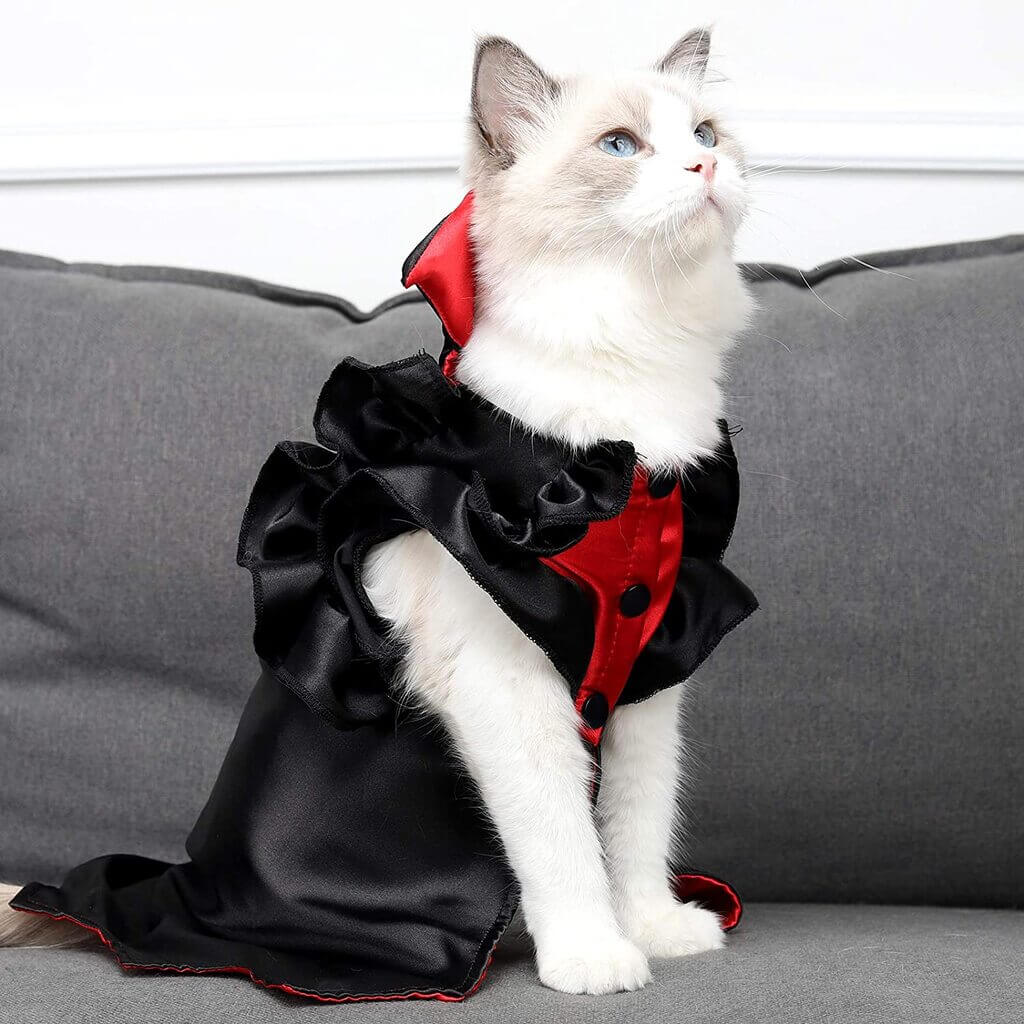 Source: amazon.com

Now, this is called a captivating Halloween costume. No matter if your cat is a male or female, they will rock with this one. The satin material makes it more appealing and comfortable for every cat. 
The costume is soft and smooth for your cat's coat. It is adjustable and provides sufficient breathing space for your cat. You need not worry about the comfort of your cat. As per average customer reviews, the costume is so comforting that their pets have enjoyed wearing the costume. 
Every cat Halloween costume with this particular design and style is highly adaptable and admired. Most importantly, the costume is light weighted. Cats can carry this everywhere they want.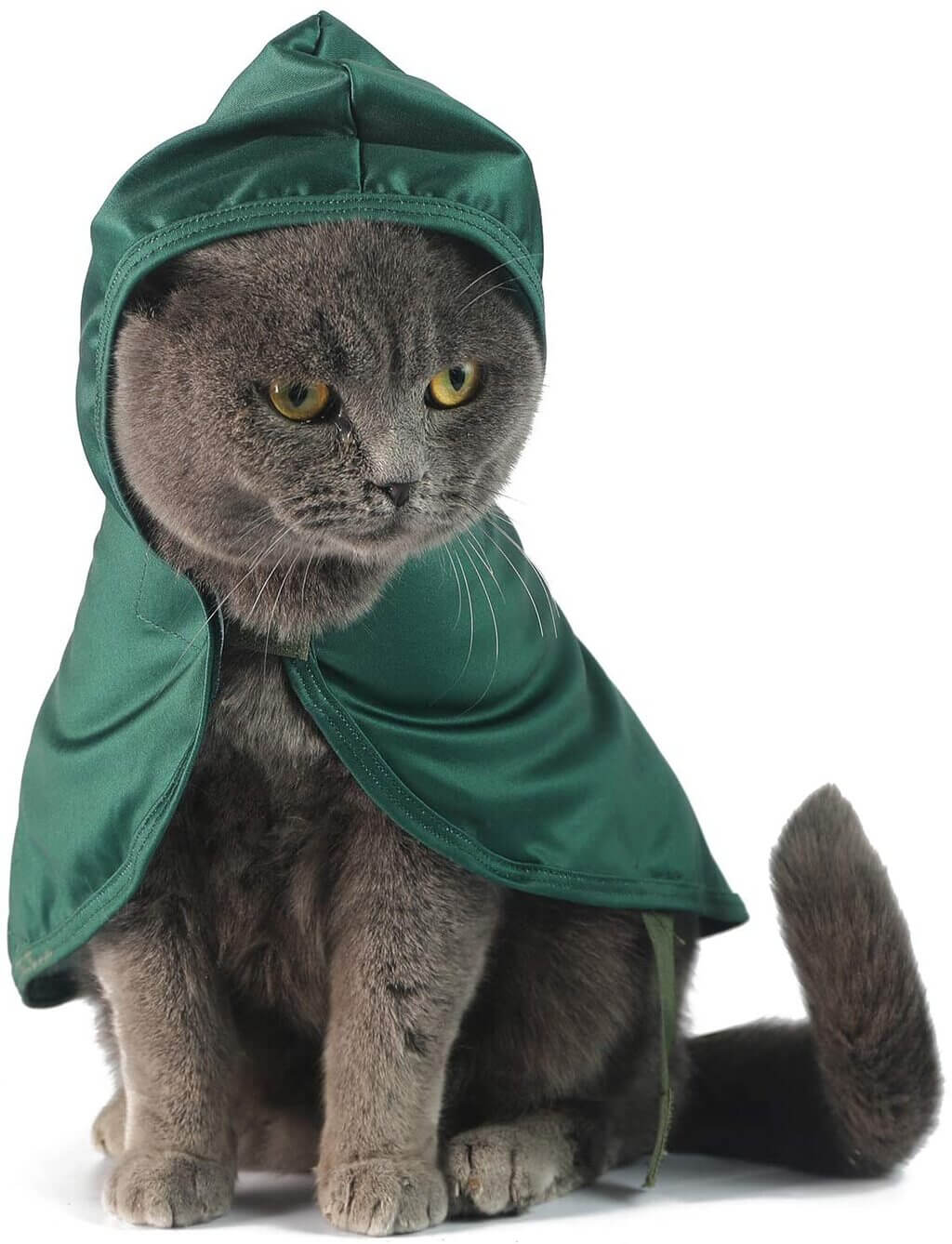 Source: amazon.com

As we say, we keep the best for the show stopper, here is the best Halloween costume you can avail. The Devil overcoat cat Halloween costume will do perfectly fine with the theme party. There is nothing left after looking at this most captivating cat costume and outfit. The costume is specially designed for the Halloween party in the town. 
Your cat can comfortably wear this costume all day round. It is made from a very comforting and soft material. Your cat will feel safe, comfortable and enjoy the breathing space and freedom wearing this costume. There are no complaints when your cat enjoys this costume. 
How to Buy Comfortable Cat Costumes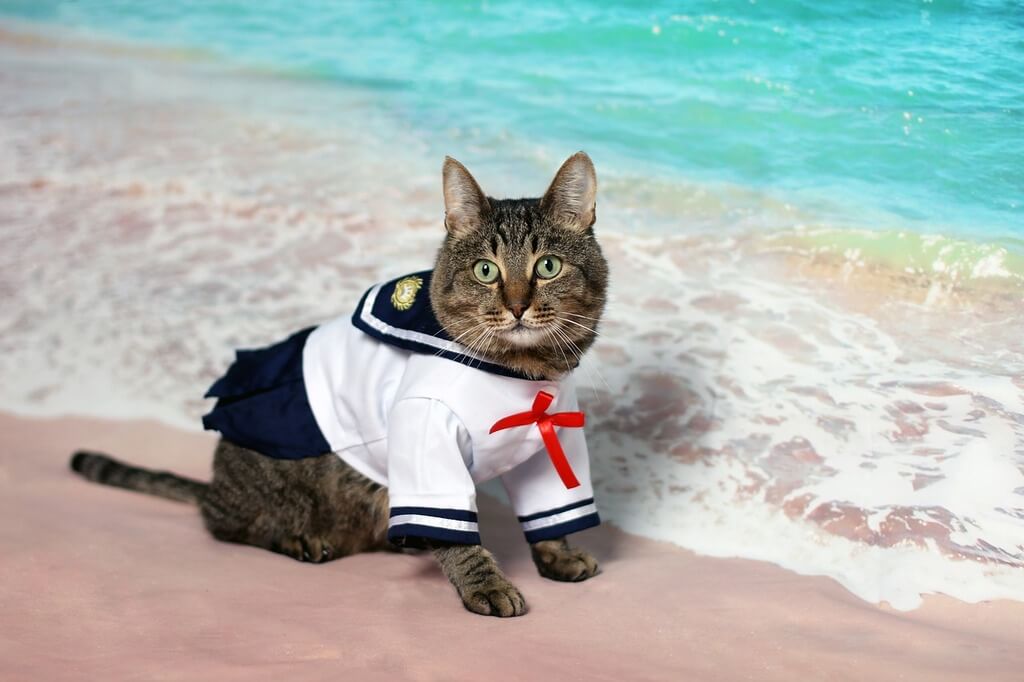 Source: necomimi.com
Whenever you plan to buy the best cat Halloween costumes, considering a buyer's guide will help you. Cats have a soft and sensitive coat. It is crucial to understand that to make them look appealing, and you cannot ignore their comfort. 
To ensure that you are buying the best cat costumes and outfits, consider the following points. All the pointers are decided based on the comfort and liking of your little cat friends. I am pretty sure if you consider all these points, your cats will enjoy the costumes and outfits. 
Just look into all these points and see if buying with these considerations makes it comfortable for your cat or not. 
Comfortable
Just like we discussed earlier, in the beginning, cat coats are extraordinarily fragile and delicate. Usually, cats don't like to wear all the closed stuff that hinders their movement. For every cat, their freedom to move matters a lot. They quickly get irritated when you try to take them away from their comfort. Many such cat Halloween costumes are irritating to the cats. 
There is no point in buying such cat costumes that are not comfortable for your cat. Especially when you plan to wear the costume for a more extended period, the comfort factor is crucial.
Soft Material 
The second most important factor is the material of cat costumes and outfits. When looking for a costume that best fits the Halloween theme, go for comforting and soothing soft material. 
You will discover different costumes that may seem to be appealing and fancy. Honestly, they have wiring support that makes them stiff from the exterior. All these pokey materials can create discomfort for your cat. 
If you noticed, even all the cat Halloween costumes, I have recommended you are not pokey. For instance, we can ignore our comfort, but that does not apply to our little cat friends. Thus, always consider soft and comfortable materials. 
Light Weighted 
Our cats are very light weighted. Making them wear a heavy cat costume can cause them to feel heavily weighted. There are chances that the style and pattern of the Halloween cat costumes are heavy. However, it is advisable to consider the costumes that are light in weight and easy to carry all-around. 
Your cat won't sit in a single place for a longer time. They will keep roaming all around the campus and space. Carrying heavy cat Halloween costumes can be discomforting. 
Also Read: 13 Black Cat Breeds: Smart, Active, and Worth as Companions!
Breathable Material 
At times cat costumes are difficult to breathe. If you go for tight or the wrong size of costumes, they are hard to breathe. Always ensure that you are providing some breathing space with the cat costume. It is okay if you get a longer-size cat costume. 
For a second option, choose adjustable Halloween cat costumes. Even if you find the costume loose, you can adjust it to a comfortable fitting. Always remember your cat's comfort and breathing space are crucial. 
Consider your Cat's Age
Different age groups of cats have different levels of adjusting the quality. If you plan to get a cat Halloween costume for a newborn or young cat, they will still wear the outfit. If you are looking for an adult, go for simple costumes and outfits. 
Usually, adult cats take longer to adjust to all fancy costumes. Thus, your cat's age always matters. Always make sure that you are providing them with their space and time to accept the things.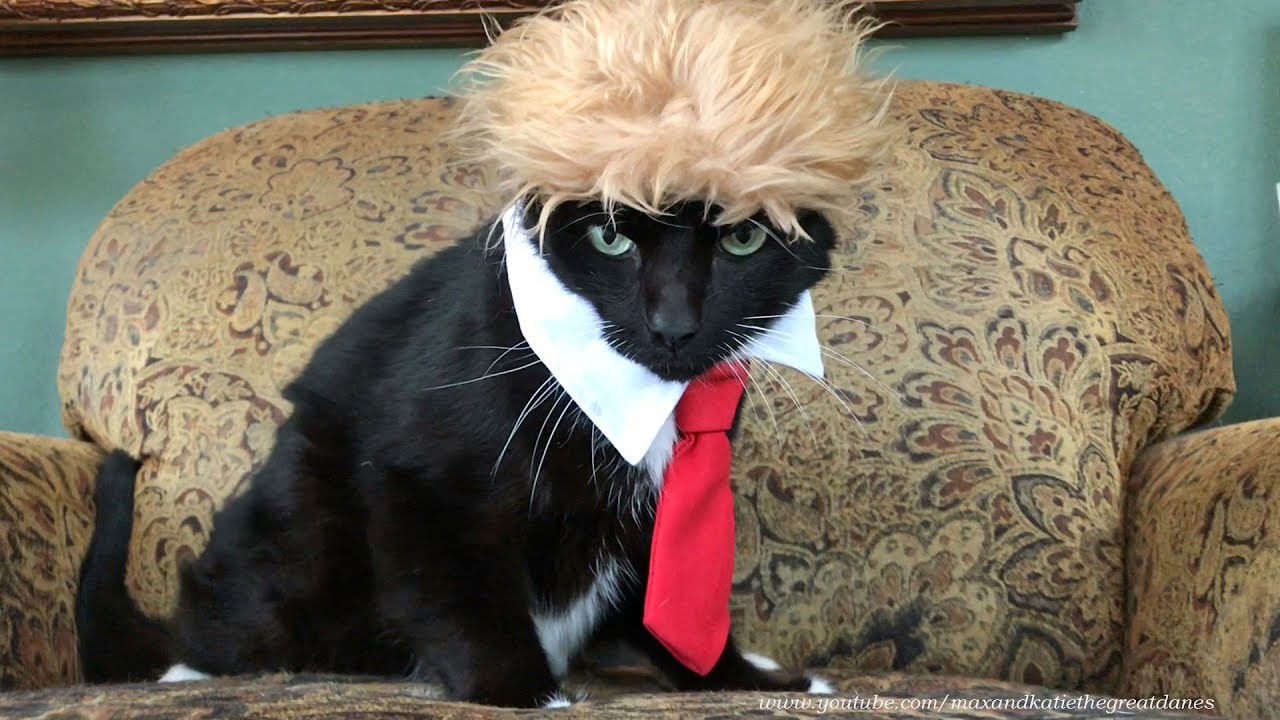 Source: youtube.com
Final Thoughts
Being a cat owner myself, I can understand, we always want our cat to enjoy the party with some funky attire. However, the fact is our little friends are very fond of their comfort and freedom of movement. Thus, whenever you plan to buy them a cat Halloween costume, consider all the buying guidelines. 
Even in the list of our cat Halloween costumes ideas, I have listed the costumes that assure the comfort of your cat. They have sensitive skin and coats, so it is evident that looking for their comfort and breathing space in the costume is essential.
For more information on pet care, breeds, or pet foods, visit PetsNurturing.
For quick pet tips and adorable pictures, follow us on our Instagram page pets_nurturing.