Does your cat climb various things in your house? And every time your kitten tries to climb anything, she always ends up breaking something? If this is the everyday story of your feline, it's time to get her a cat tree! 
Whether it's a kitten or lion, we all know that felines are instinctual climbers. These animals are built to climb and jump. Wild cats generally climb trees to find food, stay safe from predators, or sometimes control their territory. It's pretty obvious that domestic cats also have these instincts and qualities.
And if they don't find stuff, these cats will either go outside or destroy things in the house. Here is the perfect solution: a cat tree for large cats!
Cat trees are wonderful ways to entertain your cats indoors. This will also protect your expensive furniture and decor items. Your kitten will be happy, stimulated, and safe! 
Are you also looking for a cat tree for large cats? If yes, you have landed on the right page! 
Today in this blog, we have gathered up a list of the top 7 best cat tree for large cats. Bigger felines need more space; that's why it's good to buy a large tree. So whether you're living in a mansion or a small-sized apartment, you'll surely find the purrfect one for your kitty on the list. 
Let's start.
7 Cool & Affordable Cat Tree Houses For Large Cats
Cat trees can be big or massive, depending on their size. You can get them for your furry friend to use for several purposes, such as scratching, lounging, and climbing. To make the whole tree setup more appealing, place it near a window where your cat can sit and watch birds or neighbors. 
Let's take a look at the best cat trees to make your fur balls comfortable and cozy: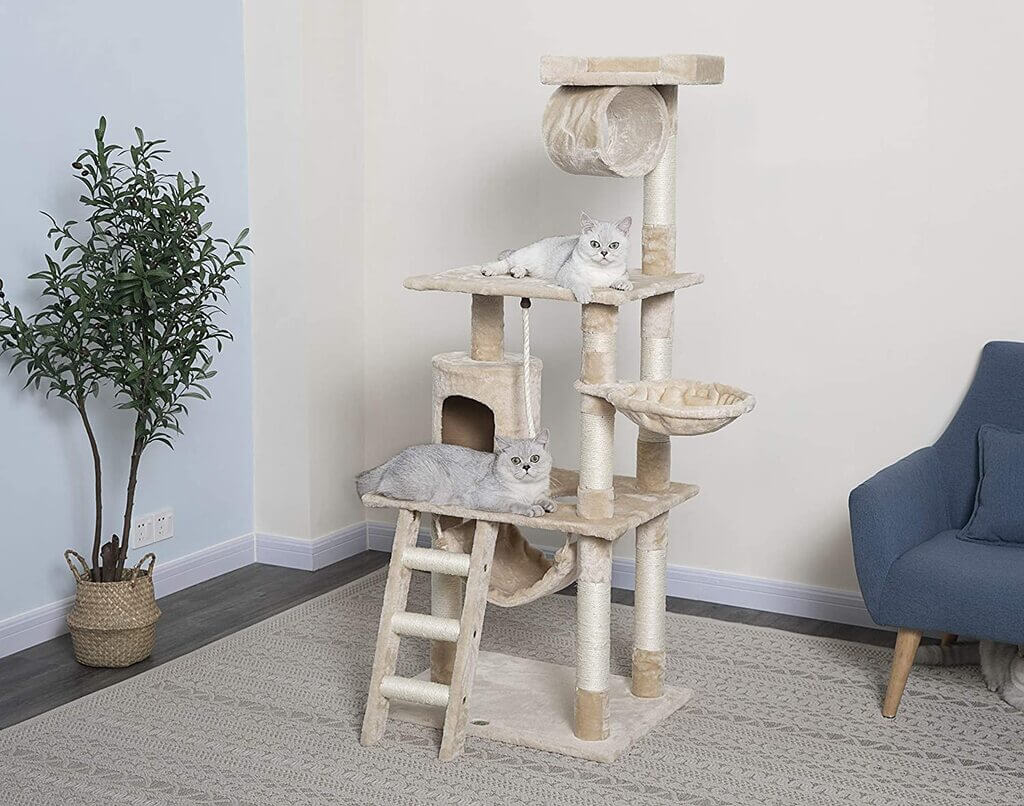 Source: amazon.com

Specifications:
Dimensions: 27 x 38 x 62-inches 

Weight: 40.8 pounds

Frame Material: Wood 

Covering Material: Plush fabric
Do you've more than one cat in your home? If yes, this tree option will be best for you!
This amazing cat tree is from Go Pet Club. It is built from highly durable compressed wood and later wrapped with a high-quality Faux Fur finish. It has many interesting features, such as it has multiple scratching posts. All of them are covered by natural sisal ropes, which also have raised edges to the perches. This means your kitty will be safe and never accidentally roll off from the tree.
Apart from this, this tree also comes with many baskets, caves, hammocks, ledges, and even a jelly-roll tube. So your kitties will definitely love this! 
| | |
| --- | --- |
| Pros | Cons |
| | |
| | |
| Made from highly durable compressed wood | |
| Raised edges prevent cats from injury and falling off | |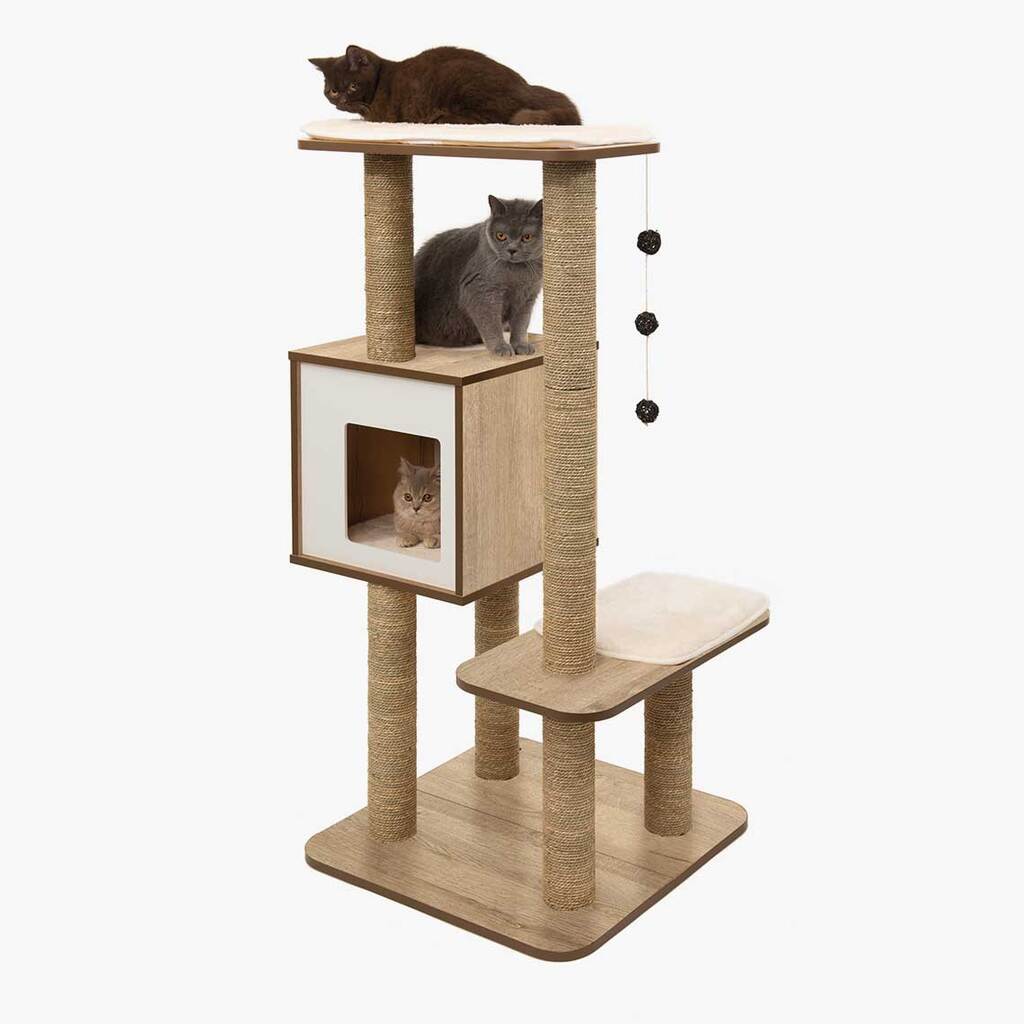 Source: amazon.com

Specifications:
Dimensions: 2.1 x 22.1 x 47.9-inches 

Weight: 40.5 pounds 

Frame Material: Wood 

Covering Material: Memory foam
If you're looking for a cat tree that is useful for cats and looks great with your home decor, go with the VESPER Cat Furniture V-High Base cat tree!
This tree looks stylish and attractive, and your kitties will feel comfortable while playing on it! This one has three levels, and each one is covered with soft memory foam cat bed cushions. 
This elegant yet practical line of cat furniture will satisfy the daily activity needs of your beloved pet. This cat tree also has multiple scratching posts so that your kitty can scratch this tree instead of your expensive furniture. Comes in a beautiful natural oak color that will seamlessly match any home decor. Plus, it also has an oversized cat toy! 
| | |
| --- | --- |
| Pros | Cons |
| Made with soft memory foam | |
| | |
| | |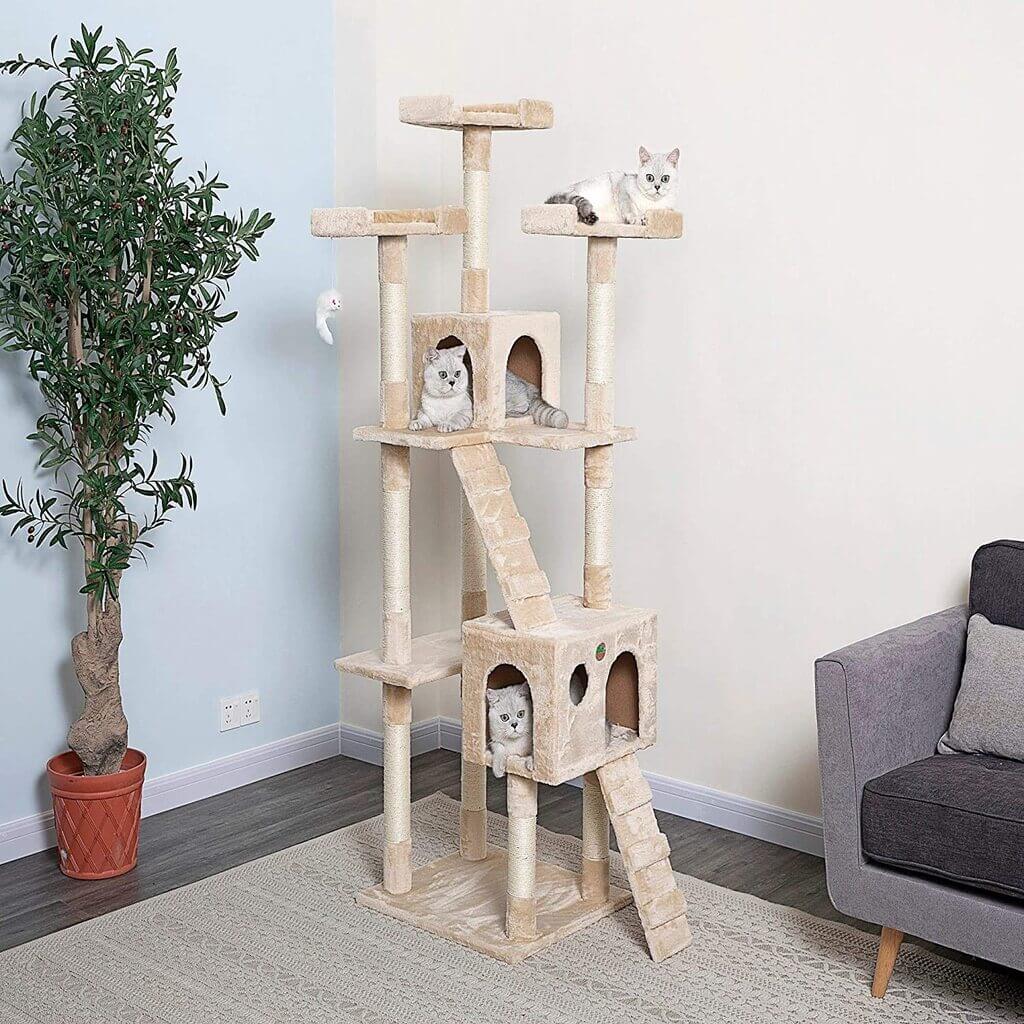 Source: amazon.com

Specifications:
Dimensions: 25 x 38 x 71.2 inches

Covering material: Faux fur, sisal

Frame: Compressed wood
Are you looking for a cat tree for larger cat breeds and multi-cat households? We've got you! This Go Pet Club Faux Fur Cat Tree & Condo will suit your needs perfectly! 
Made from strong compressed wood, this cat tree has many features, including multiple levels, cozy hideouts, multiple scratching posts, and ramps. And the best part is everything is covered in faux fur with tough sisal scratching posts. 
This way, your cats will have a space where they can rest and play. Don't worry about its sturdiness if you have any large cats because it can easily hold up to 70 pounds on any one surface. To keep your cats busy, these cat tree houses for large cats also come with hanging toys. They can also use the small and large condo houses for napping and hiding.
The only drawback of this tree is that the highest posts seem lower for your large cats. But honestly, that's not even an issue! Go and buy this tree for your kitties! 
| | |
| --- | --- |
| Pros | Cons |
| | It has higher perches that may be small for large cats |
| Sisal-wrapped scratching posts | |
| Comes with several hanging toys | |
| Sturdy Compressed wood construction | |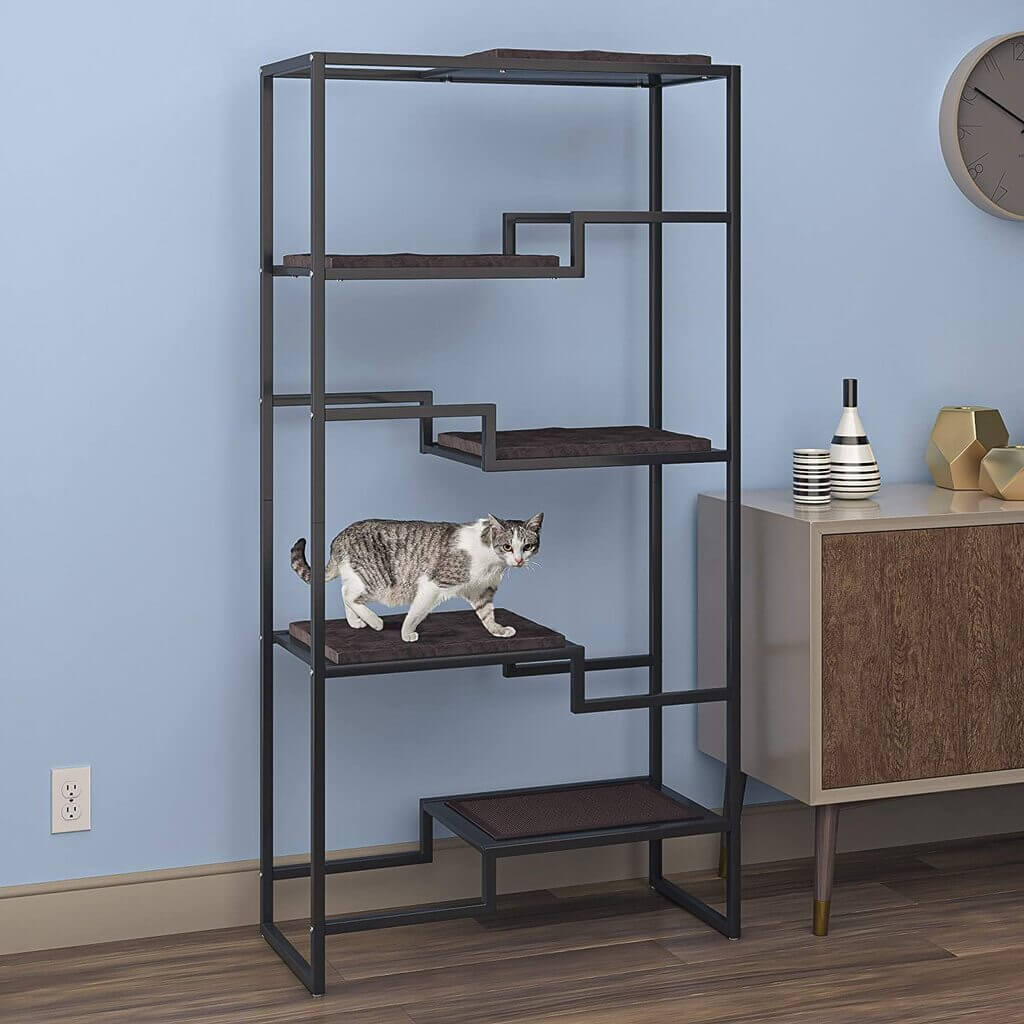 Source: amazon.com

Specifications:
Dimensions:

62 x 31 x 15 inches

Weight: 48.15 Pounds

Materials: Steel
What do you think about the above product? Is it a bookshelf or a cat tree?
Yes, this is indeed a cat tree, but many people confuse it with bookshelf or decor! This elegant and standard metal-framed cat tree is from THE REFINED FELINE brand. 
This looks pretty unique and unusual due to its modern furniture design. Its functional stepped design allows multiple cats to climb, and also it has wide platforms of about 13" x 18.5". These platforms give ample space for your cats to perch and play.
Another advantage of this cat tree is that you can remove the pads and wash them if they get soiled. The only downside is that it doesn't come with hanging toys, but you can buy them separately and attach them to the tree. Metropolitan Cat Condo is sturdy and includes a safety wall anchor, so your baby cats will surely love this modern cat tree design.
| | |
| --- | --- |
| Pros | Cons |
| | |
| | |
| Modern cat furniture design | |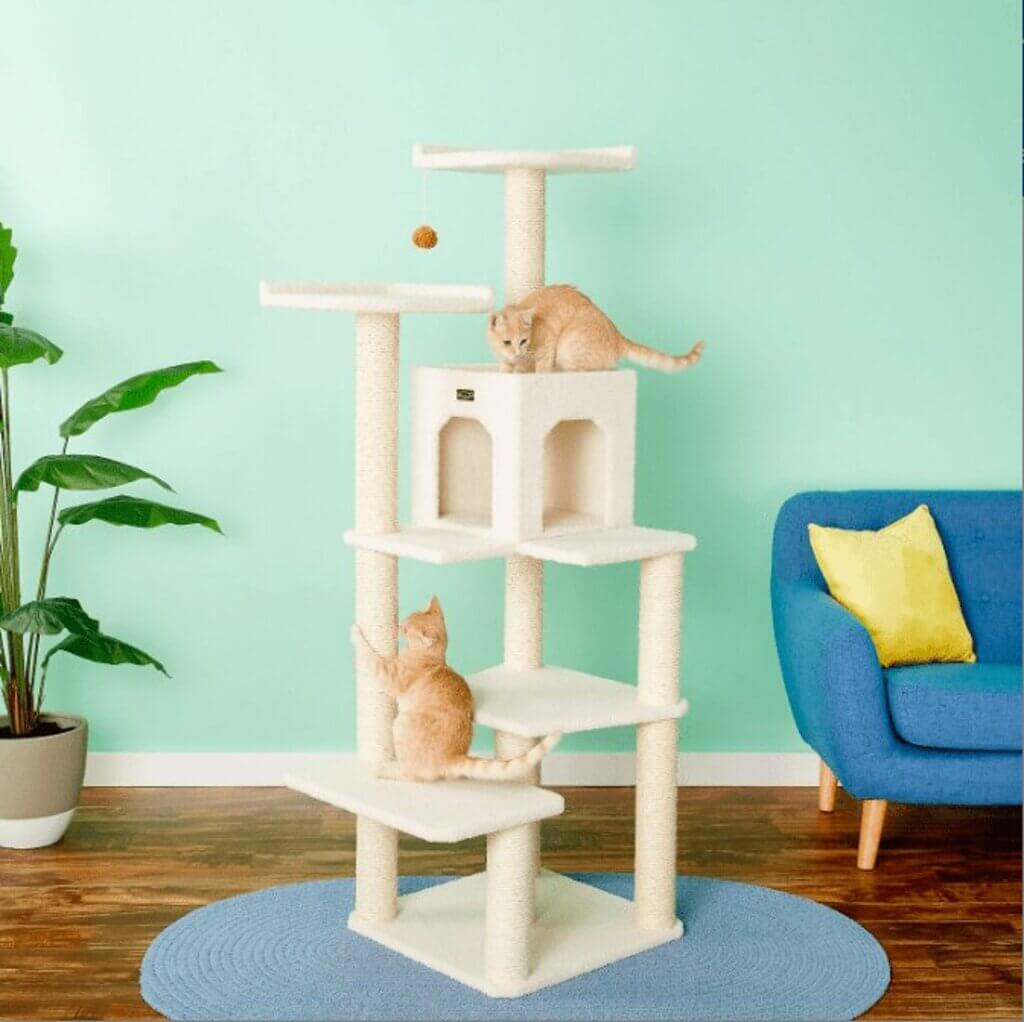 Source: petkeen.com

Specifications:
Dimensions:

25 L x 31 W x 68 H inches

Weight:

55 pounds

Materials:

Engineered wood, cardboard tubes, faux fur, and sisal
If you have baby cats or kittens, consider buying a tree that will fit their growing needs. Armarkat 68-in Faux Fleece Cat Tree & Condo kit is something that you can completely rely on! 
This XXL cat tree for large cats is perfect for small and medium-sized cats, but the surprising thing is that it is also sturdy enough for a large-breed kitten. This tree is something that your kitten can grow up with. It comes with multiple scratching areas, and your kittens can enjoy bouncing around on five elevated platforms.
At first, kittens can play at the lower levels; and as they grow, they can climb to the upper levels. 
| | |
| --- | --- |
| Pros | Cons |
| | Ivory color may soil more quickly |
| Multiple scratching spots | |
| | |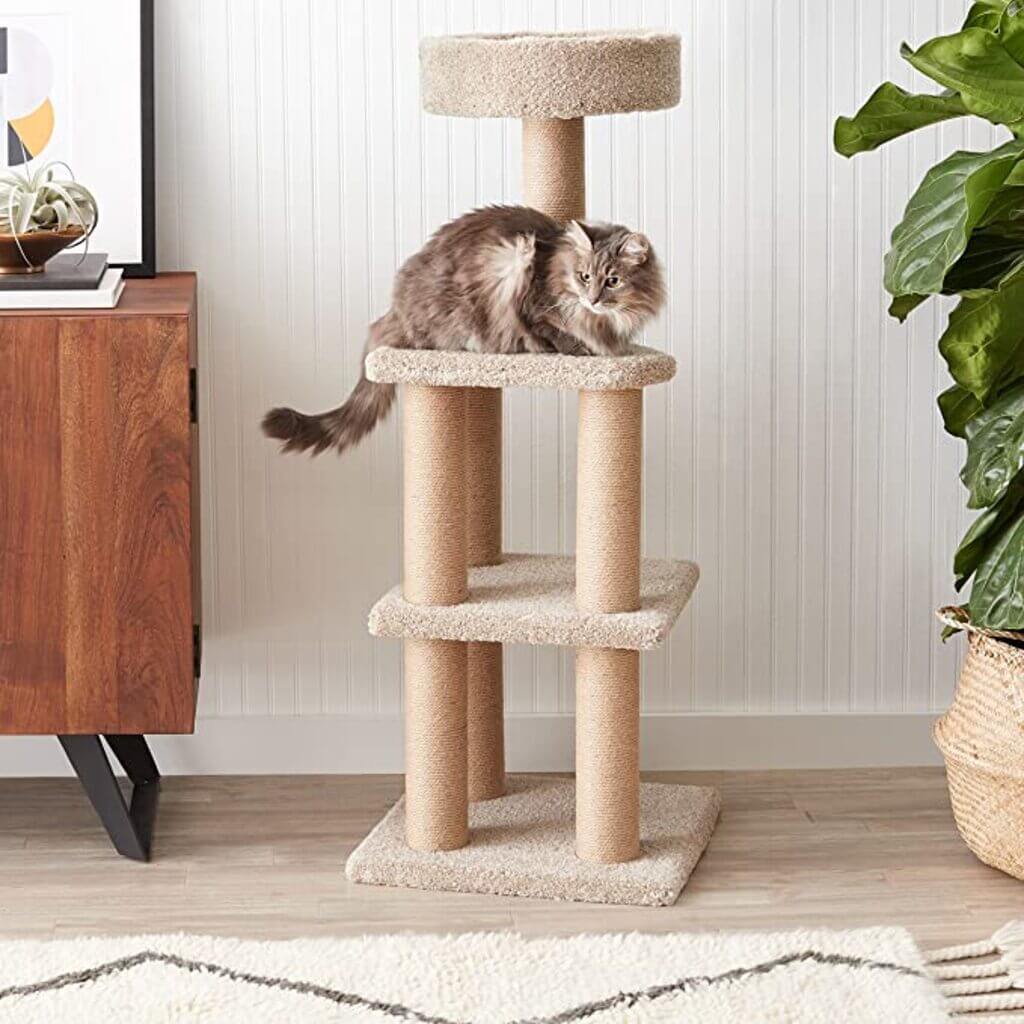 Source: amazon.com

Specifications:
Dimensions: 17.72 x 17.72 x 45.88-inches 

Weight: 24.25 pounds 

Frame Material: Fibreboard 
Do you get tired of your cat destroying furniture with scratching? If yes, just do one thing, and all this will stop! Buy the AmazonBasics Cat Activity Tree with Scratching Posts. 
This is a multi-platform indoor cat tree that comes with multiple scratching spots. Your cats can use this climbing activity tower for cat playtime, scratching and relaxation. There are seven columns in this tall cat tree for large cats, and each one is wrapped in jute. So your cats can knead or scratch whenever they want to, and your furniture will also remain safe! 
The best thing about this cat tree is that it is available at an affordable price. It has a square base, so you can easily put this tower at any corner of your home, next to a couch, or directly to a window without blocking views.
| | |
| --- | --- |
| Pros | Cons |
| | |
| | |
| | |
Also Read: 6 Best Cat Water Fountains 2022: Check Them Out Now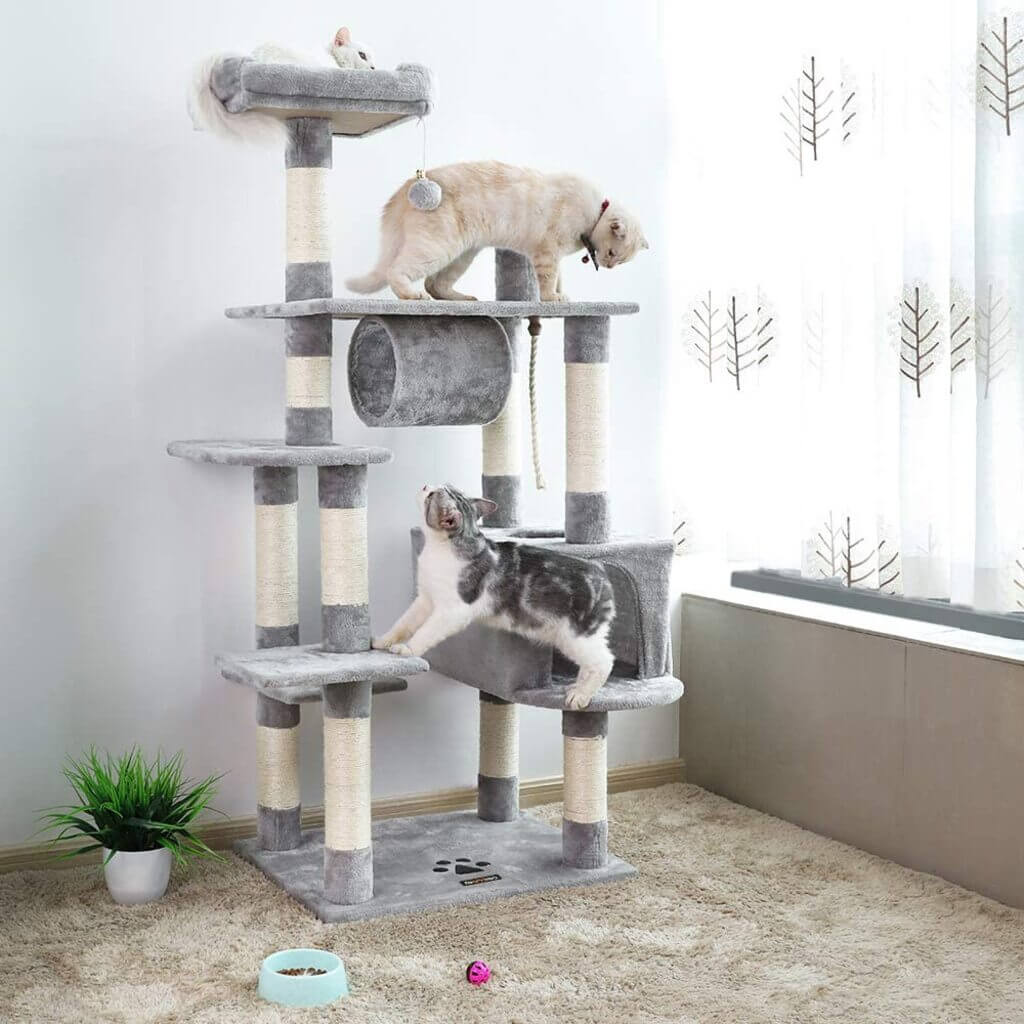 Source: amazon.com

Specifications:
Dimensions:

23.6 x 19.7 x 61.42 inches

Material: CARB-certified Board, Plush Fabric, Sisal Rope, Paper Tubes

Color:

Light Grey
Whenever you're buying a cat tree for big cats, always look for two things: space and stability! The FEANDREA Large Cat Tree Condo is a multi-level cat tower that has enough space for large felines. 
This tree also includes multiple scratching posts and an anti-toppling strap for extra security. Your cats will be super comfortable in this tower as it has many cozy spots for napping and playing. Everything is covered with a soft plush material with raised round edges. 
| | |
| --- | --- |
| Pros | Cons |
| | |
| Structured with carb-certified boards | |
| | |
Buy Best Cat Tree For Large Cats!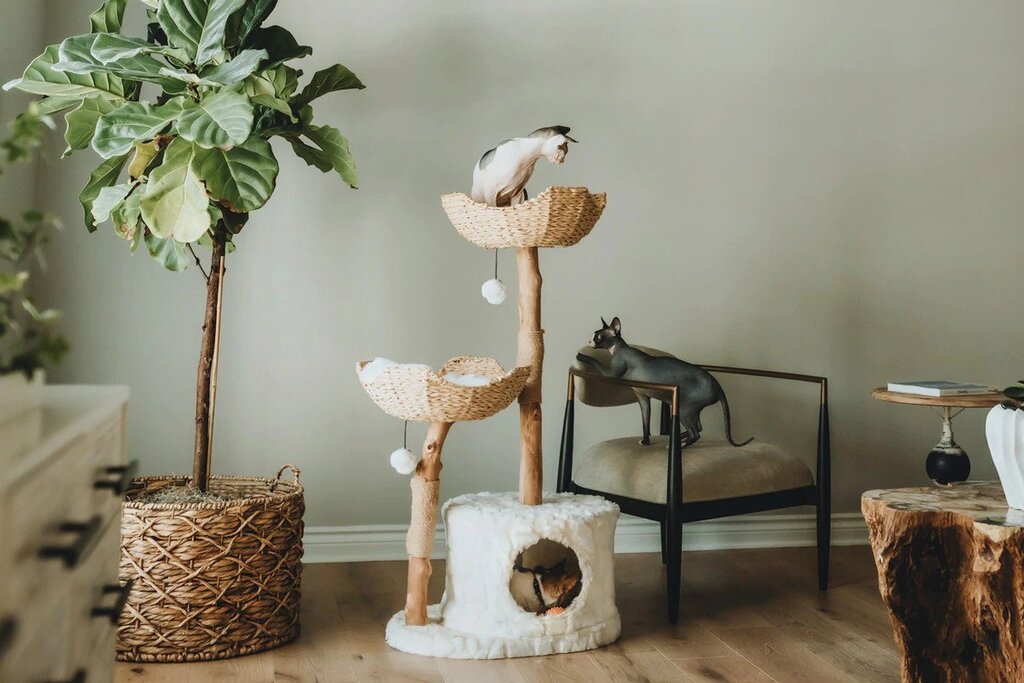 Source: shopify.com
So this is all about a cat tree for large cats. All of the above cat trees are perfect for kittens and growing cats. This will be a clever investment that your cat will love playing with and spending time on it. Plus, your pretty kittens can leave scratching your furniture and play with their siblings on these cat trees. We have also outdoor cat house for perfect shelter.
I hope this in-depth buying guide on cat tree houses for large cats with honest reviews on cat trees has helped you pick the right cat tree for your feline. If you like this blog on best cat tree for large cats and find it helpful, share this blog with your friends and family looking for a cat tree for large cats.
For more information on pet care, breeds, or pet foods, visit PetsNurturing.
Follow us on our Instagram page, pets_nurturing, for quick pet tips and adorable pictures.