"When the snows fall and the white winds blow, the lone wolf dies, but the pack survives."  There is lots of question Are Game of Thrones Dire Wolves Real or Special Effects?
Not just starks, but their pets also got famous with each season. Game of Thrones has its separate loyal fanbase. It's like once a Wolf always a Wolf. After the seasons were release many fans who love the game of thrones dire wolf breeds tire to search about them, you would have probably done the same. 
Introduction
Their excitement went to zero when they read dire wolves are an extinct breed of wolf. But many questions arose with it, like, if they are extinct how they appear in the show? If not a dire wolf, what are they? Special effects or replicas? 
Even still some Thronees (a word for GoT fans) are finding the answer for the same. We have crack up the answer to the question. We would rather call them the game of thrones dog then dire wolves.
Yep. You read it right. The dire wolves that appear in the GOT are neither actual dire wolf nor special effect. It is play by the Northern Inuit dog breed. Here in this article, we are going to give a quick sneak-peak on the characteristics of both Dire Wolf and Norther Inuit Dog Breed. After that, we are going to talk about the Starks and the bond they had with their dire wolves.
Also Read: Wolfdog Facts- Can The Wild Be Tamed
A fact you all know about:- The sigil of House Stark is a grey dire wolf on a white background, over a green escutcheon.
Dire Wolf
Source: game.co.uk
Game of Thrones dire wolves is actually an extinct breed. A breed that got extinct 10,000 years ago. So there is not even a 0.1% chance that the pets display in the show are Dire Wolf. Below are the few characteristics that you would be interest to know about:-
They weight between 75 to 150 pounds.

Measure about 2.5 feet from the ground to shoulder.

It had a two-foot tail.

They had a broader skull and a smaller brain. 

Also, it had Large slicing teeth and a strong bite force.

They were hypercarnivores and prey upon bison, sloths, and horses.

Always stay in a pack. Hunt together, travel together and even rest together.

They were remotely ancestral to modern dogs.
Northern Inuit Dog
Source: prositehosting.co.uk
Breed Group:- Not Applicable
Height:- 23 to 32 inches
Weight:- 55 to 110 pounds
Life Expectancy:- 12 to 14 years
Traits:- Friendly, Calm, Gentle, Familial, Dependable
Northern Inuit dogs are said to be the perfect pet a person can have. Its characteristic of being non-aggressive and friendly makes everyone love them. But they can sometimes act stubborn and challenging to train because of its parent breeds.
It is said that they were create as mix-breed of Siberian Huskies, Alaskan Malamutes, and German Shepherds in the 1980s by Eddie Harrison. Another story states that they were bred from Canadian Eskimo Dogs and Labrador Huskies in the 1970s and were brought from the USA to the UK.
Six Dire Wolves of GoT
Source: tumblr.com
We all know there were six dire wolves, one for each stark. They were gift to them by Ned Stark (Lord of Winterfell, then). They came in the scene when Eddard Stark and his sons find a dead dire wolf with its surviving cubs. He was ready to kill them too, but Jon Snow asks him to let them live and to gift each of them to his legitimate children. The reason behind it was simple, dire wolf was the symbol of the stark family. After he is convince there comes one more white cub which was given to Jon Snow, the illegitimate son. 
These dire wolves were not only pets but their protectors as well. Read the below pointers to know about the bond they had with the Starks.
Grey Wind – Robb Stark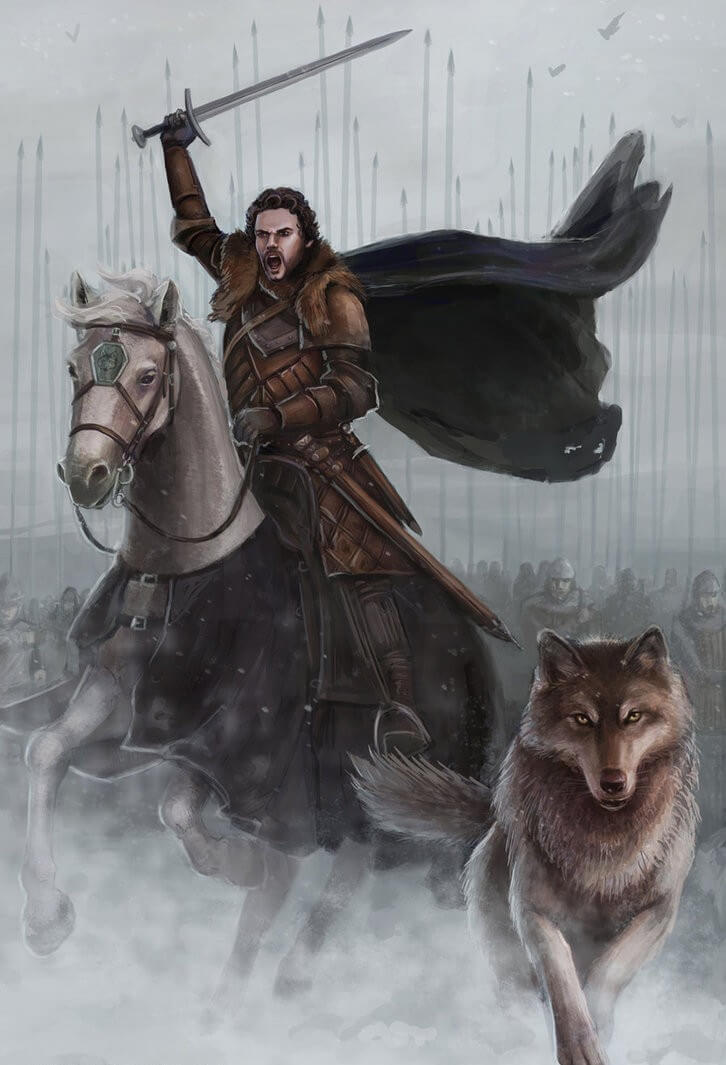 Source: deviantart.net
Grey wind the wolf that staye with Robb Stark even in his toughest time. Grey Wind is the real hero of the Battle of Oxcross, as it scares the horses and this way the guards were kill and Lannister forces were end. In the end, both the owner and pet were kill in the same way by the hands of Freys and Lannisters. 
Ghost – Jon Snow
Source: hdqwalls.com
The most famous dire wolf of the entire season is Ghost, because of its unique appearance. The ghost was love by every GoT fan. It had red eyes and a white body, which made it look different from other cubs. The ghost reflect the personality of Jon Snow perfectly. It accompanied Jon and his friend Sam in the entire series, even when they join Night's Watch.
Sansa Stark – Lady
Source: fanpop.com
The first dire wolf to die in the entire series is the Lady. Lady was the Dire Wolf of Sansa Stark (Lord of Winterfell, now). When Nymeria, the dire wolf of Arya Stark bites prince Joffery to save Arya, she orders it to go away in order to save it from the death sentence. But Queen Cersei Lannister was not satisfy and order to kill any of the dire wolves. Ned himself kills the Lady before butcher can. This way, Lady was not able to stay with Sansa for much time.
Arya Stark – Nymeria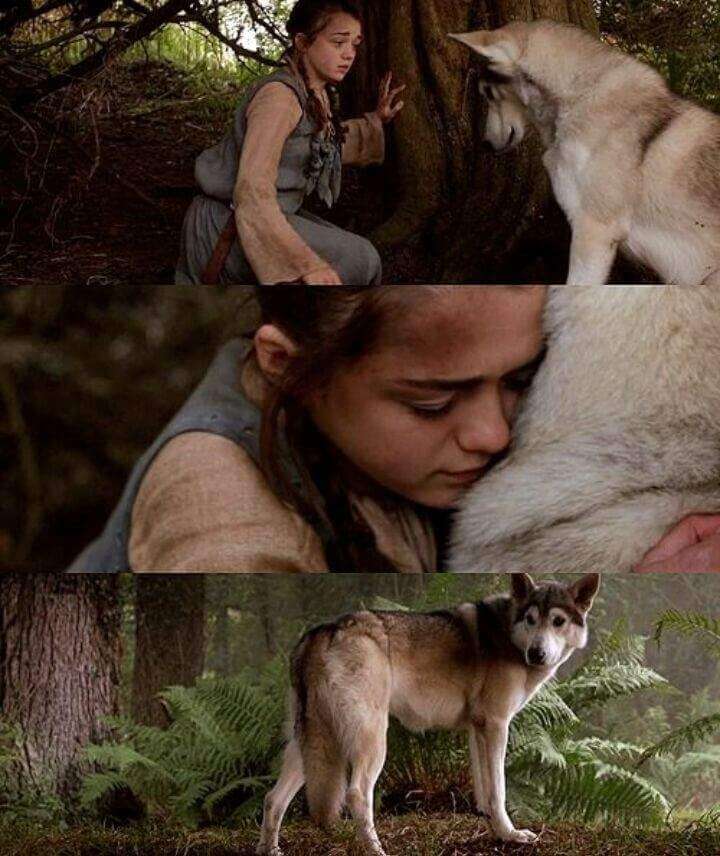 Source: narvii.com
Nymeria – the long lost dire wolf. After Arya made it go away, it was seen in the entire series. Its whereabouts are still unknown. But they both are mentally connect. Nymeria has shown great loyalty towards Arya.
Bran Stark – Summer
Source: pinimg.com
Summer can be said one of the bravest dire wolves as it fearlessly attacks the white walker in order to save the life of Bran Stark. Throughout the series, Summer follows Bran and protects him from every danger. At last, it lost its life while protecting Bran and his companions from the Army of Dead.
Rickon Stark – Shaggydog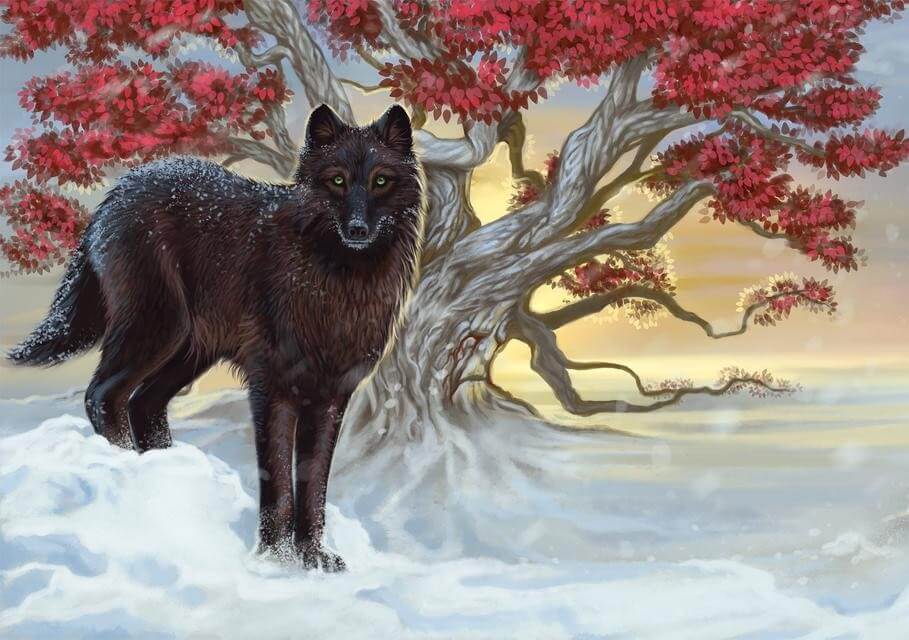 Source: wixmp.com
The easiest to recognize was the Shaggydog, because of its black fur. It was the fierce protector of Rickon. In season six, it was behead, and its fur was use to make carpet. It was kill by Umber to show his willingness to work with Ramsay Bolton. Its head, along with its living owner, was present to the Ramsay Bolton.
Source: pinimg.com
Let's know about these interesting dog breeds that look like a polar bears.
Now you know everything about the GoT dire wolves or should I say dog? Haha. Whatever it is, we loved them. For more information on pets or relating to them, visit Petsnurturing.