The true spirit of festivity and fun is during Halloween celebration. The mention of the fest flooded with the best memories of hustle-bustle in the neighborhood, cute children dressed in spooky avatars for trick or treat custom, busy streets, sweet treats, masquerade parties, decorating yard into a haunted place and whatnot. In fun and celebration, what about your pet safety? Have you to wait for a minute and ponder over Halloween safety tips for pets. Let's see Halloween Pet Safety.
 Your happy time may not be a happy time for your pets just because these speechless creatures are unable to express their pain and fear about the eerie night. Never make any compromise in their safety. You must acknowledge the fact that your fun time should not be a nightmare for them. 
It is time when you should even give respect to your pet likes, dislikes, and fear and create a safe and fearless Halloween for them. 
Also Read: An Instructive Guide on Dog Muzzle with Bonus Information on Ideal Muzzles to Have
Here are some of the Halloween pet safety for your Kitty and doggo. 
Chocolate and Candy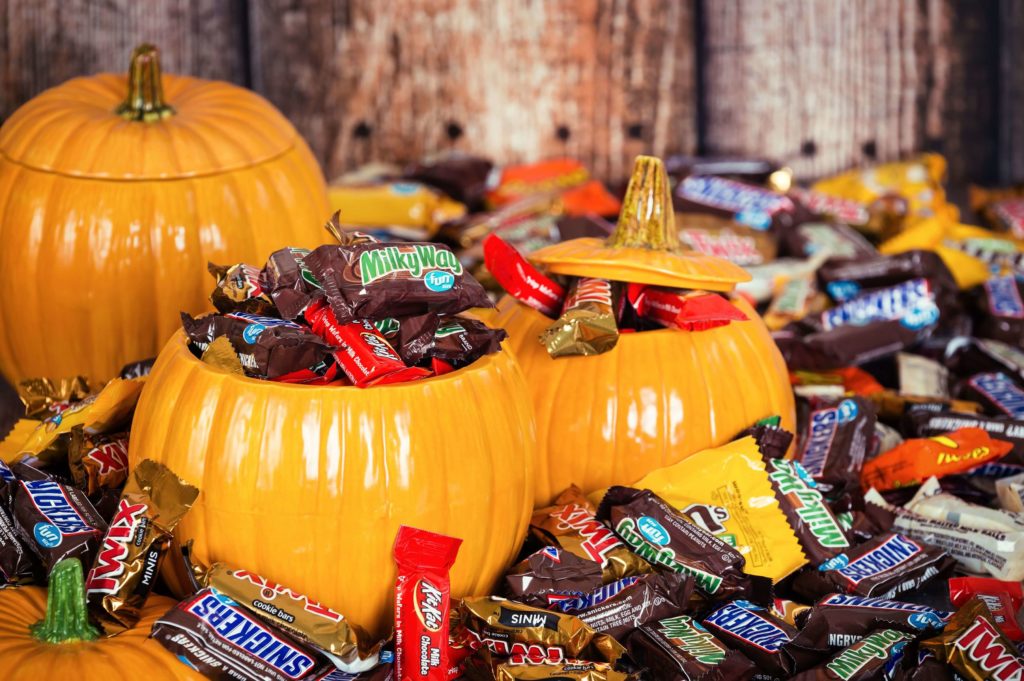 Source: minutemediacdn.com
As a responsible pet parent, you might be aware of the fact that chocolates are toxic and candy can cause gastro problems to them. Keep chocolates and candies away. Chocolate contains methylxanthines, i.e. theobromine along with caffeine. Not only chocolates, make sure to keep your pet away from raisins, sugary candies and corn, and caramel sticks. These things may result in diarrhea, vomiting and upset stomach. Also, make sure to keep the dog away from candy wrappers. 
Leash and Muzzle
Source: etsystatic.com
At the evening walk, chances are that your dog gets frightened with bizarre costumes of the people around the street. Just to control and save him from a run, the leash is the best option available. It is advisable to skip the walk for that evening. Even muzzle is of great help to prevent him from eating unwanted things when you are not around. 
Don't Force the Costumes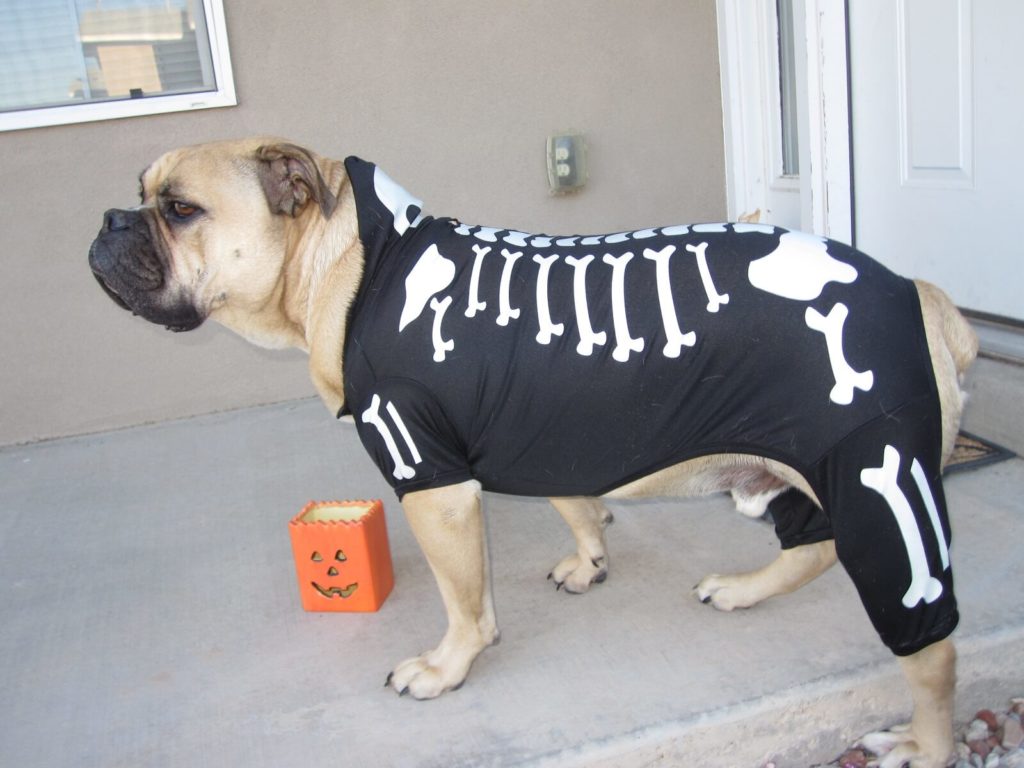 Source: blogspot.com
Answer one question. Do you like all the clothes in your wardrobe? No, not all, right? Then how can you expect that your pet will love the Halloween costumes? There are chances that your dog might not like the spooky clothes you have bought for him, so respect his decision and don't force him to wear it. To make him wear it, you can start the practice a few days before the festivities. Slowly, they get adapted to new things. Also, make sure not to buy tight and uneasy costumes for them. Clothes can cause itching on the body. Here are some Pet Halloween Costumes ideas for your pets.
Keep Them Inside
Different pets react in different ways at the sound of doorbell and strangers. It is better if you keep your dog inside a room when you are welcoming treat and trickers. The constant doorbell can make your pet anxious and frightened at the same time. Save his nerve by reserving a room or crate for him. People's weird costumes can frighten the furry friend of yours. The human can seem spooky to them sometimes. 
Careful With The Decor
Never compromise your fur kid's health at the cost of Halloween decor. Generally, the decor includes electrical wiring. Your notorious and curious pet can chew wires and it can lead to sudden death, fractures or any health issues. You can put the wires under the carpet or against the wall to avoid any mishappenings, worries, and money.
Keep Away The Pumpkin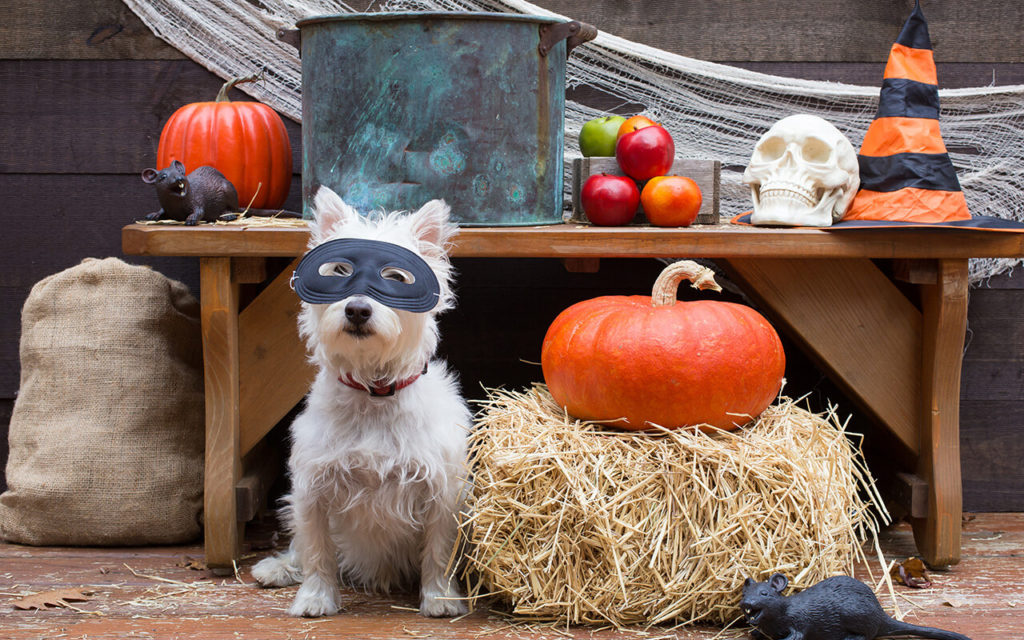 Source: tasteofhome.com
Pumpkin is not bad for his health, but under a condition (if taken in appropriate amount). But excess can cause stomach upset and further the candles inside the Jack-O-Lantern can cause fire and harm to him. So keep it away from pets. The idea to place glow stick need the proper place because chewing of glow sticks can cause vomiting and excess saliva. The glowing lights and decor may be very fascinating for them.
Put The ID
Another safety tip includes the ID batch, make sure to make them wear the pet an ID. The ID should include your name, address, contact number. An ID can prove helpful in case your pet gets lost under any circumstances. You can also make use of microchip with the updated details. Make sure to double-check the details. 
No To Yard
Be careful at Halloween night as pranksters can frighten your pets with the mischievous pranks and act. The night is not safe especially for a black cat as sometimes the cat becomes the victim of harsh cruelty and death in certain cases. 
Cutdown The Noise
The creepy sounds and noise can result in anxiety and fear among pets. You can try to cut down the noise by switching on the TV and washing machine. Even the strangers at the door and their spooky dress can put the pet in the alarm position. So, a separate space for them is a wonderful idea.
Take Care Of The Family
Always remember that for your pet, you are the family, so Halloween safety for pets is your responsibility. Follow these Halloween safety tips for pets and enjoy the eve with friends, family. For all pets, related questions and answers keep following Petsnurturing.