Dogs are almost everyone's favorite! They are available in a lot of shapes, sizes, and colors. Dogs are very diverse in their personalities. There are huge king-size dogs that come with gentle spirits and you can even find some small dogs who have great attitudes. But when it comes to training your dog about how it can walk perfectly on a leash, we see that most of them don't cooperate, especially if the breed is not a brave one and get easily scared. 
But fortunately, it's an amazing truth for pet lovers that they can find a wide array of training resources in the market for all types of dogs. Out of these, the martingale collar for dogs is one of the best ones which can keep any dog safely walking or standing on a leash without getting choked. 
What is a Martingale Collar?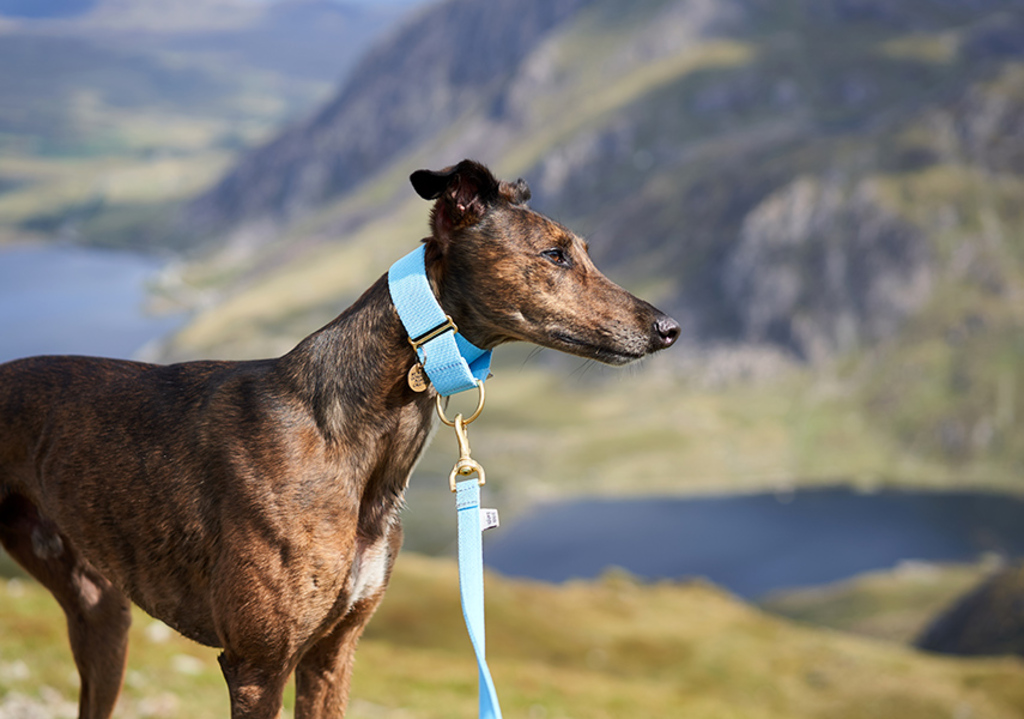 Source: brindleamdwhyte.com
The Martingale dog collar is one of the best accessories for your favorite pet. It is also known as a no-slip collar. The working principle of a martingale collar for dogs is that it gets constricted if a dog pulls against it. For such dogs that aim to back out of their collars constantly and the breeds that keep pulling the leash, martingale collars are the best. 
Martingale Dog Collars first came into existence when the owners of several hunting dogs like whippets and greyhounds first used them for their pets because the necks of these dog breeds are way too larger than their heads. There is a two-loop construction in the martingale collars for dogs which prevents the dog from moving away from their collar. 
When it comes to the best martingale collar, you should know that the bigger loop out of the two slips over the head of your dog, and the smaller loop remains attached to the leash and gets constricted when there is tension. But if there is no tension on the smaller loop of the best martingale collars, there's no problem. The martingale collar can comfortably fit on the neck of your dog. 
Which Dog Breeds Can Use a Martingale Collar Comfortably?
Martingale collars are specially designed for the dog breeds like Sighthounds, whippets, greyhounds, Salukis, etc. which are proactively hunter breeds. After the martingale collar for dogs had been discovered, they have been always popular. A martingale collar can't be used as a regular flat collar because they are specially designed for dogs with the below prominent features:
A Naughty Escapee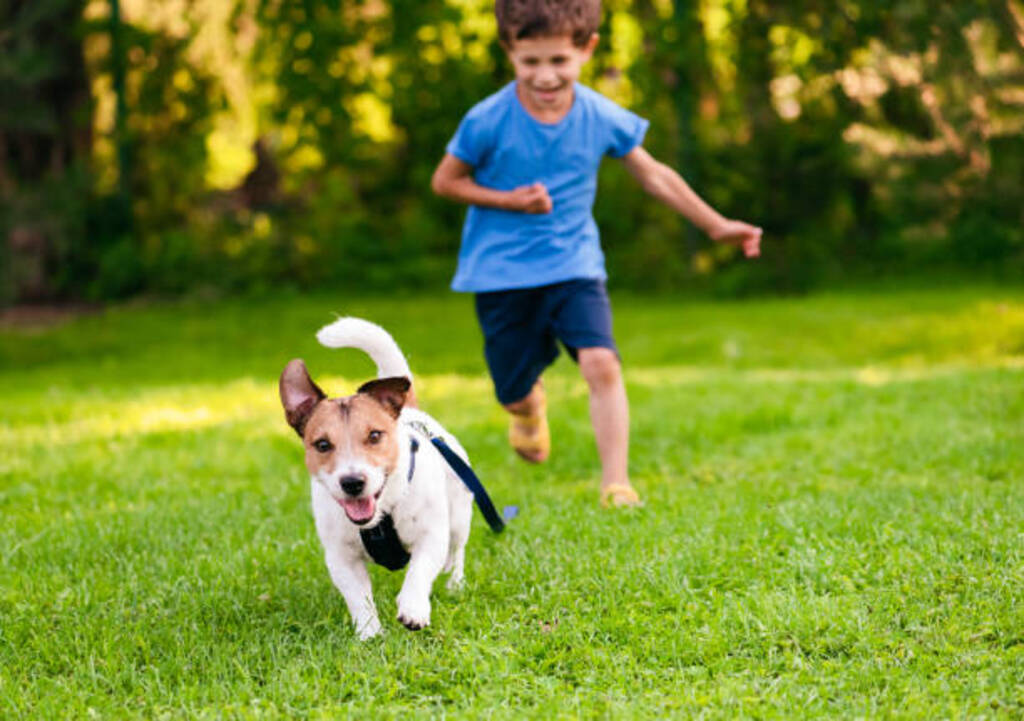 Source: istock.com
If your dog has a smart attitude and doesn't leave any opportunity to escape and run away while getting out of his collar, you should try the best martingale collars while putting your four-legged buddy on a leash. You can even use a martingale collar along with a flat collar for your dog to prevent it from bolting so your dog can explore everything around. 
A Shy Friend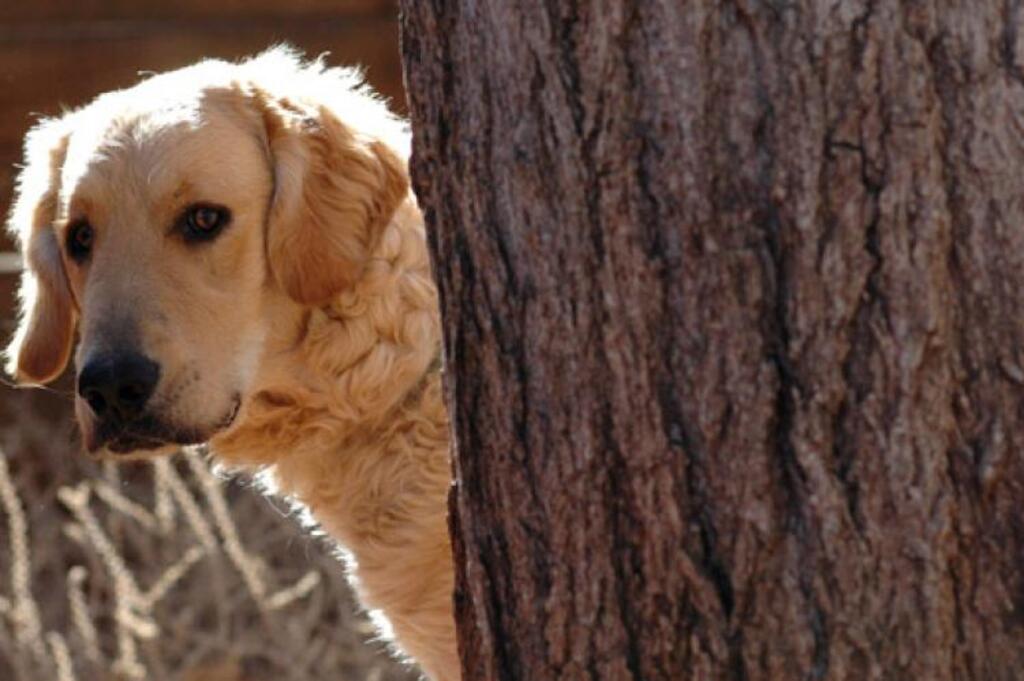 Source: bestfriendresources.com
A martingale collar is something that gives your dog friend a feeling of security. So, if your doggy is a fearful one, especially when he is in some unpleasant or uncommon situation, having martingale dog collars for him would be a great idea.
The unique design of a martingale collar can prevent choking in dogs. Using a martingale collar for dogs is one of the ideal ways to gently prevent your pet from getting out of his collar and running away wherever he wants. 
For Training Purpose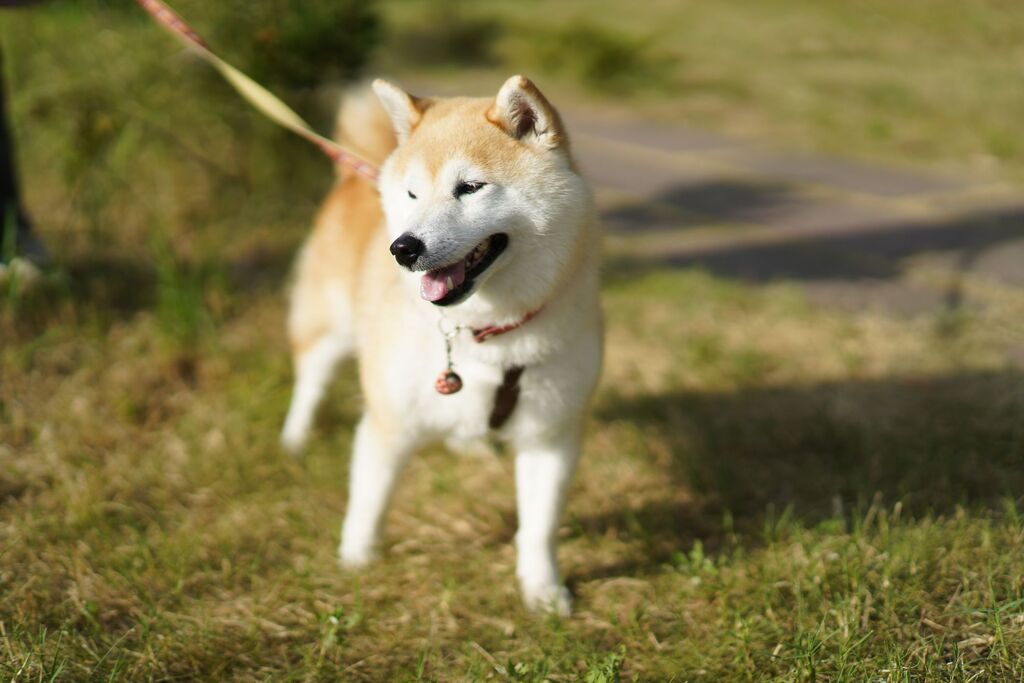 Source: 123petsoftware.com
The best martingale collars are used by most dog trainers to teach nice and acceptable leash manners to their dogs. Using a martingale collar is much more sensible than opting for a choke or spike collar. Why? 
Well, when it comes to a martingale collar, all that you need to do is just tighten it with a tug to indicate to your dog that he is not behaving the right way; a different behavior is expected from them. 
How Can You Perfectly Fit a Martingale Collar?
An ideal martingale collar can rest perfectly around the middle of your pet's neck in a comfortable way. There are two different types of martingale collars, one that can successfully buckle around the neck of your little friend, and another type of martingale collar is the one that can slip over the head of your pet. 
Let's discuss the types: 
Slip-On Martingale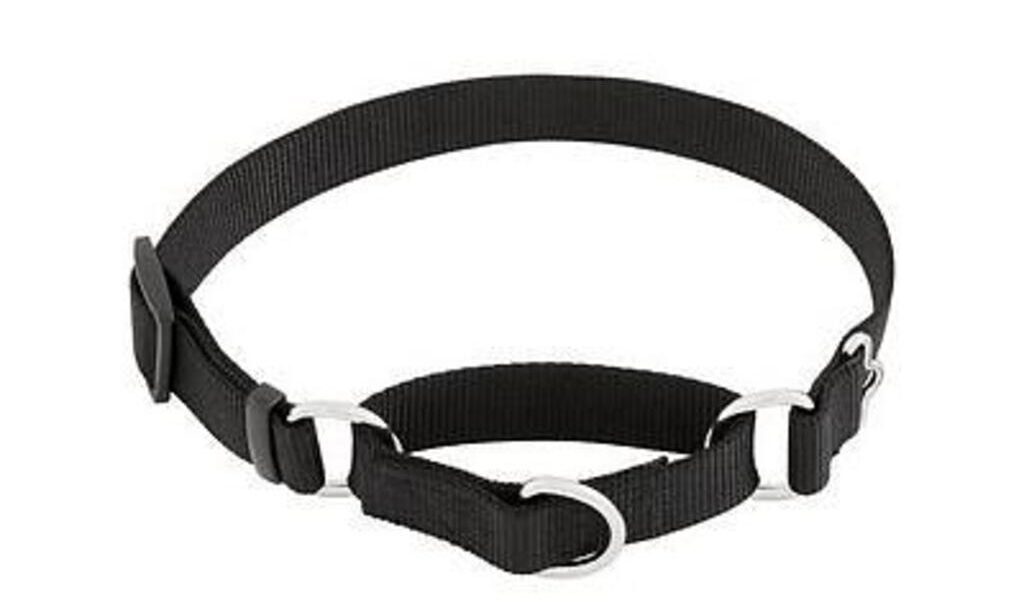 Source: yahooshopping.com
When it comes to purchasing a perfect martingale dog collar, you need to take care of the perfect measurements to ensure it fits your dog perfectly. Suppose, the head of your dog is bigger than its neck, in that case, you need to measure the largest part of your dog's head, add a couple of inches to it, and that's it! This is the measurement of the martingale dog collar that you need to purchase for your pet. If you still have a doubt, go for the bigger size. 
What's more, if you have a large-necked dog, measure the circumference of the middle of your dog's neck and add 2 inches to it. It will help you determine the size of the martingale dog collar that you need to buy. 
Buckle Martingale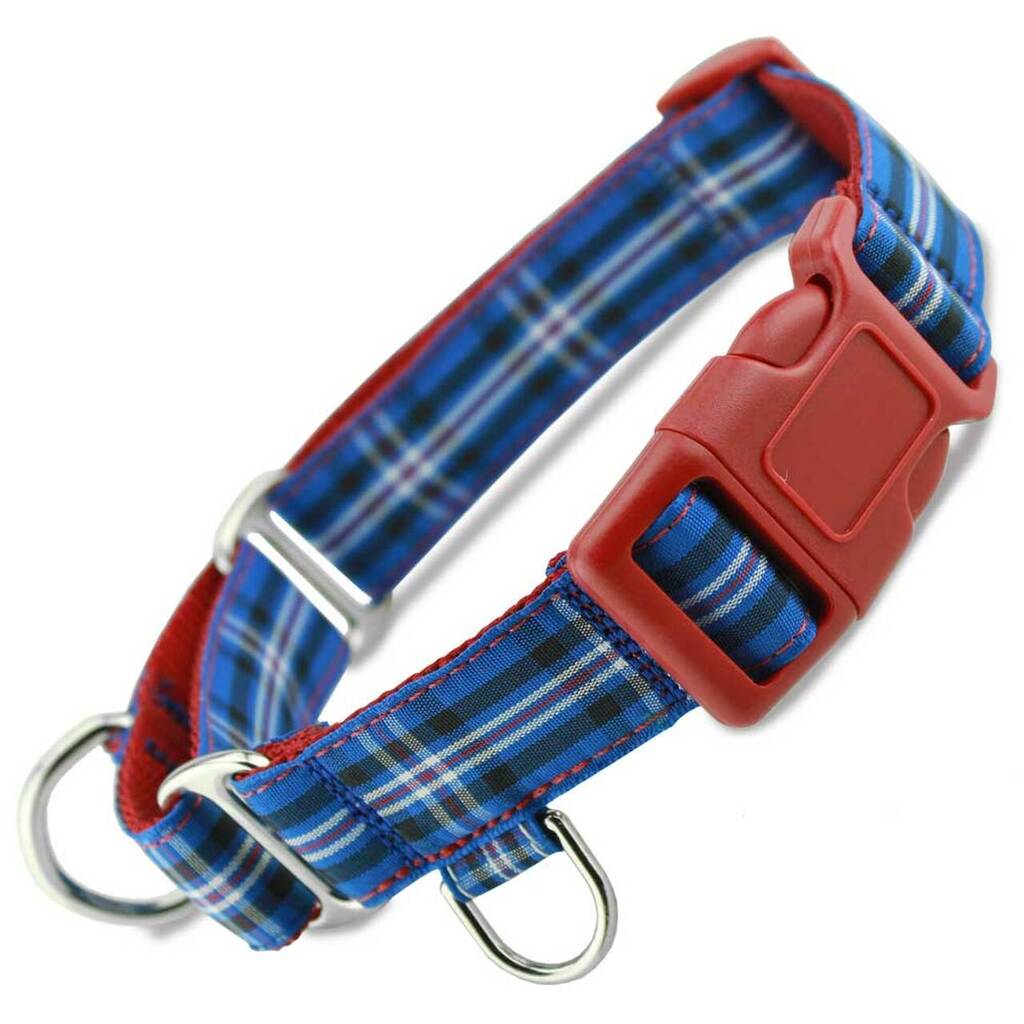 Source: theartfulcanine.com
When it comes to the buckle martingale, you need to measure the circumference of the neck of your dog right in the middle and add approximately 2-2.5 inches to it. Now, all that you need to do is leverage this size range to purchase the dog collar. 
Once you know the correct size, you can loosen the collar in such a way that it becomes possible for you to make your dog wear it and then adjust it accordingly. 
How to Make Your Dog Wear a Buckle Martingale?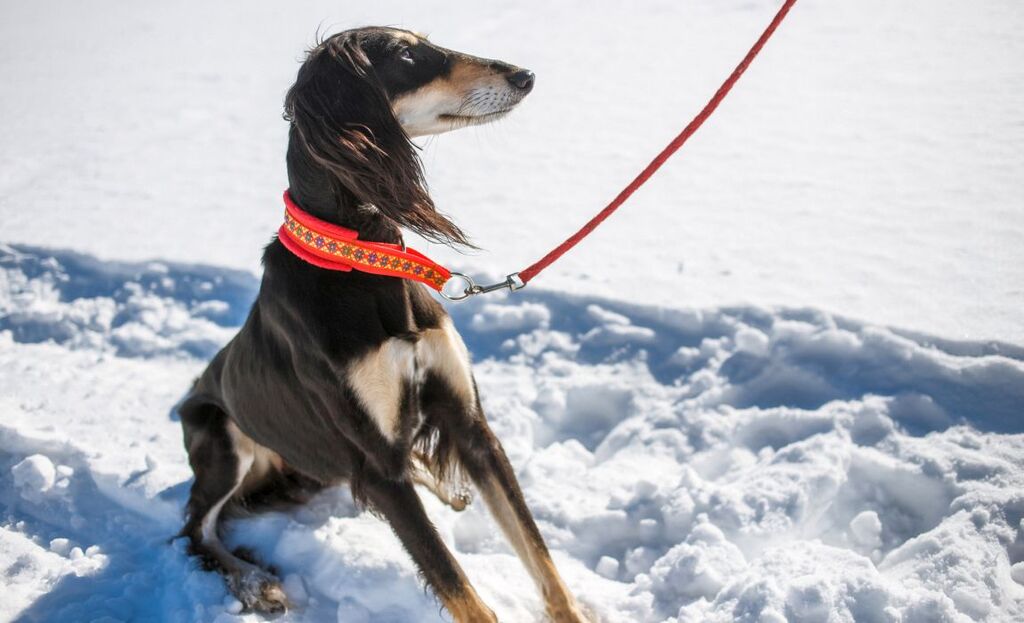 Source: k9ofmine.com
Adjust the two metal rectangles in such a way that they are at a distance of 2 inches from each other.
Pull up the D-ring of the smaller loop of the buckle martingale. If the metal rectangles of the dog collar touch each other, you need to ensure that you are tightening the collar. 
In this stage, it is important to make sure that the collar is loose enough. How can you be sure about it? Well, simple! Just slip in your one or two fingers between the martingale dog collar and the neck of your dog when the smaller loop is in tension and you should be able to do it easily. 
What Precautions You Should Take While Using a Martingale Dog Collar?
A Martingale Dog Collar is something that you should not use every day for your dog. This kind of dog collar is not acceptable especially when it is crated. It's because the smaller loop of the dog collar can get trapped on several objects while your dog will walk and it can, thus, create a choking hazard. Moreover, because of the tightening features of the smaller loop of a martingale dog collar, it is not suitable for dog tags. 
Also, if your dog has the habit of constantly pulling on its leash, a martingale dog collar is not suitable for it. Experts believe that this can increase the pulling habit of dogs even more, which can eventually break your dog's neck over time. 
Additionally, if you have more questions, you can consult your veterinarian and dog trainer for valuable recommendations before purchasing a martingale collar. With the correct use of a martingale dog collar, you can keep your four-legged furry friend safe and well-mannered. 
However, people often get confused between martingale collars and choke collars. But, there lies a huge and remarkable difference between the two. We will learn about this difference below: 
Martingale Collars Vs Choke Collar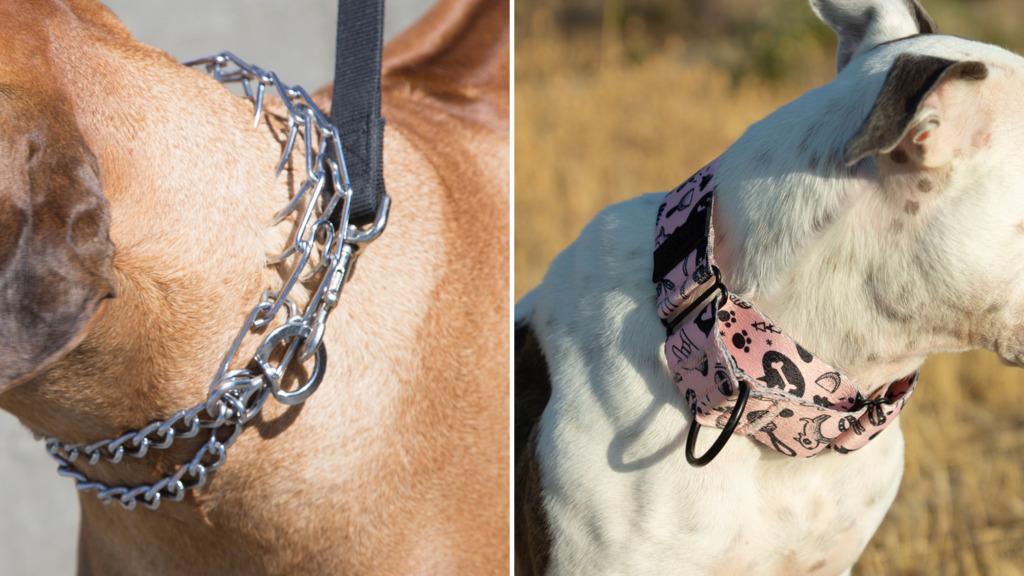 Source: nenoo.com
At a glance, martingale collars and choke collars both look similar. These dog collars get tightened when there is a tensed leash. However, the major difference that lies between the two types is that if you have properly fitted a martingale dog collar, they don't choke your pet friend.
When it comes to a martingale collar for dogs, it will tighten up to a certain extent but choke collars get tightened limitlessly, which makes them the not-so-good option in terms of dog collars. There's is a Flea collar too that we discussed in another blog.
While Martingale dog collars come with various striking features, choke collars are inhumane and completely dangerous! Rather, martingales are a safer alternative. All you need to keep in mind is that the martingale dog collars should be adjusted correctly according to the size of your dog's neck and it will ensure that your pet will not end up choking while you prevent your dog from moving out of its collar.  
Now that you hopefully have a thorough understanding of martingale dog collars, let's check out the THREE best ones in the market today. 
The Best Martingale Dog Collars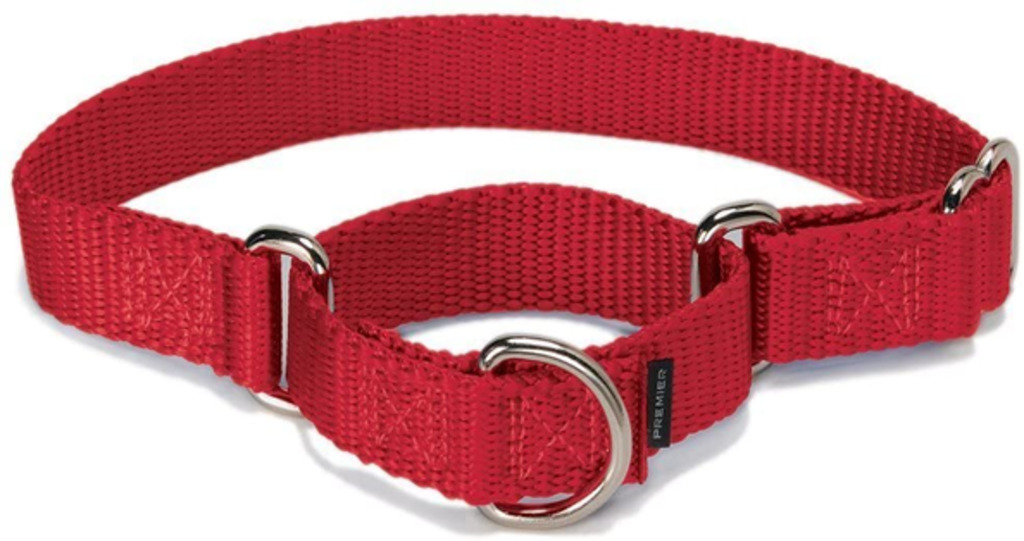 Source: Amazon.com

It is one of the most famous brands of dog collars. This type of martingale dog collar is available in five types.
Pros 
 Easily Washable 
 It comes with an adjustable collar 
 This dog collar is strong and sturdy         
Cons 
It gets loosened up easily. Thus, some dogs end up chewing it                 
Buy it on Amazon here. The PetSafe Martingale Collar has got 4.5/5 stars.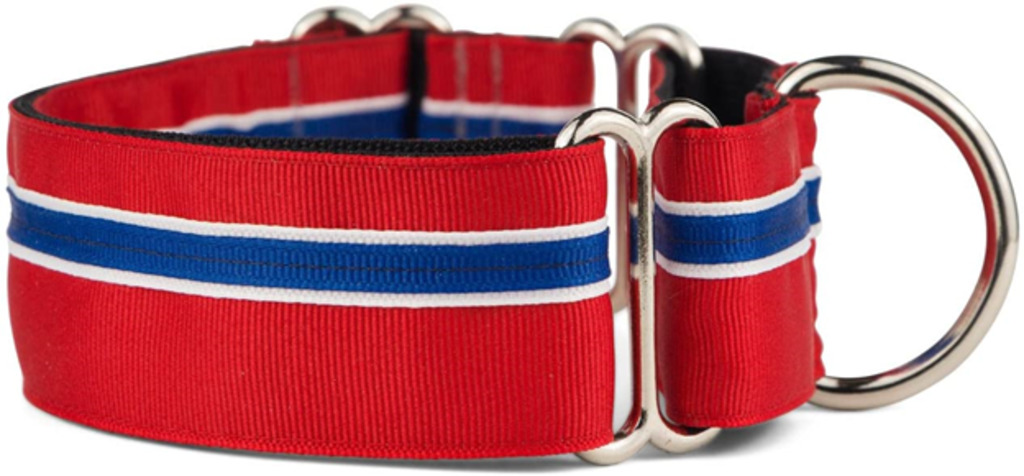 Source: Amazon.com

It is yet another premium brand of dog collars. This martingale dog collar features a 1.5-inch wide nylon collar.  
Pros 
 Very durable and strong nylon and metal construction
 It is a handcrafted product of the US 
 Both buckled and slip-on versions are available for this                     
Cons 
It is costly.                   
Buy it on Amazon here. The If It Barks Martingale Collar has got 4.5/5 stars.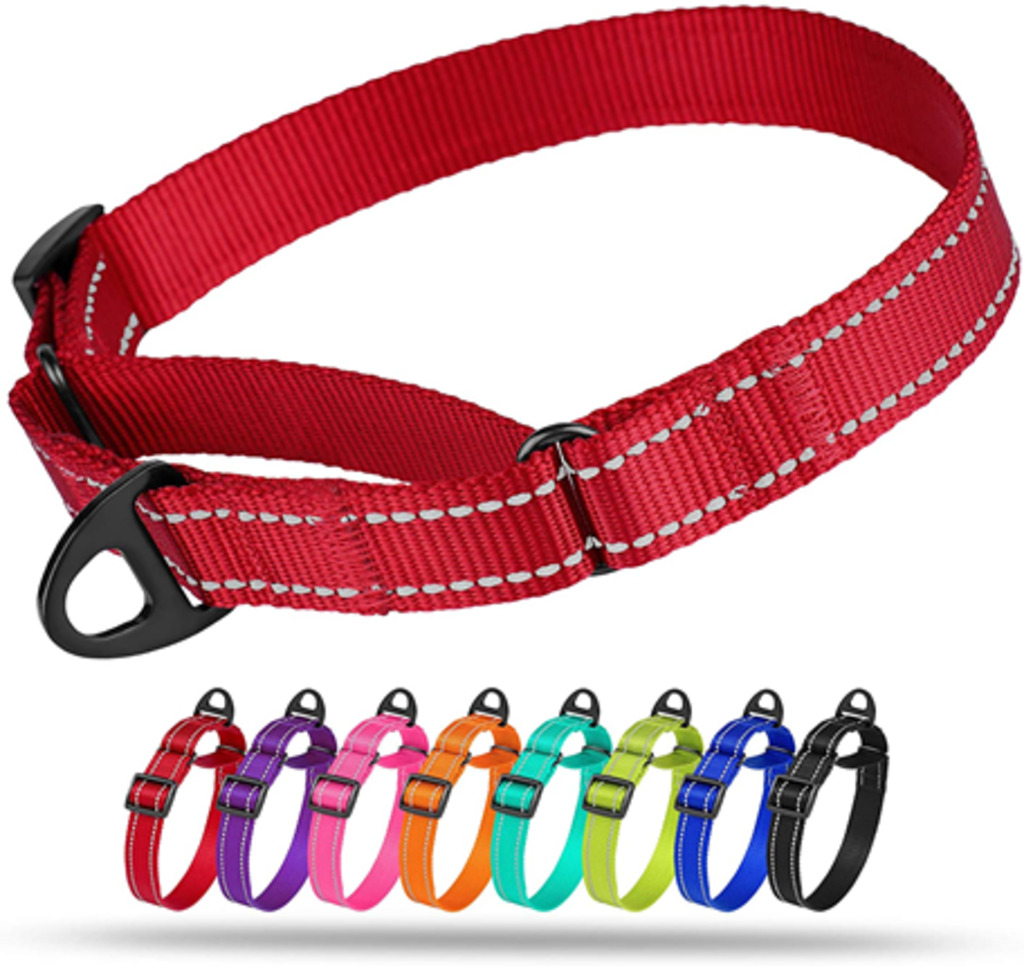 Source: Amazon.com

This premium quality martingale dog collar is available in three different sizes. It is the best option available for dog training.
Pros 
 Available in 8 bright colors that don't fade out
 Made of durable soft nylon color
 It is made of metal hardware, making it a dog collar that is resilient against pulling and tugging.           
 Cons 
Some buyers complain the loops of this dog collar are not sturdy enough.
 Buy it on Amazon here. It has got 4.5/5 stars. 
Parting Words 
The martingale collar is a perfect solution for your dog's training and walking needs. If you have not been using one yet for your dog friend, hope you know now how important it is to have a martingale dollar after reading this blog. 
There is a myriad of dog collars available in the market now, out of which the above three are the most liked ones. But, every dog has different likes, dislikes, and needs. You might find other collars that can suit your pet much better. Go, explore!  
Buy the perfect martingale collar for your four-legged companion, make the best use of it, and you can turn a tramp into a gentleman.
For more information on pet care, breeds, or pet foods, visit PetsNurturing.
For quick pet tips and adorable pictures, follow us on our Instagram page pets_nurturing.