We all know about the beautiful deep eyes of a cat. They can make you do anything with their magic eye power, right? But apart from their eyes, little noses, and fluffy tails, there is another thing that people simply can't get enough of. What is that? Cat ears!! There are a million things to love about our feline friend, we can actually make a long list on that, but today we are discuss cats with big ears. Some cats have exaggerated ears, which makes them one of the most adorable creatures in the world. 
Have you seen a cat with big ears? If not, then take a look at the below pictures of cats with large ears. Here, some felines have rounded tip ears, and some have oversized ones. So if you're thinking of bringing a new feline relative in your family, Check out these cat breeds with extra adorable big ears right here!! These kinds of breeds are some of the most popular and sought out cat breeds in the world.
Here are 9 of the most adorable big-eared cats to keep as pets:
1. Abyssinian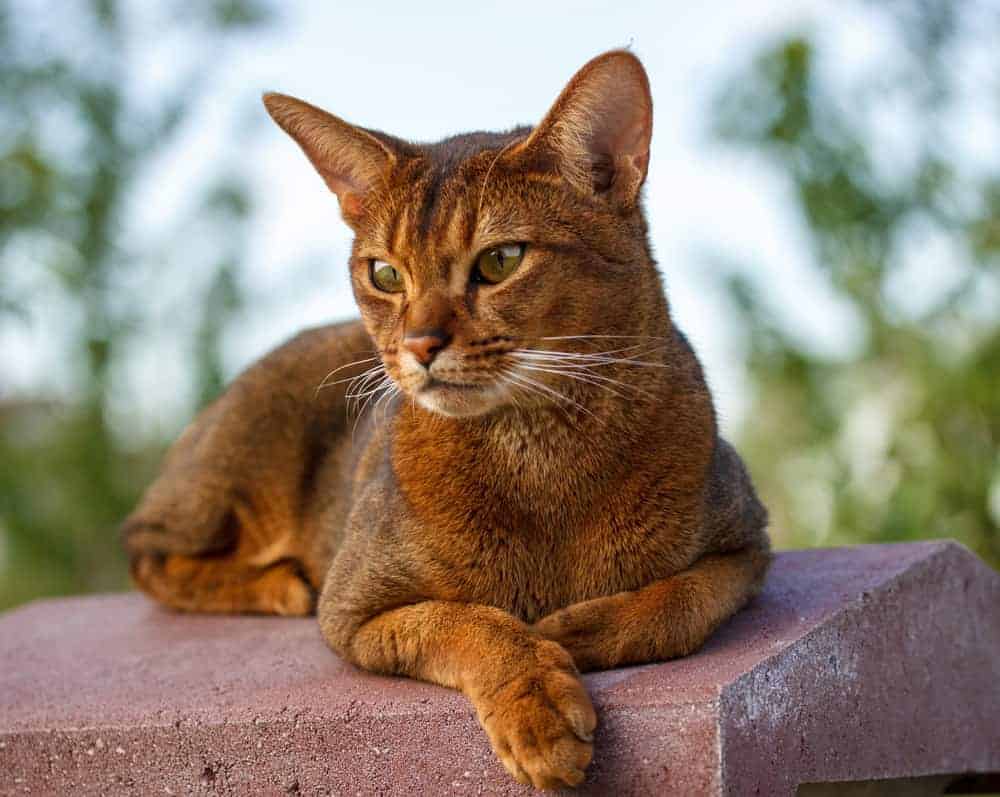 source: pets4life.com.au
Height: 8 to 10 inches
Weight: 8 to 12 pounds
Physical Characteristics: Tall & muscular body; wedge-shaped head; pointy ears; slender,
​The Abyssinian cat is one of the famous cat breeds in the United States. Due to their propensity for taking things that don't belong to her, they're also known as "Aby-Grabby." Along with being an adorable cat, they are always on the move. Yes, even some say she never sleeps!! These cats are playful, active, and highly intelligent, and they just love attention. Do you know this is one of the oldest cat breeds? Their ancestors likely lived along the Indian Ocean, as well as in Southeast Asia. 
2. Balinese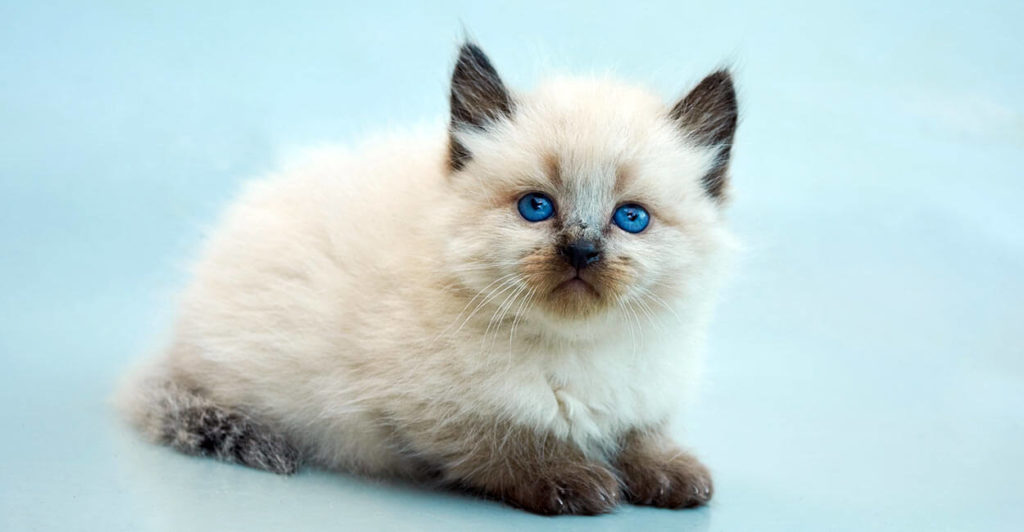 source: thehappycatsite.com
Height:  6 to 7 inches
Weight: 8 to 12 pounds
Physical Characteristics: Slender body; Wedge-shaped head; blue eyes
Balinese cats look quite similar to Siamese cat breeds because they also have almond-shaped eyes and large triangular ears. But Balinese cats have a longer coat and plumed tail. These cats are chatty, playful, affectionate, and love hanging out with their families.
3. Cornish Rex
source: besthqwallpapers.com
Height: 12 to 14 inches
Weight: 6 to 10 pounds
Physical Characteristics: Curved body; high cheekbones; large ears
The breed gets its name from its place of origin—Cornwall, England. The egg-shaped head of a Cornish Rex cat even extenuates their big bat-like ears. They are generally very active, intelligent, and outgoing cats. They love to have lots of social interaction, so they're perfect for people who want a cat that participates in family life.
4. Devon Rex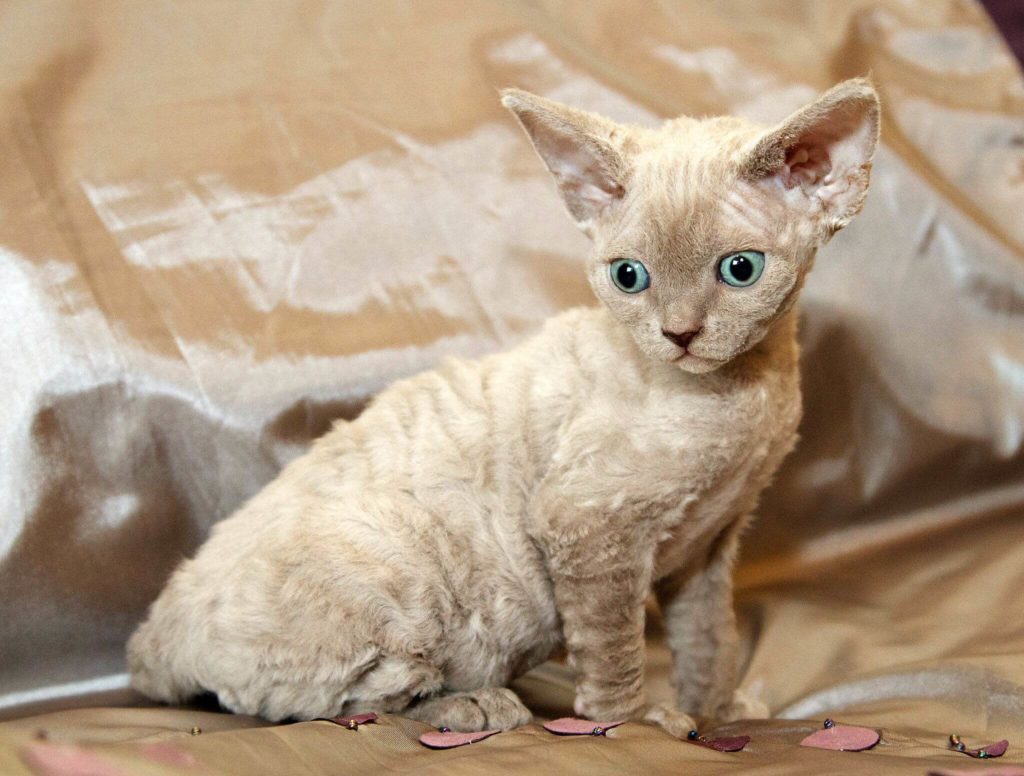 source: pinterest.com
Height:  10 to 12 inches
Weight: 8 to 10 pounds
Physical Characteristics: Large ears; slender neck; prominent eyes
The Devon Rex is a breed of tall-eared and curly, very soft short coat similar to that of the Cornish Rex. ​The Devon Rex has big oversized ears and huge eyes that lend to its "elfin" look and an impish expression which is an absolutely cute combination, right? Emerged in England during the late 1950s, these cats have a spunky personality, and they are known to follow their owners and give them company all day. 
5. Egyptian Mau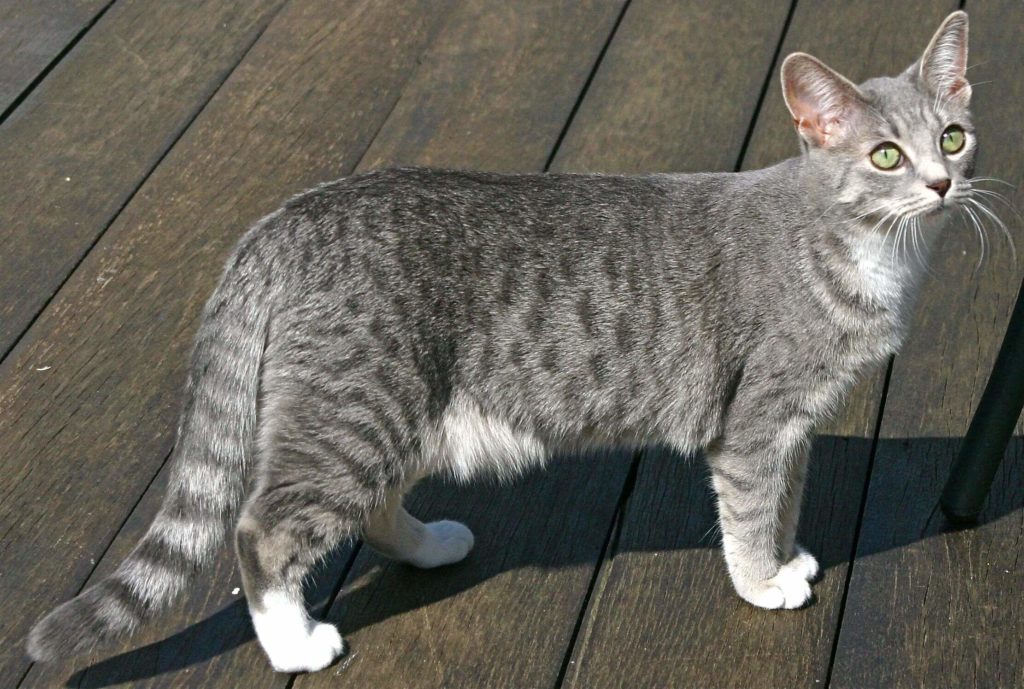 source: baltana.com
Height:  8 to 10 inches
Weight: 7 to 9 pounds
Physical Characteristics: Long, muscular body; green eyes; large ears
With wide ears, the Egyptian Maus always appears in alert expressions. The ancestors of this breed likely came from ancient Egyptian wild cats, and it's the only domesticated cat breed with a natural spotted pattern. It is also considered a rare breed. This fun-loving breed is naturally athletic and loves to climb and play, which is essential to keep their minds and bodies busy. 
6. ​Oriental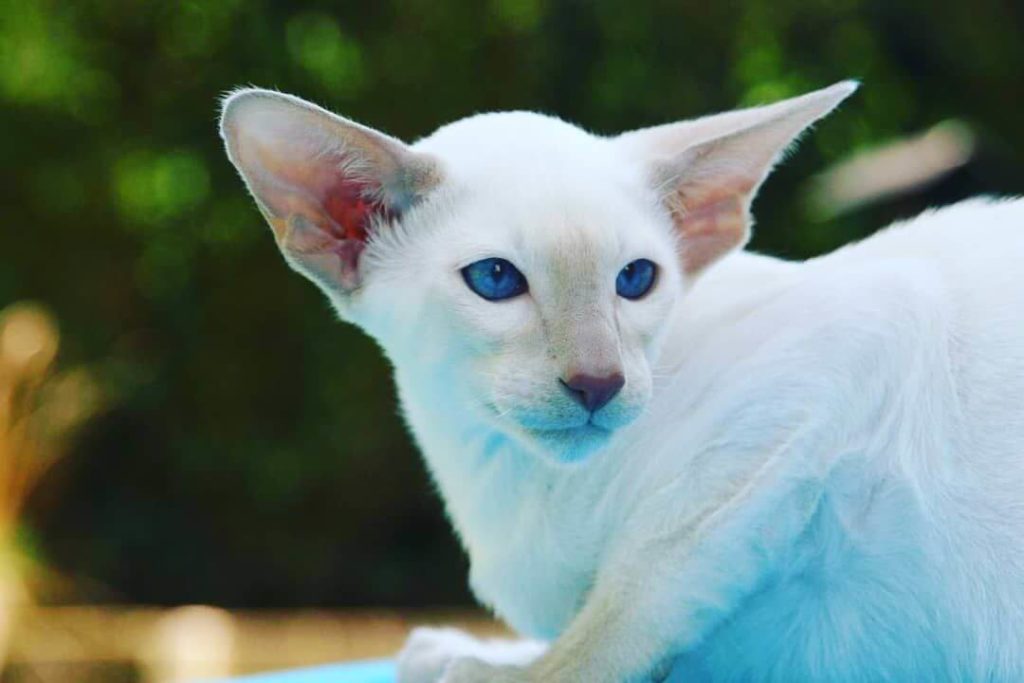 source: pinterest.com
Height:  8 to 10 inches
Weight:  6 to 12 pounds
Physical Characteristics: Sleek body; angular head; large ears; almond-shaped eyes
​This Oriental cat with big ears was created initially from the Siamese breed. So, it considerably looked like a Siamese breed but in hundreds of different colors & patterns. Oriental cats are very talkative, and it tends to bond very strongly to their favorite humans. Because of the wide-set ears, they sometimes look like a little elephant, and maybe this is the reason why they're known as Dumbo!
7. Sphynx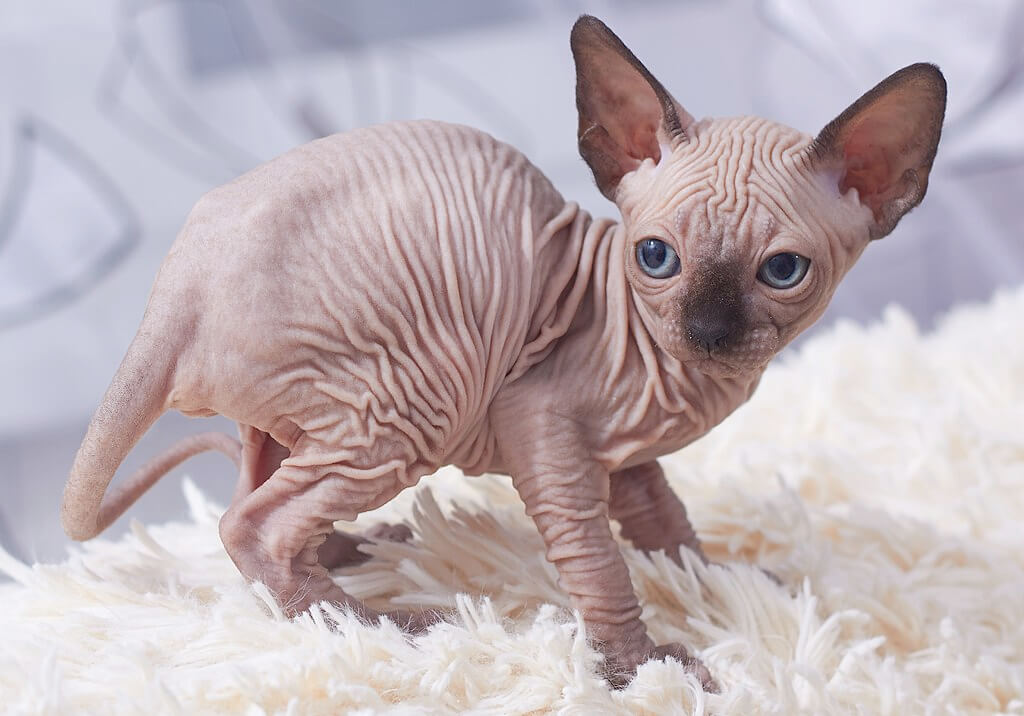 source: wikipedia.org
Height:  8 to 10 inches
Weight:  10 to 12 pounds
Physical Characteristics: Hairless; wrinkled head; lean build
​The Sphynx cat breed was born out of Toronto, Canada and it is commonly known for its hairless body. But other than their wrinkled skin, they also have enormous ears, wedge-shaped heads with prominent cheekbones and large, lemon-shaped eyes. Apart from their exotic appearance, they're generally friendly and cuddly cats. They love to entertain their humans with clownish antics. 
Also Read: Sphynx Cat And Their Quirks
8. ​Singapura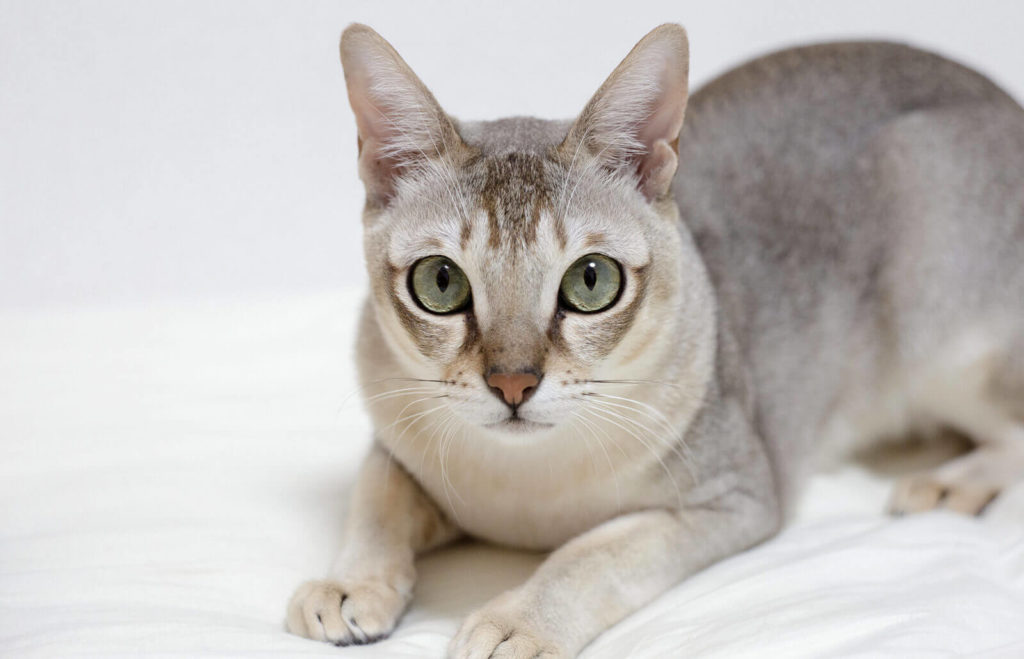 source: lovetoknow.com
Height:  6 to 8 inches
Weight:  4 to 8 pounds
Physical Characteristics: Muscular yet slender body; Large, pointy ears
The Singapura cat sometimes also known as "Drain Cat, Kucinta or Love Cat." This breed originates on the streets of Singapore. ​Do you know Singapura ​is actually the Malaysian word for Singapore? Despite their small size, they're cute, active, curious, and playful and happy fellows.
9. Savannah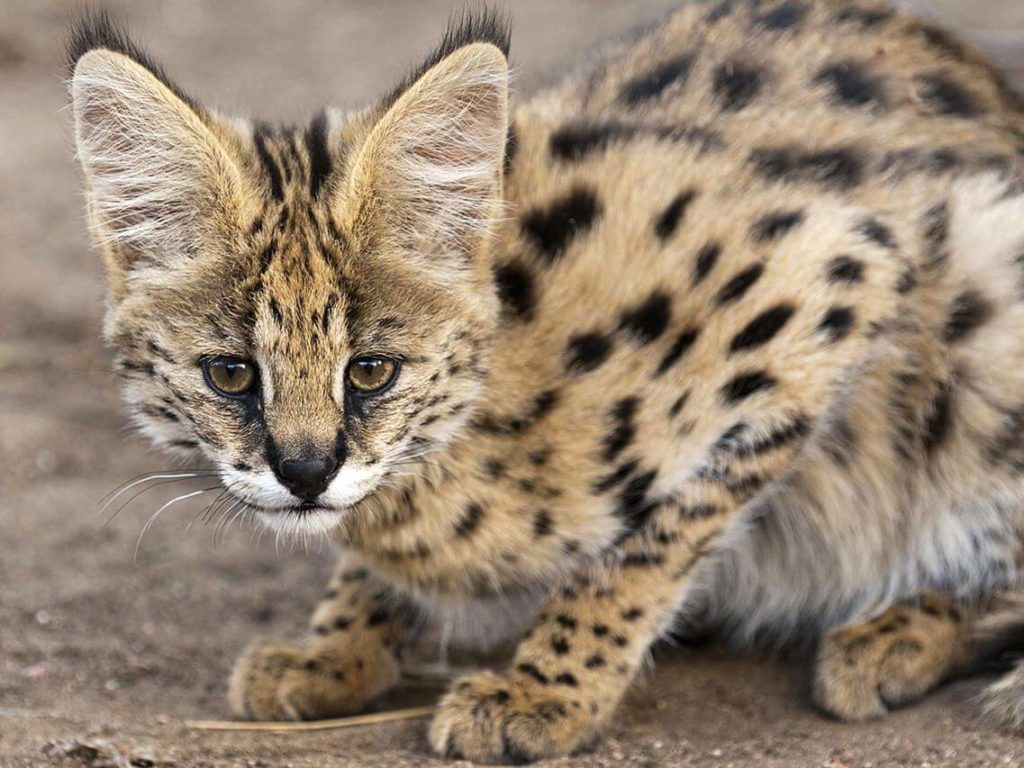 source: thesprucepets.com
Height:  12 to 14 inches
Weight:  20 to 30 pounds
Physical Characteristics:  Tall & lean body; erect ears; golden coat with dark spots and bars
The Savannah cat is the largest of the cat breed, and it holds the Guinness Book World Record for the world's tallest domestic cat!! This breed is the hybrid of a domestic and Serval (African wild cat). The overall wild look of this cat includes a lean body with tall ears and golden coat with dark spots and bars (which look pretty similar to cheetah). Sometimes its ears are compared to satellite dishes. As most of the feline has pointed tip ears, these sports ears with a rounded tip. They display a high level of energy and are always curious to know about their surroundings. It takes a lot to keep them mentally and physically exercised.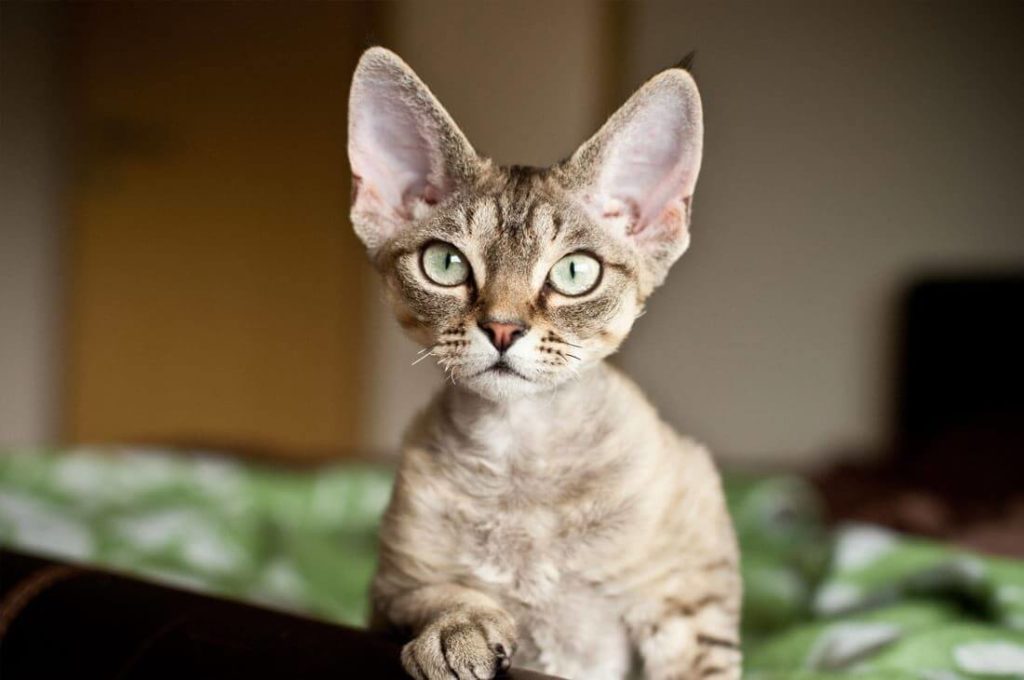 source: pinterest.com
Did you melt into the cuteness of these beautiful and adorable cats? I hope you love these breeds of cats with big ears.  Not only they are a truly compassionate partner, but having a cat as a pet is also good for our health. It is scientifically proven that having a cat around helps to reduce your stress and anxiety levels.
For more information on pets such as their breed information, their personality, & characteristics or health-related information, visit Petsnurturing.