A dog with a teddy bear face, soft curly fur, and an endearing personality, can you guess this dog breed name? Yes, we're talking about the cutest and cuddly breed, Mini Goldendoodle! From Instagram, Pinterest to every online platform, these adorable puppies can be seen everywhere. You may also have seen Mini Goldendoodle in your neighborhood.If you're looking for a playful, active, and fluffy companion, there is no better than a mini Goldendoodle! They're also known as Mini Goldendoodle, Mini Groodle, Mini, and Miniature Goldenpoo.
They're a highly intelligent and active dog breed, that's why they're extremely popular nowadays. Want to know more about this charming dog breed? If yes, keep on reading.
Today in this blog, we're going to tell you all about the Mini Goldendoodle dog. From their history, characteristics to temperament, and health problems, we have covered everything in detail.
Basic Overview of the Mini Goldendoodle Dog Breed
| | |
| --- | --- |
| Breed Name: | Goldendoodle |
| Breed Group: | Hybrid |
| Origin | Australia & United States |
| Size | Large (61-100 lbs.) |
| Height: | 17-21+ Inches |
| Weight: | 50-90 Pounds |
| Life Span: | 10-15 years |
| Type of Coat: | Medium, and Curly |
| Coat Color: | Black, Gray, Red, Blue, Cream, White, Fawn, Gold / Yellow, Brown / Chocolate / Liver |
| Temperament: | Energetic and Friendly |
| Other Names: | Mini Goldendoodle, Mini Goldenpoo, Miniature Goldenoodle |
| Energy Level | Active |
| Grooming Needs: | High |
| Training Needs: | Medium |
| Good With | Children, Dogs, Cats, and Families |
First, let's know the origin and deep history of the adorable Mini Goldenpoo:
History of Mini Goldendoodle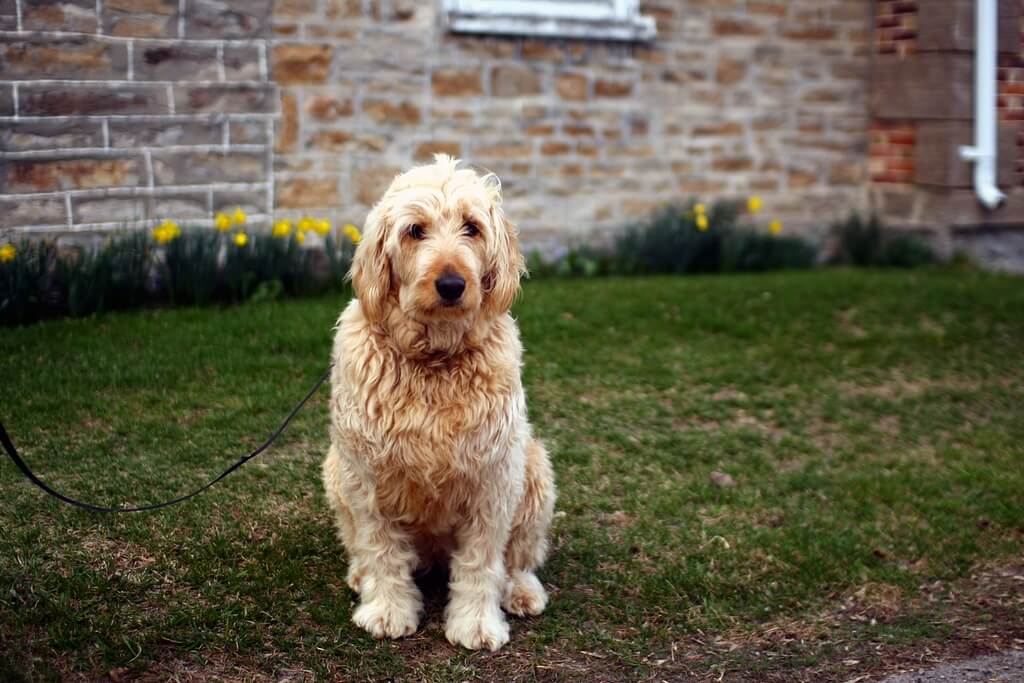 Source: wikimedia.org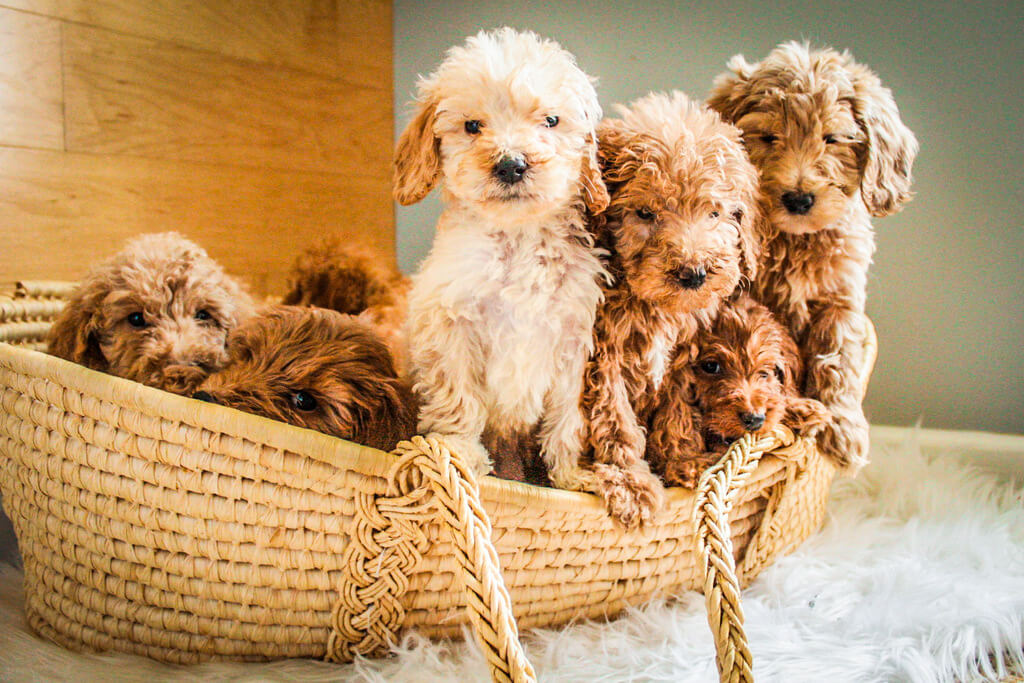 Source: squarespace-cdn.com
Mini Goldendoodle is not a pure breed; it is a mixed breed or more commonly known as a hybrid breed. As we know that a standard Goldendoodle is a mixed breed between a Poodle and a Golden Retriever. However, a Mini Goldendoodle is a cross between a Miniature Poodle (or Toy Poodle) and a Golden Retriever.
Though the breeding of the Goldendoodle began in the 1990s, it is still considered as one of the newest of the "Doodle," or Poodle mix, breeds.
In Australia and the United States, Breeders wanted to create a larger Doodle that maintained the desired low-dander and low-shedding coat. Plus, they also wanted to have intelligence and friendly nature, just like the Golden Retriever in this new breed.
So they decided to breed widely cross Golden Retrievers and Poodles, adopting the portmanteau Goldendoodle. You might be wondering about the name "Goldendoodle." The name is derived from "Golden" (from Golden Retriever) and "Labradoodle" (itself a portmanteau of Labrador Retriever and a Poodle).
Many people also say that Goldendoodle was also created to produce an alternative to the popular Labradoodle. At first, the Goldendoodles were only bred from standard-sized Poodles. However, after some time, designer breeders started using small varieties of Poodles to produce smaller varieties of the crossbreed.
Types of Mini Goldendoodles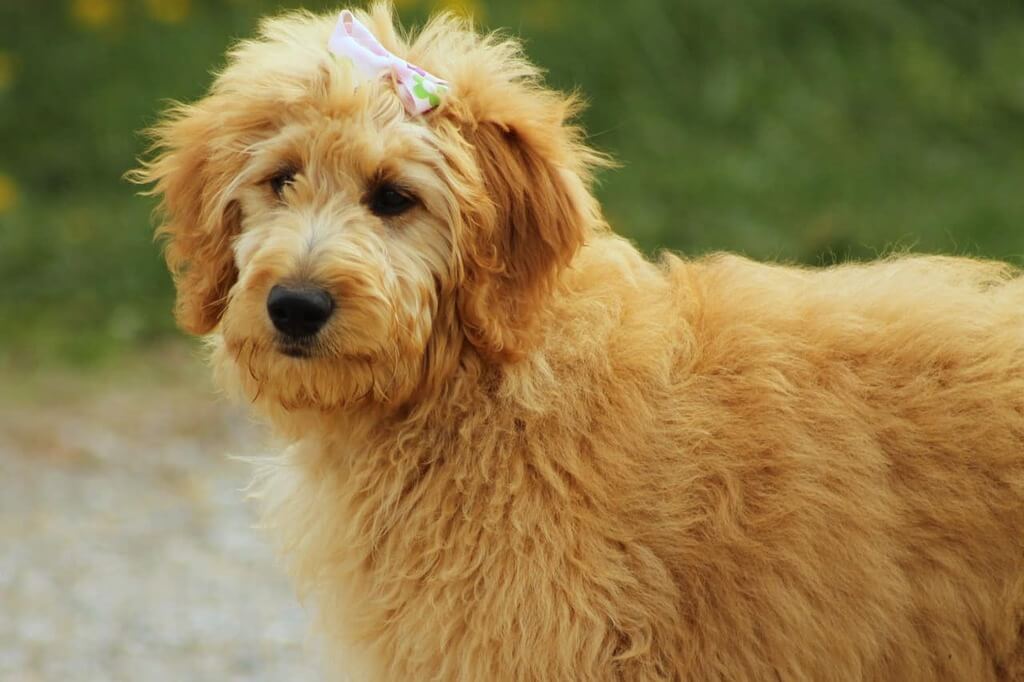 Source: animalso.com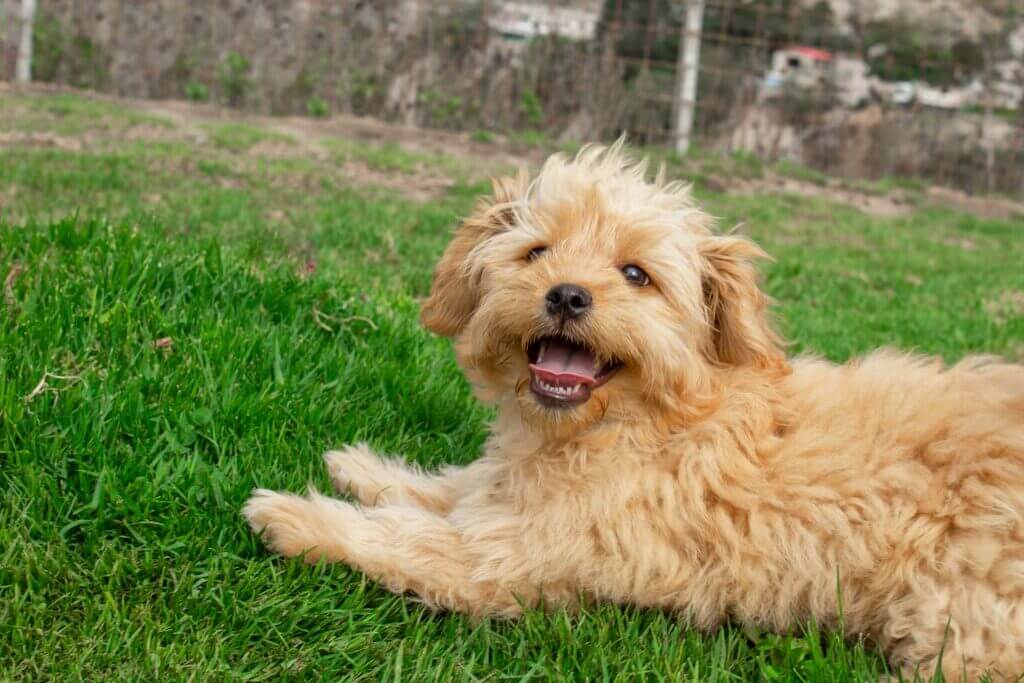 Source: furrybabiesinc.com
Mini Goldendoodles are available in various generations. Here are four different generations:
F1 Mini Goldendoodle
F1b Mini Goldendoodle
F2 Mini Goldendoodle
F2b Mini Goldendoodle
Size & Appearance of Mini Goldenpoo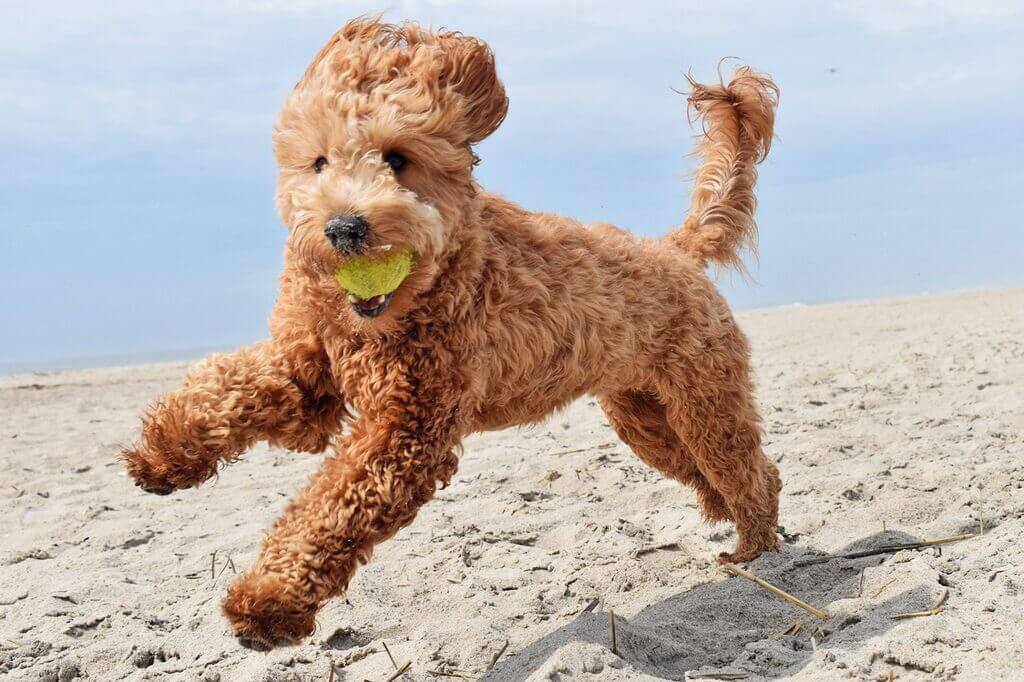 Source: meredithcorp.io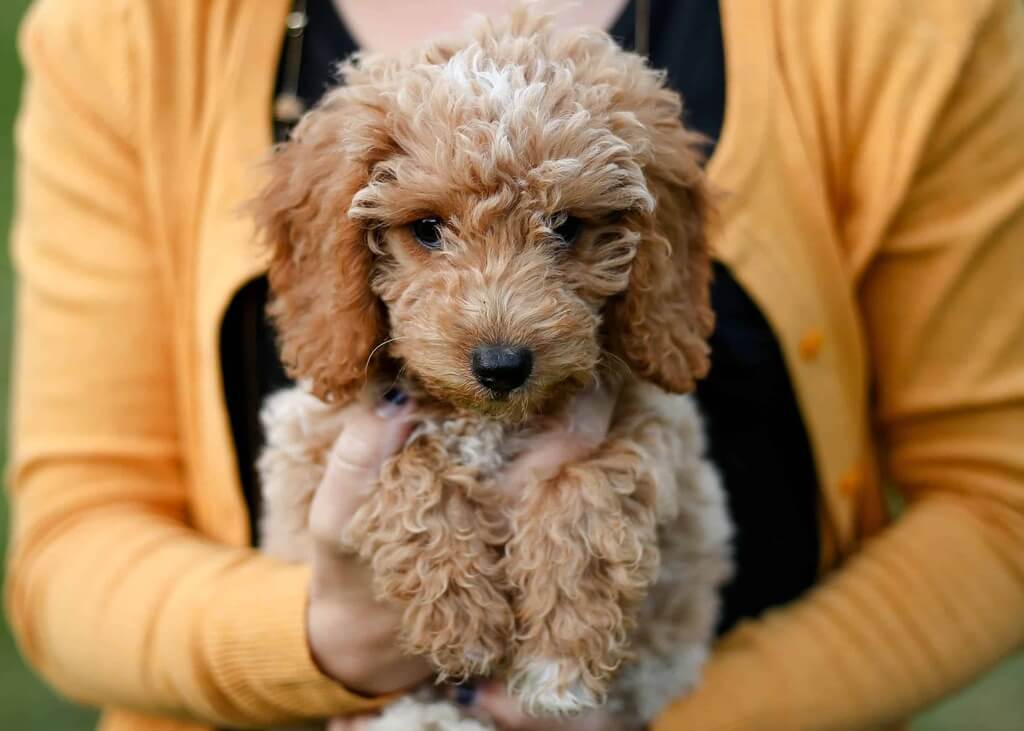 Source: doodletips.com
Another fascinating thing about this dog breed is that they vary in size. They usually come in three different sizes. They're:
Miniature
Small Standard, and
Large Standard
The mini Goldendoodle size difference is maybe because of the result of multigenerational breedings. As Goldendoodle is crossed with another and there are also no breed standards.
When it comes to the goldendoodle's height and weight, it also mainly depends on his poodle lineage. Standard doodles are generally more than 21 inches tall and can weigh up to 100 pounds. On the other hand, Miniature Goldendoodles are between 13 and 20 inches tall and weigh around 15-40 pounds.
These dogs have round skulls, broad muzzles, heavily feathered tails, drop ears, and attractive oval-shaped eyes when it comes to their appearance. Overall they're cute enough to make anyone fall in love with them.
As their parents are retrievers, hence they also have a similarly long and muscular body with a deep chest and wide stance. You can find a Goldendoodle in various coats and furs, from light cream color to a rich auburn red. Some puppies also have small white markings on their chest.
Because of their wavy and curly fur and floppy ears, they're also known as teddy bears. However, with the cute face, the mini Goldendoodle has a strong, energetic personality. Let's know more about its temperament and characteristics.
The Temperament of Miniature Goldendoodle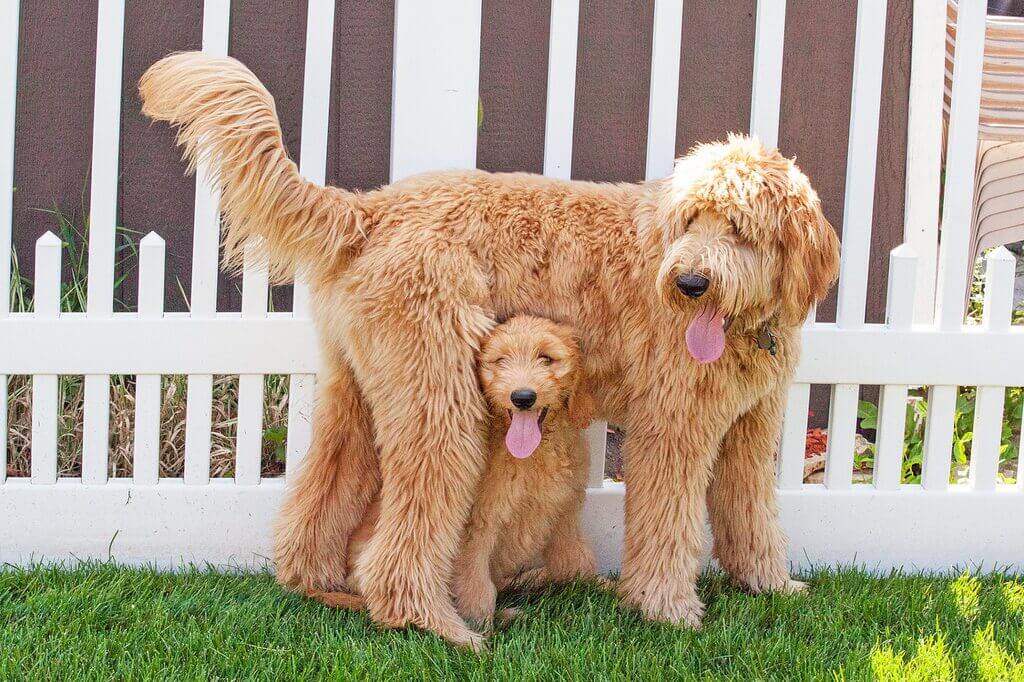 Source: meredithcorp.io
Source: squarespace-cdn.com
Mini Goldendoodles are just like their retriever parents: gentle, friendly, and eager-to-please! Plus, they're extremely social, playful, and intelligent because they're also part mini poodles.
Even if you have infants and young kids in your family, you can go for this dog breed because mini Goldendoodle temperament is calm and friendly and they're naturally inclined to be careful with infants and toddlers. They'll be perfect and patient companions for children and will develop a strong bond with them.
Thus, they're an excellent option for families with young children. All you need to do is supervise and teach your kids 'how to interact with pets properly.'
These adorable dogs are always warm towards people. They also crave a lot of love and attention from their pack. They're extremely loyal and always want to stay close to their humans!
These affectionate dogs are intelligent and easy to train. However, sometimes they can be a little mischievous. For you, this can be a fun part of their nature!
Exercise For Mini Goldendoodle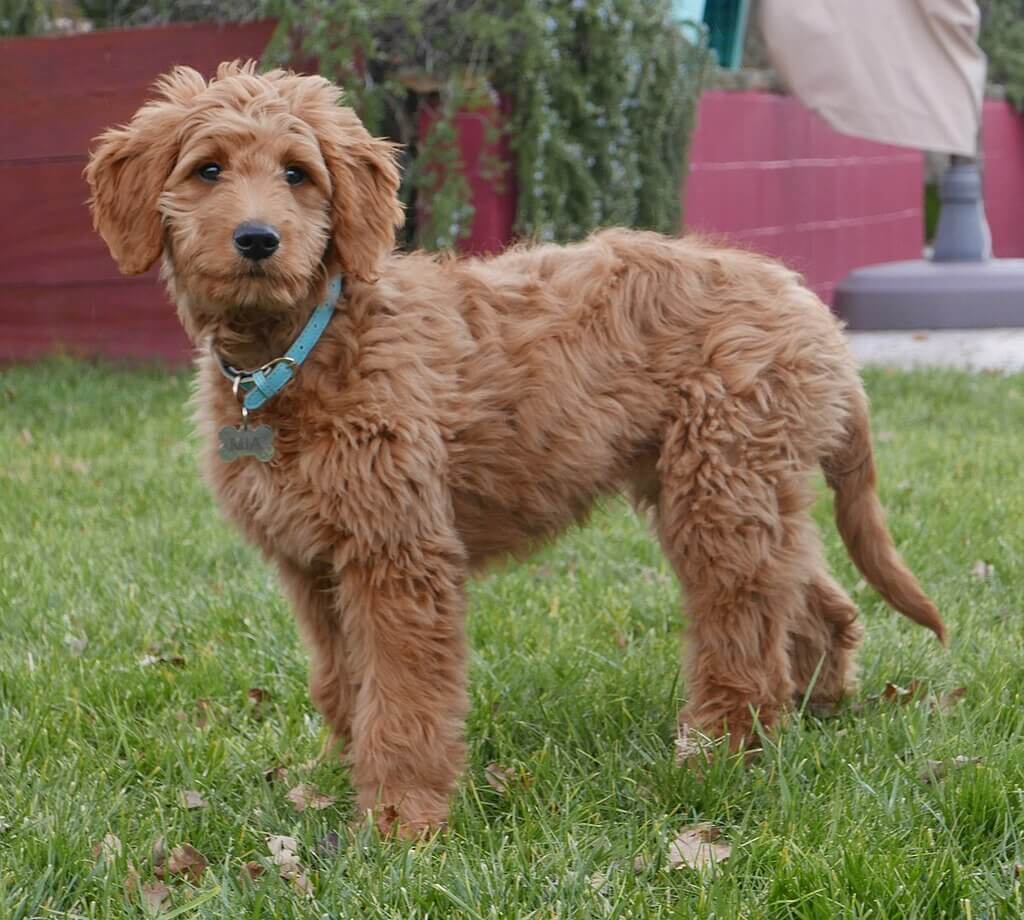 Source: wikimedia.org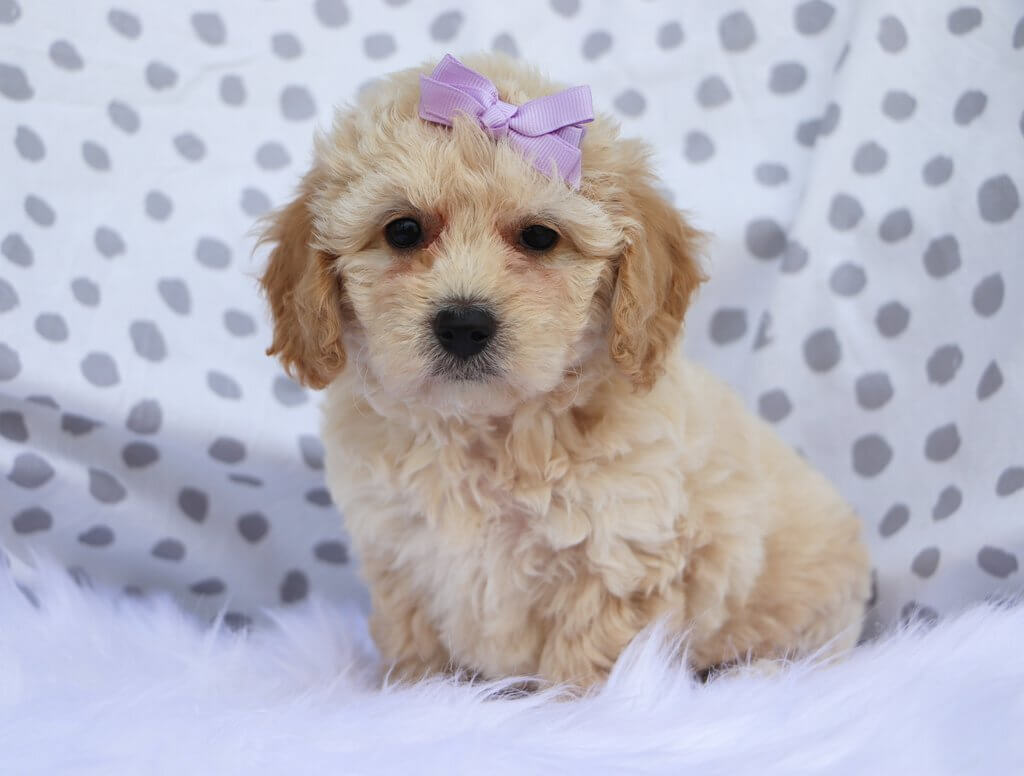 Source: shopify.com
Don't get fooled by their small size; they're absolutely not a lapdog at all. Yes, even though they're tiny, they require at least 45 to 60 minutes of exercise every day.
You can play with them and take them to the local lake or doggy pool for the water exercises. You can also arrange a play area in your outdoor or backyard space. One thing you have to keep in mind is that this dog breed is energetic, so they can be easily bored. For a solution, you can mix up his daily exercise routine with various types of activities.
Also, make sure to well fenced your outdoor area as they're small and can escape from even tiny gaps. Another thing is to provide good shelter from the sun. You should keep them away from sunlight as they have thick and dense curly fur. Especially on hot days, you can play with them indoors or give them a cool water bath.
Diet Plan For The Mini Goldendoodle
An average mini Goldendoodle full-grown dog needs about 30 calories per pound of its body weight for healthy maintenance. Now you might be thinking that small dog breeds will surely need low calories. However, that's not true! Mini or small dogs have fast metabolisms, and sometimes they need more calories than large breeds.
Always try to provide an appropriate diet for dogs that has high concentrations of protein with moderate fat content and limited carbohydrates. According to veterans, "Protein is essential for puppies to grow and develop properly." A good diet full of proteins will support lean muscle mass and healthy body weight for adult dogs.
As we already told you, Goldendoodle comes in three sizes. So, the food needs depend on your dog's size and activity levels. In general, you can follow the below diet plan for your dog:
Feeding Schedule:
8-12 weeks: 3-4 times a day
Six months: 2 meals a day
NOTE:
The exact amount of food that you should feed your dog majorly depends on their size, weight, age, build, metabolism, and activity level. So, make sure to know your dog's food requirements. You can also consult your vet and ask them to make the complete diet plan specifically for your dog.
Training and Grooming Needs of Mini Groodle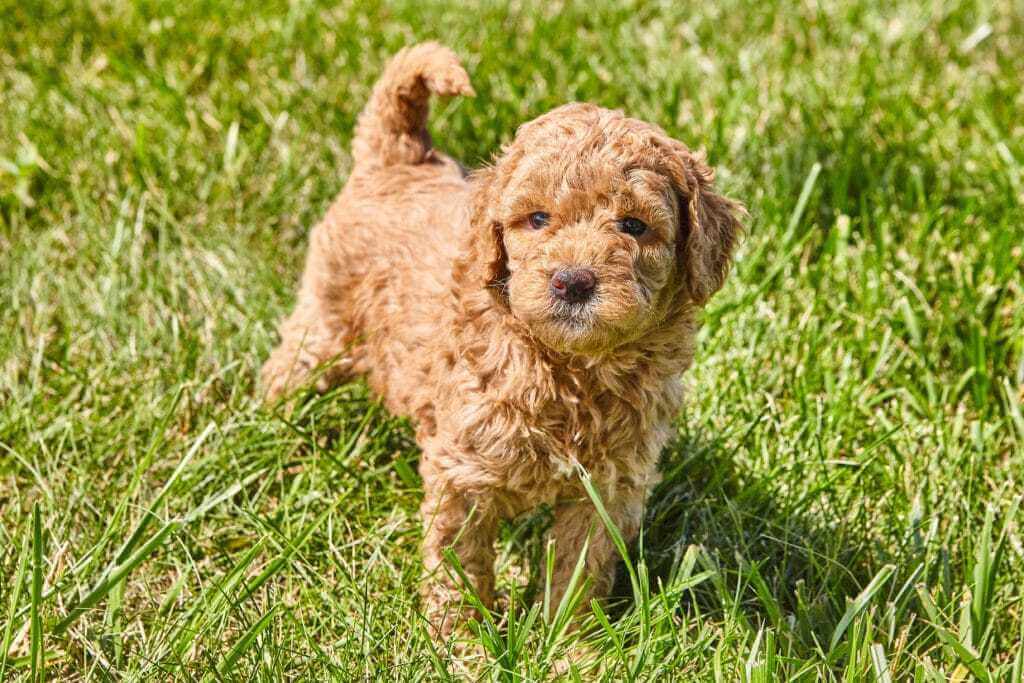 Source: netdna-ssl.com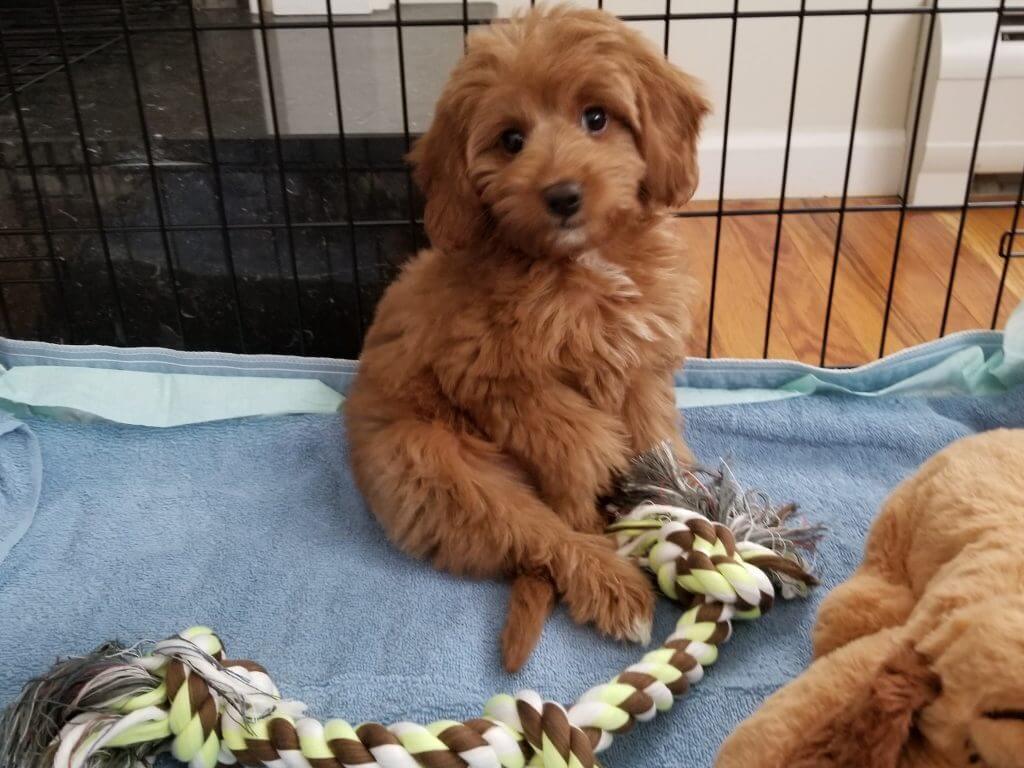 Source: vetpet-shop.eu
You'll be happy to know that Miniature Goldendoodle is very intelligent and super easy to train. They're always ready to please their owners. Though its concentration levels aren't the best, yet they'll try their best to learn new things. Instead of long training sessions, go for short and sweet ones. Positive reinforcement training, some verbal praise, and small training treats will help them learn things quickly and easily.
Just like any other breed, it's best to train the mini golden poo dogs as early as possible. If you have a mini Goldendoodle puppy, be sure to expose him to as many unfamiliar sounds and sights as you can. This will help them to socialize with their environments and surroundings.
This will also help to build his confidence and become a well-mannered adult doggo. Plus, you can make many memories and strong bonding between you and your puppy during these training sessions.
These dogs don't shed as much as double-coated dogs, but it's extremely important to groom your Mini Doodle from time to time. As we already told you that they have a curly coat, so it can easily mat if not appropriately maintained.
These puppies don't need regular brushing; however, you should brush their coat at least once or twice a week. Apart from this, if your doggo loves to play outside, he'll also need regular baths.
Most of the mini doodle owners opt for an easy-to-care-for cut. You can also consult your local groomer as they can recommend the best look for your dog. That will look adorable on your pup and also easy to maintain.
Common Health Problems of Mini Groodles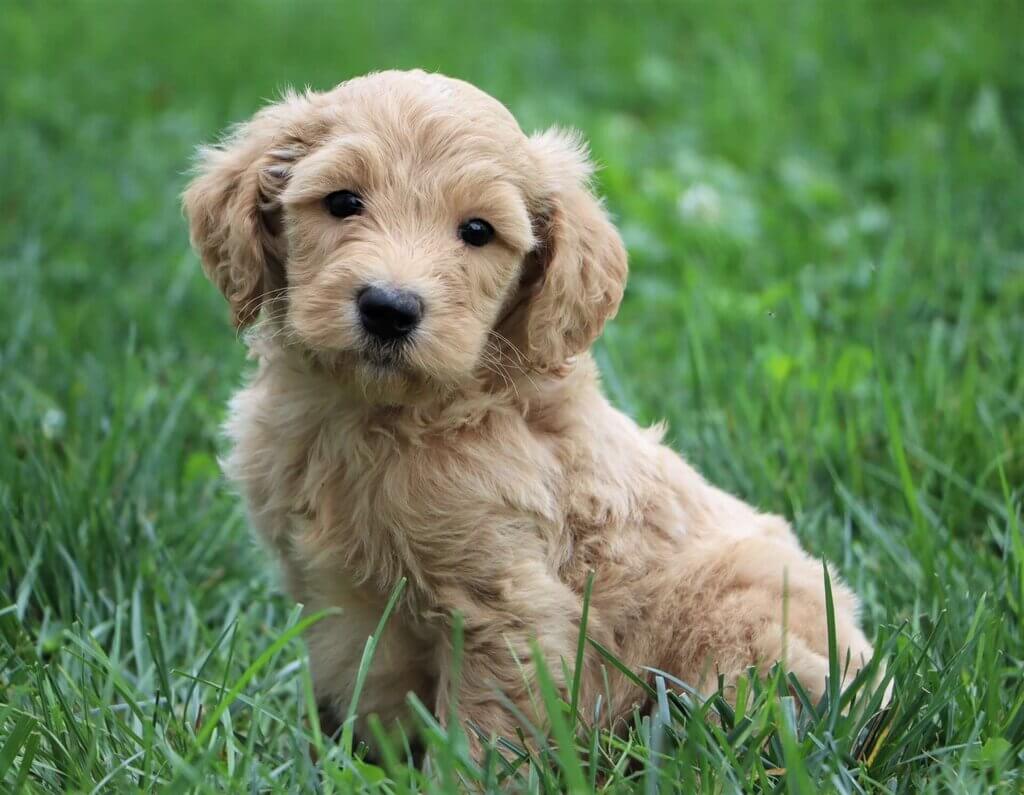 Source: squarespace-cdn.com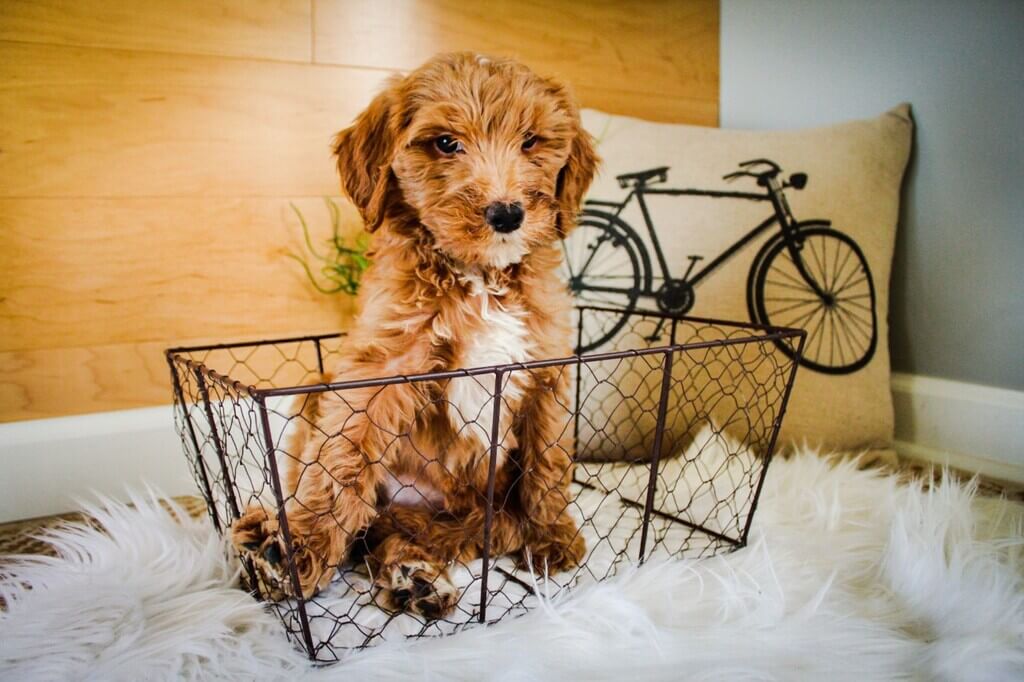 Source: squarespace-cdn.com
Unfortunately, several health conditions tend to pop up in miniature Goldendoodles. They generally have similar health problems that their parents Mini Poodles or Golden Retrievers have. In that case you can give benadryl to your dog by asking your vet.
Below is the list of some serious health concerns that mini groodles may develop:
Cancer:  as compared to other dog breeds, Golden Retrievers have one of the highest cancer rates.
Ear Infections: like any other dog breed, they also have a high chance of getting ear infections.
Patellar Luxation: It is known as slipped stifles, which are pretty commonly seen in toy and miniature breeds. In this disease, the patella (kneecap) gets dislocated or slides in and out of place, which causes pain in the joints.
Dental Disease: Miniature Poodles are also more prone to have teeth-related problems as compared to other dog breeds.
Bloat (gastric dilatation-volvulus): When a dog's stomach fills with gas, food, or fluid and expands, high pressure occurs on surrounding organs. This sometimes causes pain and discomfort.
Other than this, other problems are:
Hypothyroidism
Elbow Dysplasia
Hip Dysplasia
Progressive Retinal Atrophy
Von Willebrand's Disease
Mini poodles can also suffer from allergies. There are three main types of allergies:
Food Allergies: This can be easily treated by eliminating certain foods from the dog's diet.
Contact Allergies: this usually caused a reaction to a topical substance such as bedding, flea powders, dog shampoos, and other chemicals.
Inhalant Allergies: These types of allergies are caused by airborne allergens such as pollen, dust, and mildew.
NOTE:
Mini doodles have many health problems; that's why it is important to check the parent's health and genetic clearances while you're picking the breeder. There are many tests available in the market from which breeders can easily check if the parents of a pup are likely to pass conditions onto their offspring or not.
Also Read: Sheepadoodle: The Ultimate Breed Guide
Interesting Facts about Mini Goldendoodle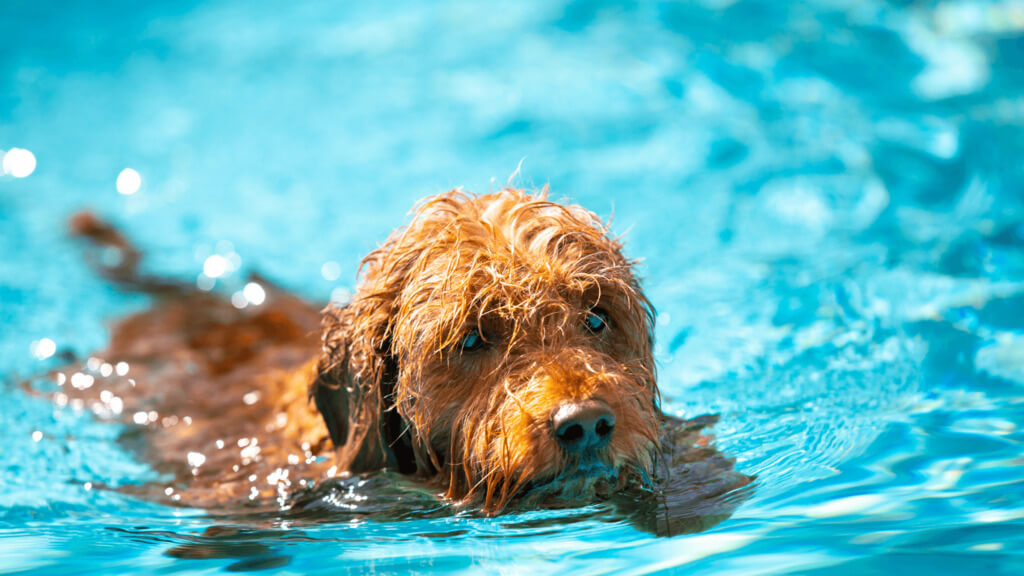 Source: dogreal.com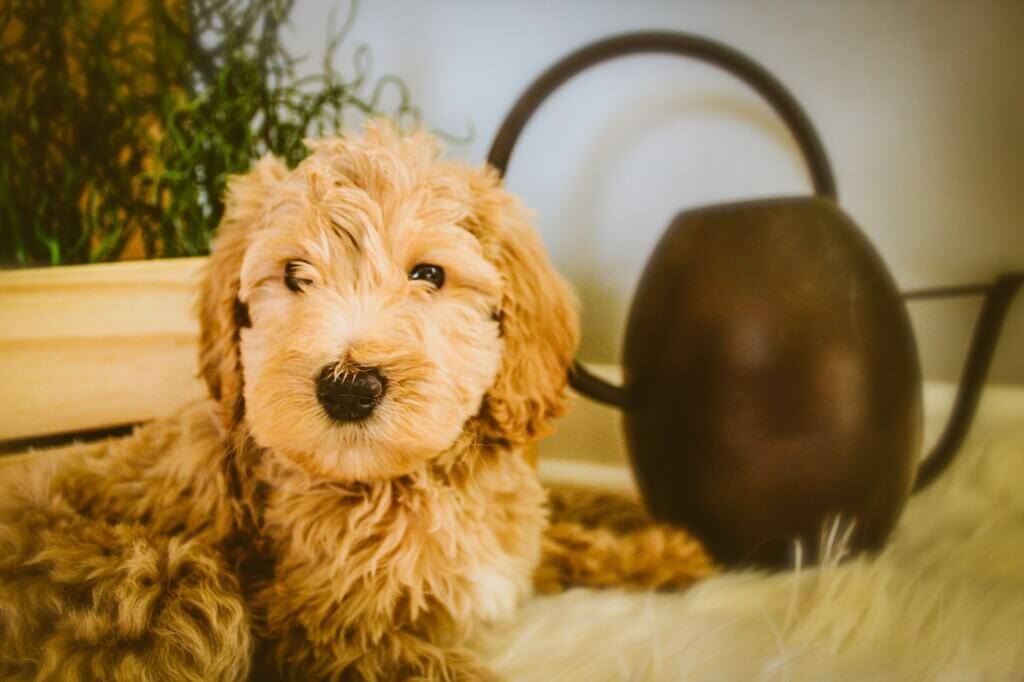 Source: squarespace-cdn.com
After reading till here, you might be thinking that you know everything about the mini Goldendoodle. However, that's not all. Below are some more information and fascinating facts about this interesting breed:
Miniature Goldendoodle is not officially registered, but still, they're considered as a "designer breed."
These dogs are extremely friendly and have gentle natures; that's why they're excellent service and therapy dogs.
Mini doodles are great for a sniff and guide dogs, but they're not suitable as a watchdog.
This hybrid breed is hypoallergenic. These dogs are easy to clean and maintain and hence make perfect for owners with allergies.
Goldendoodles are available with three types of coats: straight, wavy, and curly. Not only this, but there are also three different types of mini Goldendoodle puppies depending on their fur color: American, English, and Australian.
Final Words: Are Mini Goldendoodle Good Pets?
The mini Goldendoodle lifespan is about 10-15 years and they're highly intelligent, loving, playful, and enduringly loyal. Hence they make a perfect family pet. They're also non-aggressive and sensitive to the tone of voice.
So this is all about the famous mini doodle breeds. If you're planning to get a Miniature Goldendoodle puppy, make sure to do in-depth research and get all the necessary information. Check deeply through rescues and shelters or buy from reputable mini Goldendoodle breeders. This way, you'll be able to get a healthy and happy puppy!
I hope this in-depth Mini Goldendoodle dog breed guide has helped you decide if this breed is the correct choice for you.
For more information on pet care, breeds, or pet foods, visit PetsNurturing.
For quick pet tips and adorable pictures, follow us on our Instagram page pets_nurturing.