How would you feel holding a tiny, fluffy puppy in your arms? That will surely be one of the best feelings in the world!We're talking about one of the cutest dog breeds, the Pomeranian! This breed is available in different sizes, and one of them is Teacup Pomeranian! This is the breed's newest version, even smaller than the miniature Pomeranian! Due to their tiny size and fun personality, these canines have become one of the most popular dog breeds in the world!
A Teacup Pomeranian is a great option for people who want to adopt a dog but can't afford it or whose homeowner doesn't allow large dog breeds. This is a small dog breed with only 3 to 7 pounds. These active and playful pups are a great addition to families with pets and kids.
So if you're interested in adopting a micro Pomeranian and want to know more about these canines, you're on the right page!
Today in this article, we'll tell you everything about Teacup Pomeranian!
Let's start with an overview and summary table. 
Teacup Pomeranian: Overview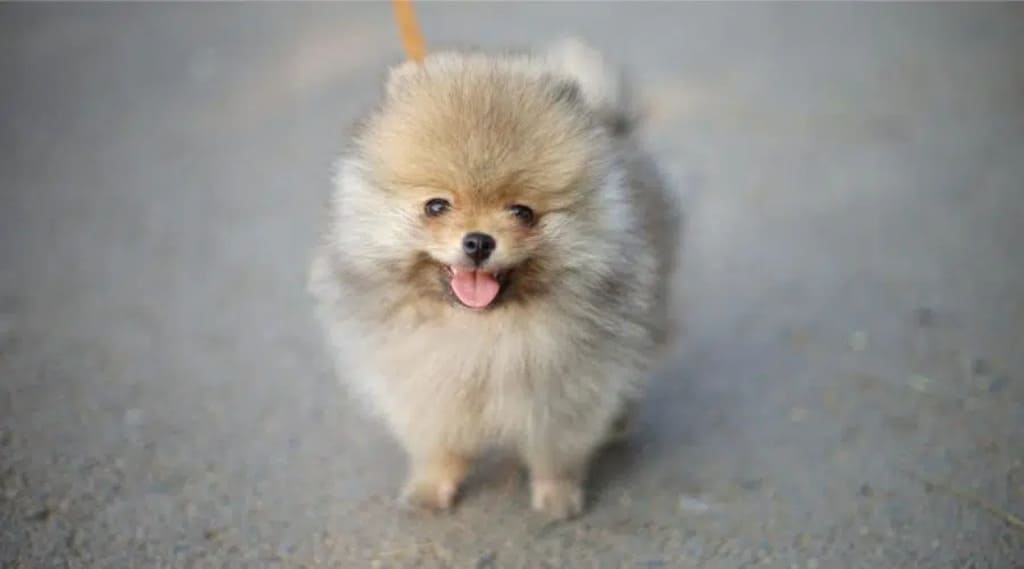 Source: loveyourdog.com
What's a Teacup Pomeranian?
To know about this breed, first, you need to learn about the term "Teacup." 
Today many non-dog breeders think that Teacup breeds like Teacup Pomeranians and Teacup yorkies are different dog breeds. However, that's not true! Teacup is, in fact, the miniature version of the standard official dog breed.
So, the Teacup Pomeranians are the miniature or tinier version of the Pomeranian dog breed, not the distinct dog breed.   
So, how small is a Teacup Pomeranian?
The micro Pomeranians are as small as to fit perfectly in a cup! 
This canine usually weighs around 2 to 3 pounds with a height of 17 inches or less.
Here's a summary table of the Teacup Pomeranian, where you can see many interesting things about this cute small breed.
| | |
| --- | --- |
| Breed Name: | Pomeranian |
| Breed Group: | Teacup Pomeranian |
| Height: | 6 to 10 inches |
| Weight: | 3 to 7 pounds |
| Life Span: | 11 to 15 years |
| Coat Type: | Double-coated, fluffy, shiny |
| Coat Color: | Commonly in black, white, tan brown, orange, red, and tan patched |
| Temperament: | Very quiet, active, innocent, bright, loving, caring, and protective |
| Grooming Needs: | Comparatively higher than other Pomeranians |
| Training Needs: | High |
| Intelligence Level: | High |
| Other Names: | Toy pom, Zwers, Pom Dog, Pom-Pom and Pomeranians. |
| Good With Children: | Yes |
| Good With Pets: | Yes (under supervision) |
| Recommended Families: | All types of families other than the one with small children |
Teacup Pomeranian: Origin & History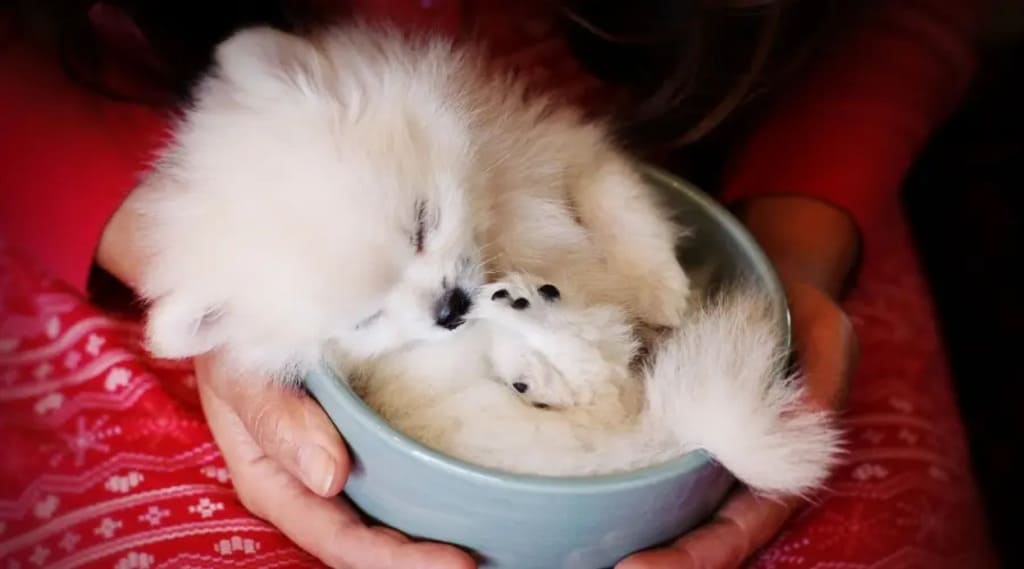 Source: loveyourdog.com
It's hard to believe, but actually, these small cute Pomerani

ans are descended from Icelandic sledding dogs.

These can

ines originated in the German province of Pomeranian, so t

hey're known as Pomeranians!

This dog bre

ed is related to other dog breeds, incl

uding the German Spitz, the Samoyed, the American Eskimo Dog, and other Spitz dogs. 

Initially, these pups wer

e quite large in size, about 30 pounds. And now these pups are available in as little weight as 3 pounds. Quite

fascinating, right?

 

Pomeranians

got immensely popular in the 1600s w

hen many royal families decided to adopt them.  

In the 1800s, Queen Victoria also got Pomeranian pups. 

The American Kennel Club (AKC) recognized this breed in 1888 in the "toy group" category.
Teacup Pomeranian: Physical Appearance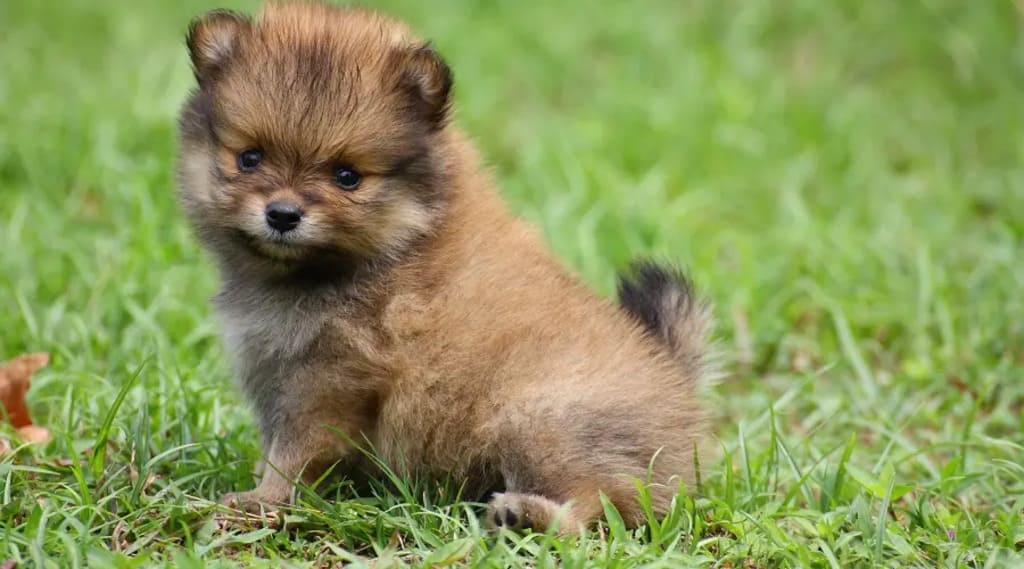 Source: loveyourdog.com
Here is what teddy bear Teacup Pomeranian looks like: 
Pomeranians are cute and cuddly dogs w

ith fox-like faces a

nd ears.

On average, the Teacup pom is a

bout 6–10 inches tall in height and weighs between 5–7 pounds (th

e Teacup Pomeranian size depends on the gender of the dog). 

Other noticeable features about these pups are th

eir distinct fluffy coats and small plumed tails.

Pomeranians also h

ave visible markings w

hen they get older. This includes stripes or patches on the chest, defined eyebrows, facial blazes, and different colored feet and tail tips.
Here is the size chart for Teacup Pomeranian puppies and Teacup Pomeranian full grown: 
| | | | | |
| --- | --- | --- | --- | --- |
| Age | 3 months | 6 months | 9 months | 12 months |
| Weight | 3 pounds | 5 pounds | 6 pounds | 7 pounds |
| Height | 5 inches | 7 inches | 8 inches | 8 inches |
Toy Pomeranian: Coat Colors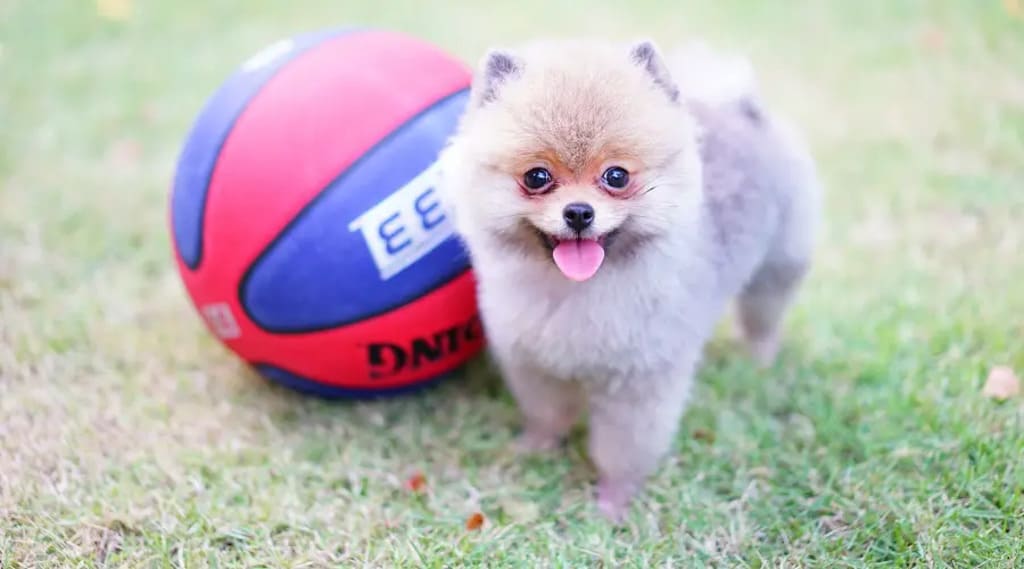 Source: loveyourdog.com
Micro Pomeranian has a double-layered thick coat available in many different colors, including pink. You might have seen black and white Pomeranians but have you ever seen pink Teacup Pomeranians?
Here are some of the common coat colors of tiny Pomeranians: 
Red

Orange

White or cream

Blue

Brown

Black

Brindle

Beaver

Parti-colored

Chocolate Merle

Tan-pointed
Apart from these single colors, mini Pomeranian is also available in bi-colors such as black and brown, brown and tan, brown and white and tri-colors including sable and brindle variations.    
Teacup Pomeranian: Personality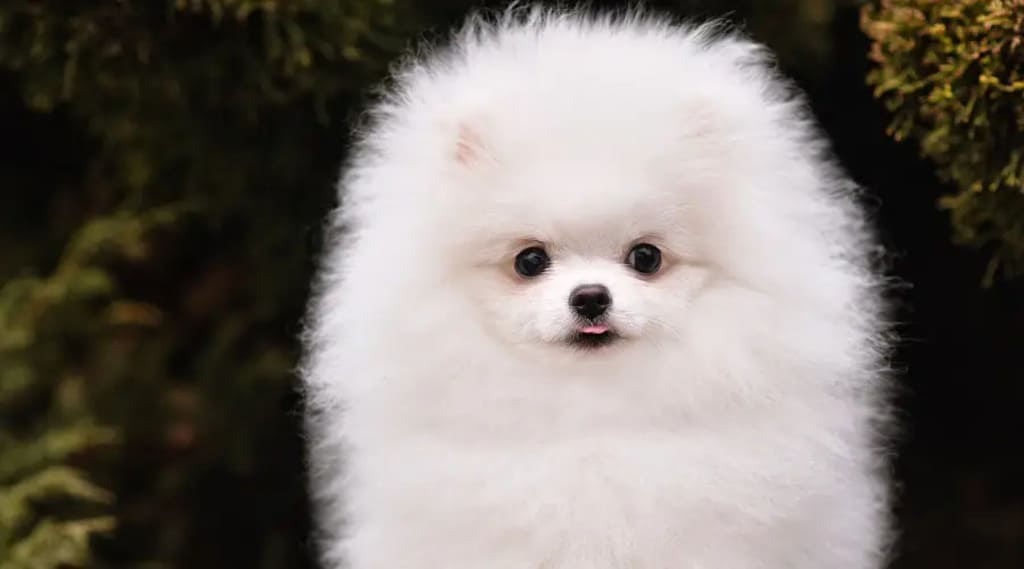 Source: loveyourdog.com
No matter what dog breed you plan to get, it's always important to know its temperament and overall personality.
For example, if you have kids at home, you should adopt a pet that behaves appropriately with your kids and other pets of yours.   
Don't worry; this isn't the case with Pomeranians! These little white Teacup Pomeranians are smart, intelligent, active dogs. 

They love

to socialize and play with kids

and pets around them. However, be careful while interacting with these small pups with bigger and larger dogs, as they can get hurt while playing. 

Don't get fooled by the Pomeranian Teacup size, as these dogs

are quite vocal and protective of t

heir family. 

These loyal pups will try to do anything to protect their owners. 

Pomeranian Teacup d

ogs need plenty of attention a

nd love. So, make sure to spend a good amount of time with them, so they don't feel lonely. This is important as micro Pomeranians suffer from separation anxiety. 
Mini Pomeranian: Training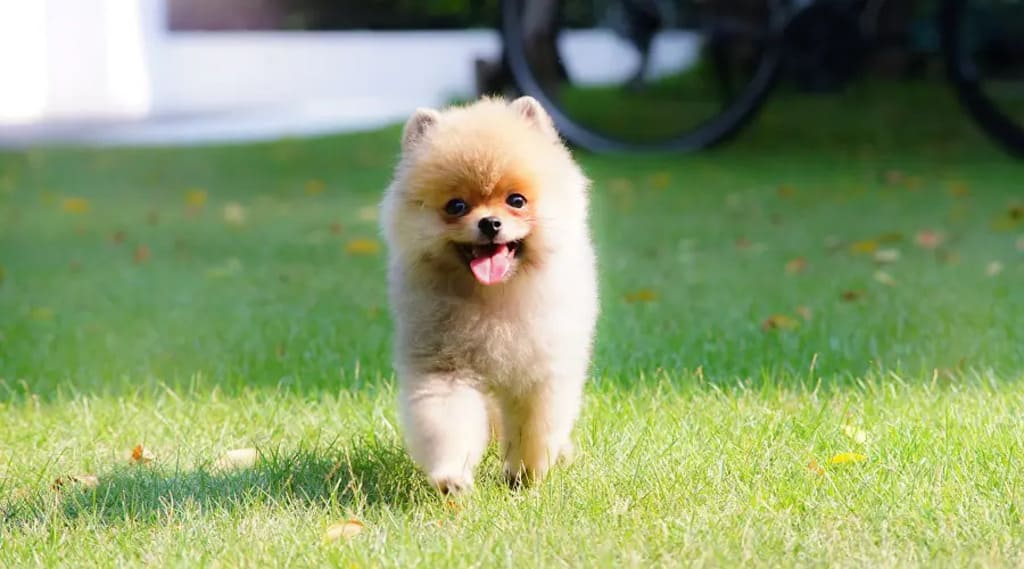 Source: loveyourdog.com
Are Teacup Pomeranians Easy to Train?
This question comes to every pet owner's mind. You don't have to think much about them because these little pooches a

re easy to train.

Thes

e smart and obedient dogs can

easily learn any trick.  

From outdoor walks to fun toys, there are many ways in which you can keep these dogs entertained. 

These dogs w

ill learn things pretty quickly; h

owever, they don't like long training. So, make sure to keep the training sessions short and fun. 

At the end of each session, give your pu

p treats and cuddles.
NOTE:
When properly trained with regular timings, the Teacup Pomeranian can develop "small dog syndrome." In this condition, these pups become very challenging to handle.
Teacup Pomeranian: Grooming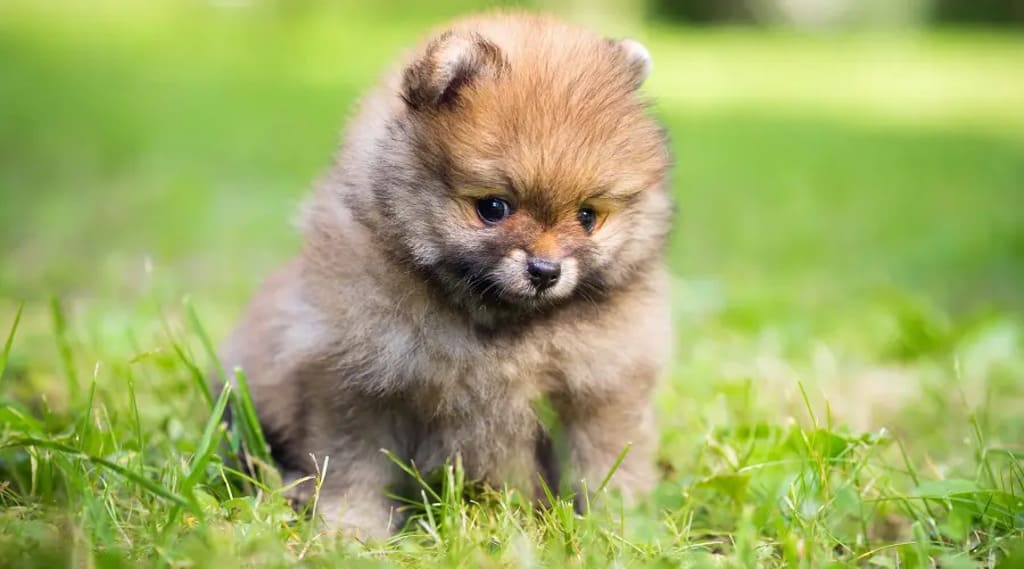 Source: loveyourdog.com
How to take care of a micro Pomeranian?
Anyone can easily get lost in the full and fluffy coats of the Teacup Pomeranian but wait; this comes with a cost… cost of grooming! You can also see the

grooming tips

for your dog here.

The straight, feathery coat needs to

be groomed frequently, w

hich can affect your budget. 

You must brush your pooch's fur at l

east 3 to 4 times weekly.
Comb properly through the coat, so there should be no mats a

nd tangles, especially around the neck area. 

You must visit professional grooming serv

ices every 4–6 weeks for haircuts, nail trimming, and other hygiene things.
Don't forget to clean your dog's ears and teeth from

time to time. 
Tiny Pomeranian: Exercise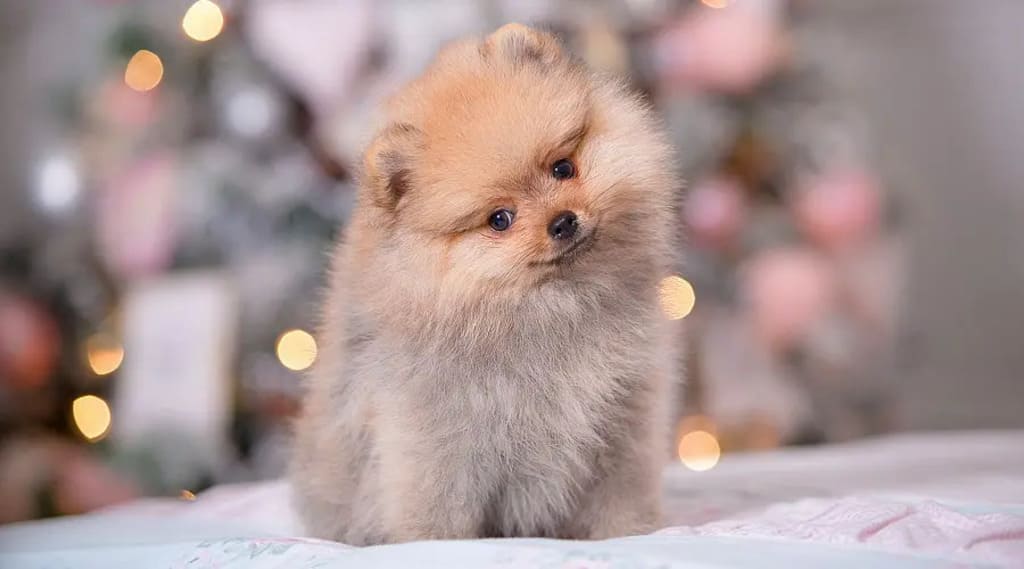 Source: loveyourdog.com
Like most small dogs, Teacup white Pomeranians don't require a ton of exercise. However, Poms are playful and active, and some daily exercise is necessary. Dogs not getting enough exercise find other, more destructive ways to work out their pent-up energy. 
For all the pet owners, here is a good thing, these sweet

dogs don't need plenty of exercise.

The best activity for these pups

is a daily outdoor walk for 20–30 minutes.

These simple exercise routines are easy but really effective. It will help your pooch to stretch his legs and have proper blood flow in the body. 
NOTE: 
An exercise routine is essential for dogs to keep their heart and muscle in good shape. However, remember that too much physical exercise or training can harm your pup, as Teacup Pomeranians are tiny dog breeds.  
Teacup Pomeranian: Diet & Nutrition 
Source: loveyourdog.com
Giving our pets proper food is our first duty as pet parents! 
Here's how a balanced diet should be for Pomeranians:
18% protein (for adults) and 22% protein for puppies

5% fat (for adults) and 8% fat for puppies)

High-quality dog food w

ith all the nutrients.

Also, keep in mind, 

This type of diet is highly beneficial and vital for Teacup Pomeranians prone to health problems like seizures and low blood sugar. 

Never feed your puppy human food.
Avoid these foods: grapes, chocolate, raisins, macadamia nuts, and avocados.

Also, make a proper feeding schedule for your micro Pomeranian. 

You can see diet and nutrition guide for pet owners.
Micro Pomeranian: Health Problems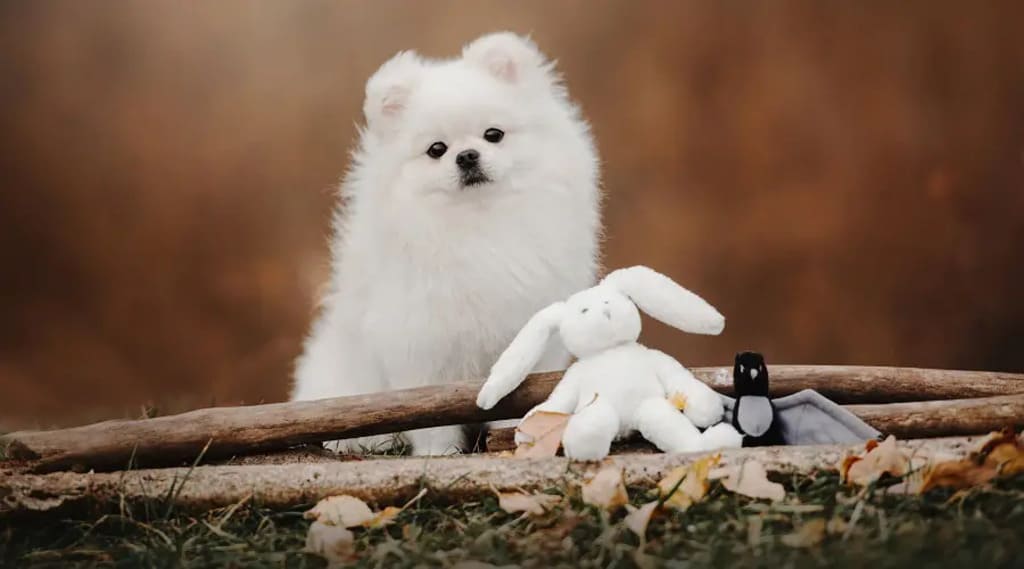 Source: loveyourdog.com
Are micro Pomeranians healthy dog breeds?
Teacup Pomeranians also suffer from a few health conditions like other canine breeds. The Teacup Pomeranian life span is about 12 to 14 years.
Here are some of the prevalent medical problems:
Luxating Patella

Liver Shunts.

Cryptorchidism

Hair Loss 

Tracheal Collapse

Reverse Sneezing.

Cushing's Disease.

Hypothyroidism.

Eye Problems.

Hypoglycemia or low blood sugar.

Teeth Problems.

Open Fontanel.

Gonad Descent Abnormalities.

Black Skin Disease
These are common medical conditions among these small "designer" Pomeranian dogs. However, these are still not diseases from which these dogs can die. The major reason behind the death of Pomeranians is trauma. Apart from these, you should also take care of viral infections and gastrointestinal issues.  
NOTE:
Regular visits to the vet are vital to check both physical and mental health. You can also ask for a feeding diet plan for their Pomeranian. They will prepare a proper daily feeding chart as per your pet's health, which you can follow.  
Teacup Pomeranian: Cost & Breeders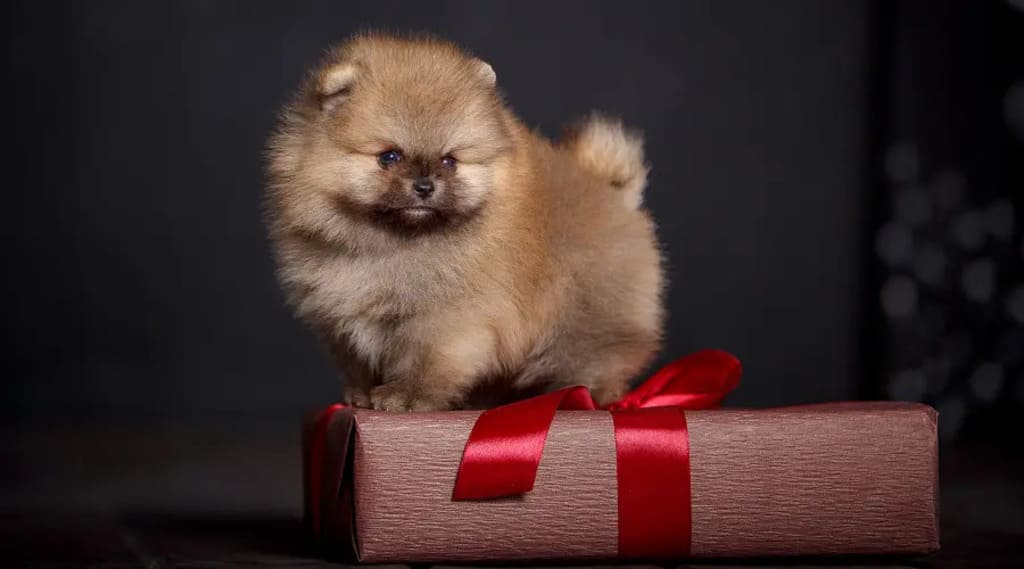 Source: loveyourdog.com
How Much Does a Pomeranian Cost?
You get a Teacup Pomeranian at a price range between $500 to $4000.
However, keep in mind the price depends on various factors like location, breeder, and breed. 

For example, half or mixed Pomeranian breeds have lower prices than purebred Pom. So, the cost can be low or high depending on these factors.
This is why it's extremely necessary for you to check Teacup Pomeranian price and buy a Pomeranian puppy from a reputable and trusted breeder. Just search on Google, "Teacup Pomeranian for sale near me." Don't forget to ask about the pom puppy's breeding history and health issues. 
So, where to find Teacup Pomeranian puppies for sale?
First, start by searching in your local shelters and rescue centers and ask for a Pomeranian dog price. This way, you can save the life of a Teacup Pomeranian. 
If you want to adopt or buy from a breeder, check out this list of breeders recommended by the American Kennel Club:
101 Fun Facts About Teacup Pomeranian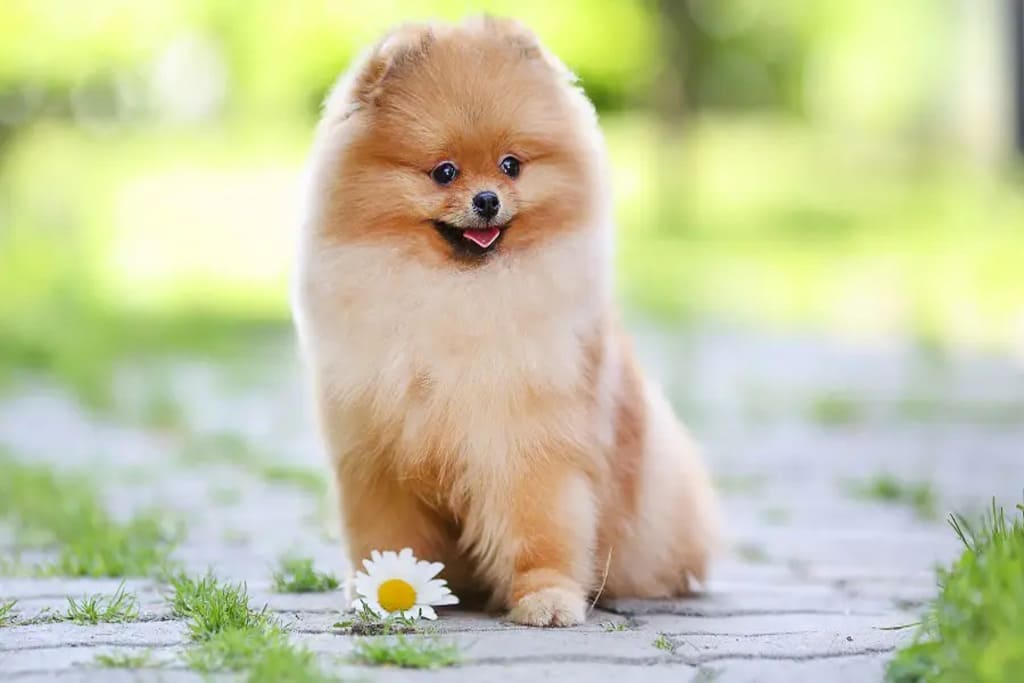 Source: loveyourdog.com
Here are some of the most interesting facts about this fun, happy, and active dog breed: 
Teacup Pomeranians are toy-sized pups that started gaining popularity in the past few decades. 

The "Teacup" term is not for the actual breed; it is used for the show-type Pom.

When these dogs were bred, they weighed around 30 pounds, but now they're available at as low as 3 pounds.

Even though Pomeranian Teacup dogs are small in size, they are quite active and always filled with lots of energy.   

These pups are loyal and protective of their families. 

Apart from black Pomeranians and white Pomeranians, these canines are available in unique coat colors like lilac and pink.
Pros and Cons of Teacup Pomeranian 
Here are the advantages and disadvantages of owning a micro Pomeranian: 
| | |
| --- | --- |
| Pros | Cons |
| These pups are cute, cuddly, and affectionate.  | Quite vocal and constantly bark for hours.  |
| | Fragile and tiny in size. |
| You can take these canines anywhere with you.   | They're prone to several health issues.  |
| Easy to groom and take care of.  | |
| Happy and energetic dog breed.  | |
| Good with pets and children.  | |
Are Teacup Pomeranians Good Family Pets?
According to the American Kennel Club, Pomeranians are "cocky, commanding, and animated as [they gait]."
Teacup Pomeranians are a loyal, intelligent, and protective dog breed. 

They are small but like to play and cuddle with their owners. 

Despite their size, if these canines feel any danger, they will bark continuously to alert you.   

They're also susceptible to many medical conditions like other small dog breeds. 

They usually live up to 12 to 14 years, but with the right care and attention, they can live up to 16 years. 
So, if you are looking for a tiny dog breed with low maintenance and grooming requirements, Teacup Pomeranians will be an excellent choice for you!
Also Read: Best Small House Dogs That Make Perfect Companions
Final Thoughts
So, this is all about the Teacup Pomeranian. These fun little dogs are smart, active, 
and energetic dogs that love socializing with other pets and humans. You can adopt them in many different coat colors from any rescue centers or reputable breeder mentioned above.
To keep these micro Pomeranians happy and healthy, give them high-quality food, regular exercise, and grooming. Don't forget to visit the vet for regular checkups and health issues of your pup.
I hope this in-depth guide on Teacup Pomeranians has given you all the required information about this dog breed before making the final decision. If you find this blog informative, share it with your family and friends looking for a tiny dog breed to adopt or buy.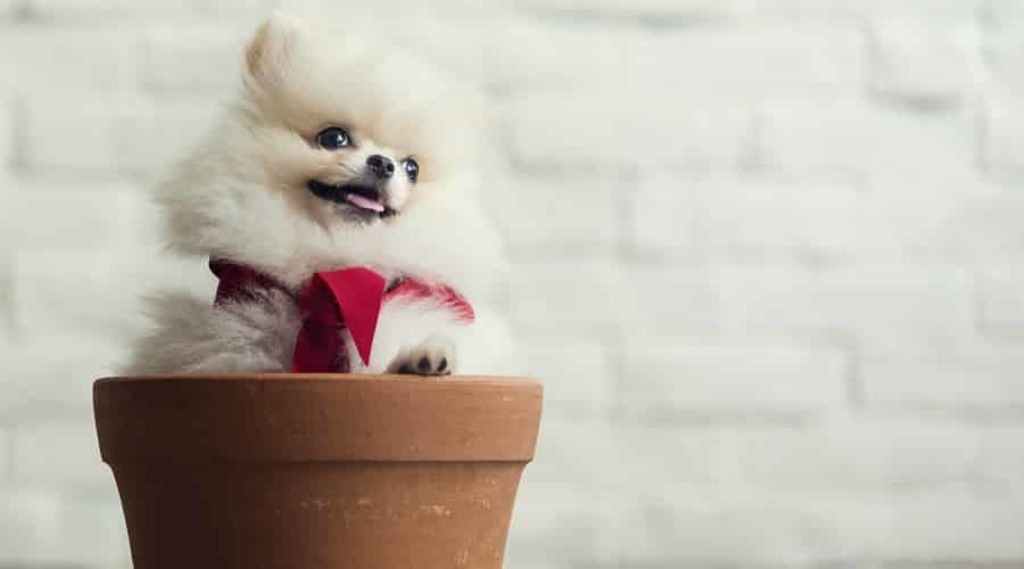 Source: loveyourdog.com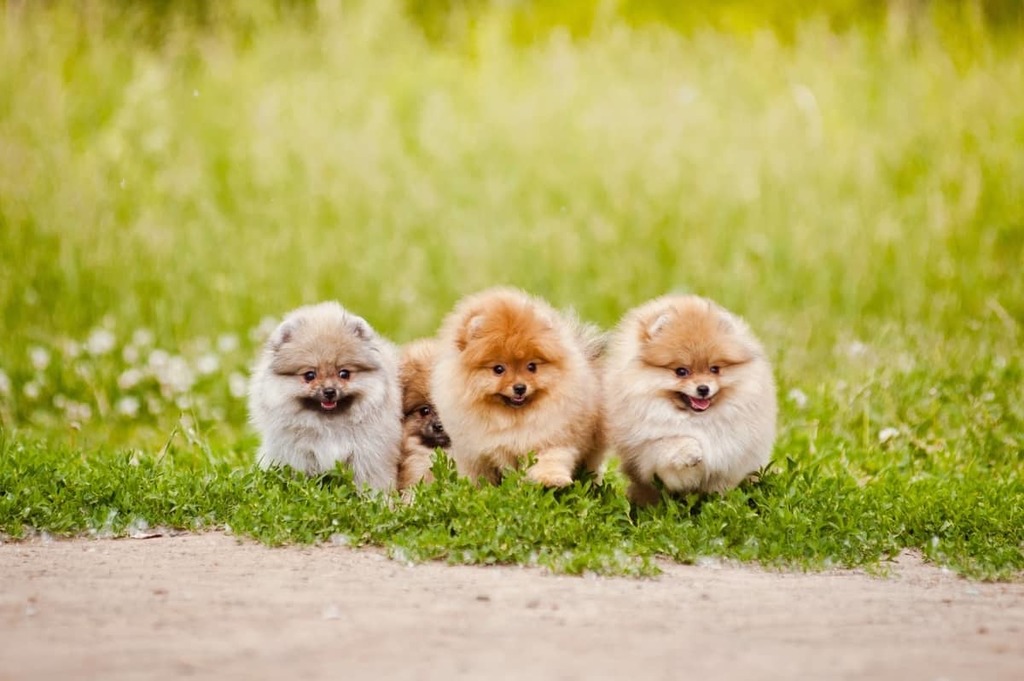 Source: bubblypet.com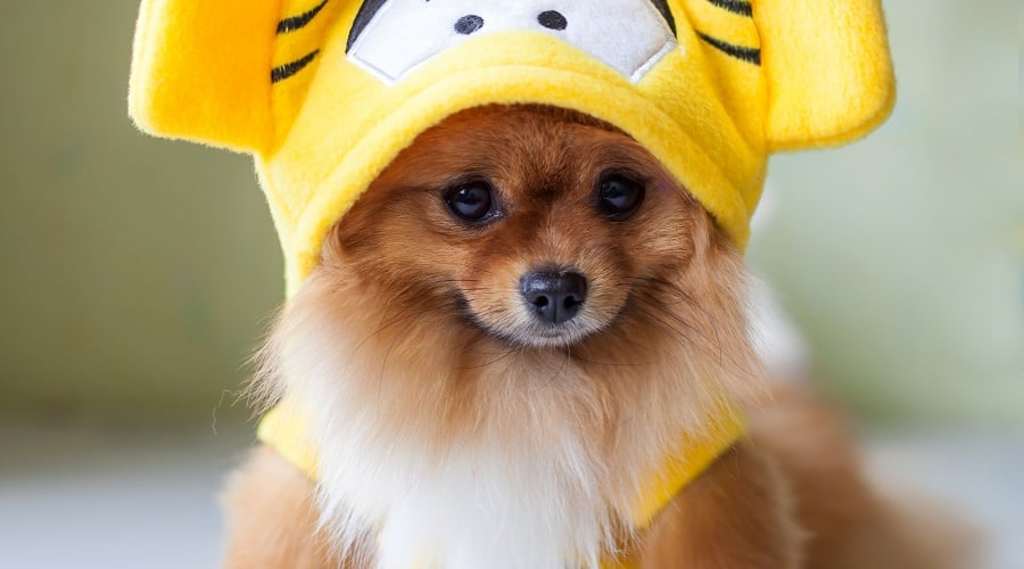 Source: loveyourdog.com
Source: ra2ej.com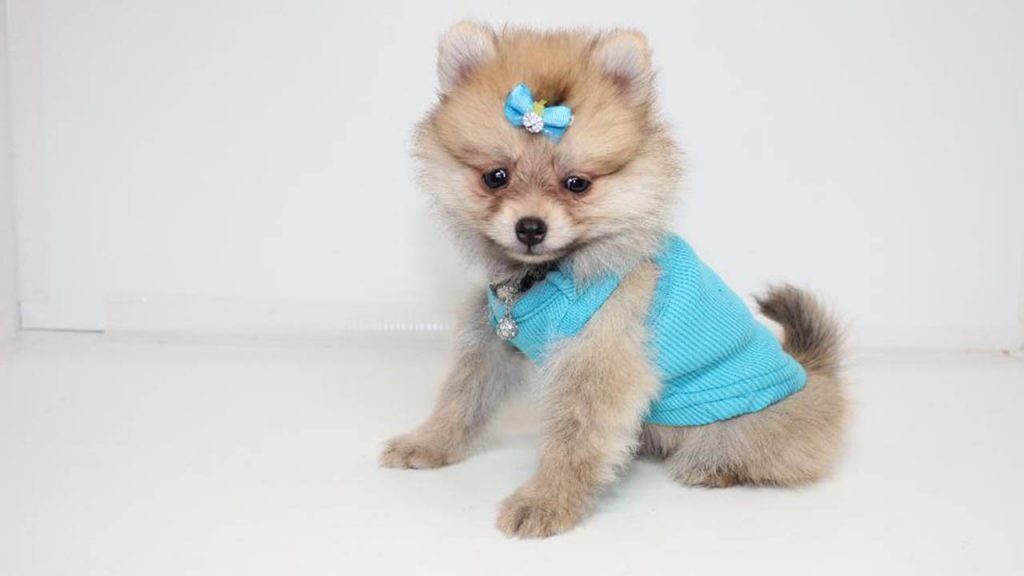 Source: pinimg.com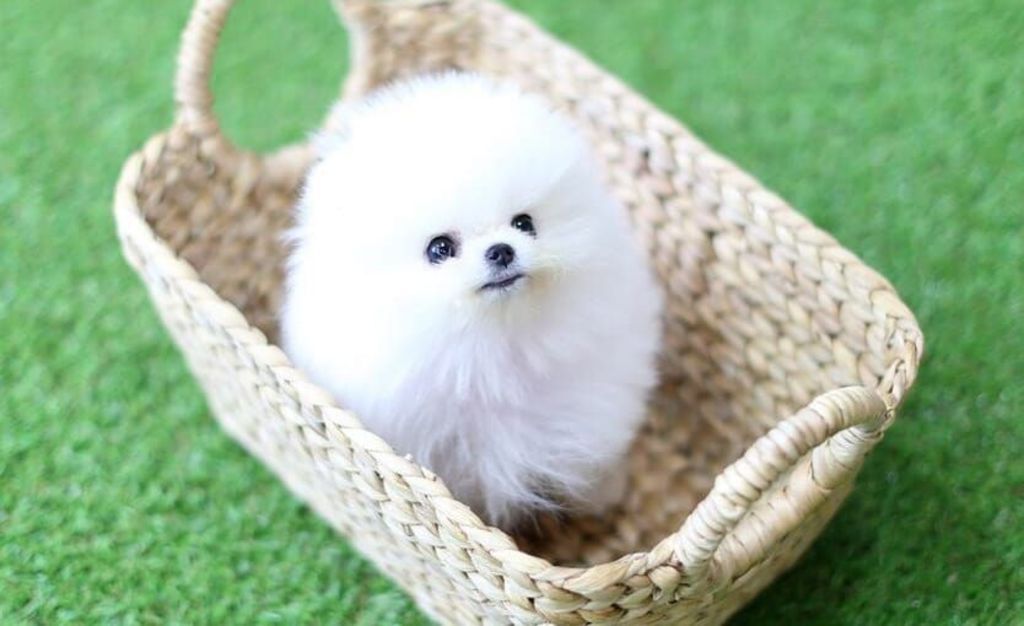 Source: pinimg.com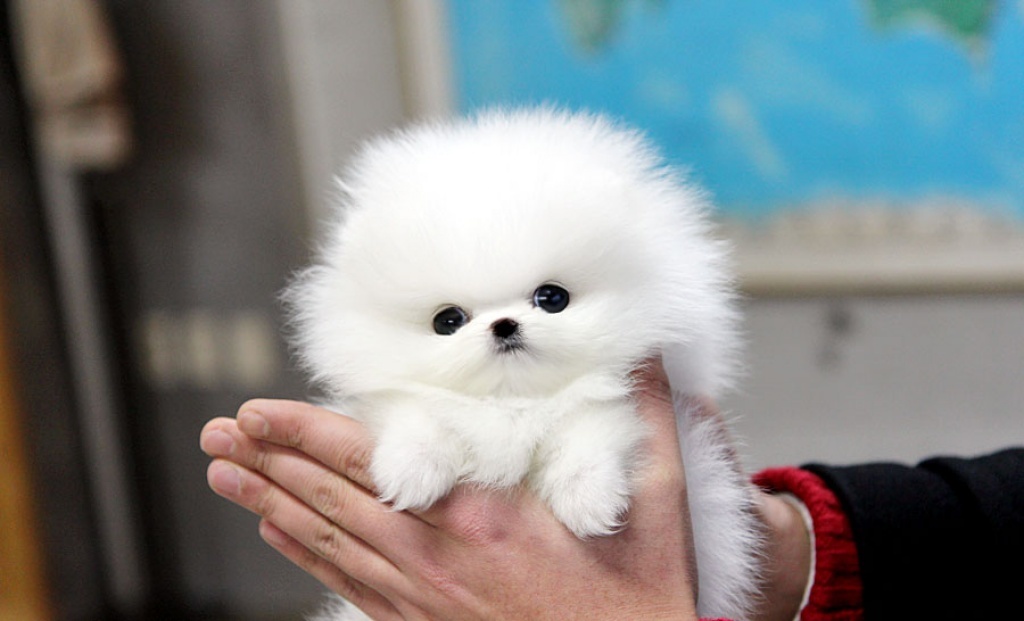 Source: annoncen.org
More from The Petsnurturing
To get more information about pets, care routines, grooming tips, and pet products, explore PetsNurturing.
Follow us on our Instagram page, petsnurturing, for daily pet updates and cute pictures.