We were on a stroll in the nearest park when we saw a person with his two dogs playing around the park. At first, we were scared they looked somehow like pitbull or Bulldog (we have read about their attacks and aggressive behavior! So that came out as a natural feeling), ..we were confused about which one it is. But I am thankful we didn't choose an option to leave the park. Now, all our doubts about American Bulldog vs Pitbull have been put to rest. 
The owner was gentle but tough; his and his dogs' personality was going very well with each other. I guess he somehow knew about our confusion between the breeds and our fear too. He came forward with his dogs and ordered them to sit. We were amazed at how they went on their knees once the command was given. (He saw our surprised faces too!) After that, he came forward and asked about the confusion and why were we scared.
I told him that we are confused, which dog breed they are pitbull or Bulldog. His reply made me stand still while processing the statement. He said the right one is pitbull, and the left one is a bulldog. 
Our reply was 'But they look similar'. Then he said, 'This is the common misconception of everyone. As they somehow look similar, the point is they differ in appearance too.' Up to this point, I was damn curious to know about the difference. And I asked about it. He patiently explained everything.
Here in this blog, I have penned down the difference between American Bulldog and pitbull. They have a difference in their origin, history, temperament, and characteristics. I have divided their differentiation section-wise.
Also Read: Know The Facts About An English Bulldog
Origin
American Bulldog:- 
Source: thesprucepets.com
They are originally from America and were bred from English Bulldogs. They were bred for the purpose of hunting and guarding.
American Pitbull Terrier:- 
Source: animalpicturesociety.com
American Pitbull Terrier is the result of the mix breeding of Old English Bulldogs and Old English Terriers from Ireland and England.
History
American Bulldog:-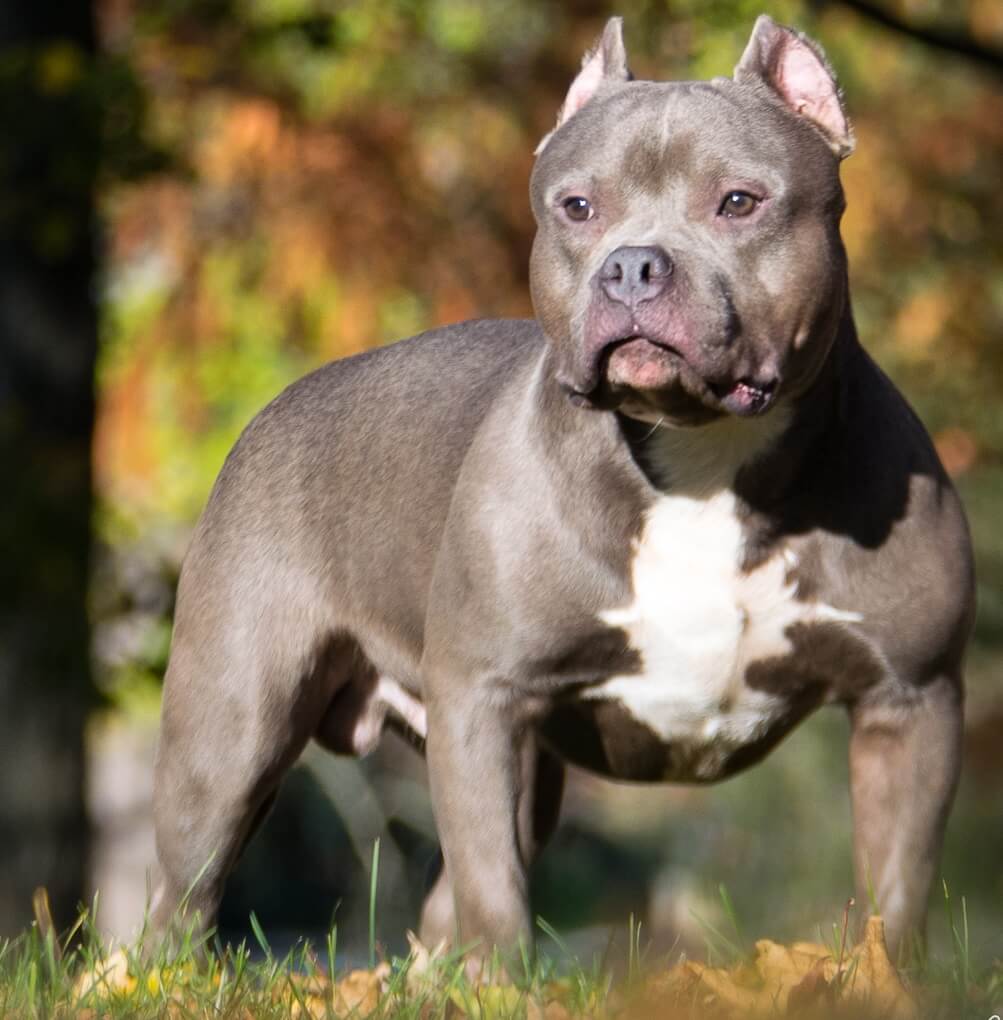 Source: wikimedia.org
American bulldogs were the farm dogs in the starting and were exceptionally good at hunting and managing the cattle. But their existence almost went to zero till the end of World War II. Thanks to breeders who saved the breed and bred them to be the family dogs.
American Pitbull Terrier:-
Source: topdogconeyisland.com
American Pitbull Terriers were brought from England for dog-fighting and ratting only. But with the time dog-fighting and ratting both were banned and later Pitbulls were bred to be a family dog. Due to their experience in ratting, they have an impressive bite inhibition.
Their history is somehow similar as they both were used in blood sports like bull-baiting and bear-baiting before such fights were banned.
Appearance
American Bulldog:-
Source: wp.com
Height – 20-27 in (for males) and 20-24 in (for females) 
Weight – 60 to 120 pounds
Life expectancy – 10 to 15 years
American Bulldogs are tall with a large head and strong jaws. Their body structure is wide with a thick tail. With the brown eye color (mostly!) and soft and small coat of different colors, these dogs are tough-looking cuties.
American Pitbull Terrier:-
Source: americanpitbull.it
Height – 17 to 21 inches
Weight – 30 to 60 pounds
Life expectancy – 8 to 15 years
American Pitbull Terriers are relatively shorter than the Bulldog. They have a lean body, powerful jaws, and a broad skull. They have a shiny coat in various colors, such as red, blue, grey, black, etc. and eye color that ranges from blue or green to grey or brown.
The main difference in their appearance is Bulldogs are taller than Pitbulls. And Pitbull has a shiny coat while Bulldog has a soft and patchy coat.
Temperament
American Bulldog:-
Source: a-zanimals.co.uk
Assured, fearless, courageous, and socially active are the traits that completely suites American Bulldog. They make great, trustworthy, and loyal pets. At a younger age, they are unresponsive towards the new individual but will evolve socially as it grows. They are unusually friendly around the children. 
American Pitbull Terrier:-
Source: zooplus.de
Protective and fearless yet playful and friendly, these are the personality traits of APBT. They have the desire to please others, but they can't get along well with other pets easily (for that proper training is needed). They are highly athletic and need more time devoted to exercise. You can say they have mix personality of being rude and sophisticated.
Their temperament is similar, both loyal, trustworthy, and friendly. The main difference is their attitude towards other animals; pitties are more aggressive towards other animals (dogs included!) which they might think of as prey. This doesn't mean bullies get along with other animals well, but if socialized at an early age, their prey drive decreases.
Health-related Difference:-
Generally, each dog is looked upon as healthy dogs and has excellent immunity. American Bulldogs are ideal for outdoors as they aren't much active indoors whereas American Pitbull hunting dogs are active inside, and require an area that can provide sufficient space for its exercise.
American Pitbull terriers tend to suffer from hereditary cataracts, grass allergies, etc. whereas American Bulldogs are prone towards hip dysplasia.
Source: google-image
Conclusion:-
Now that you are aware of the difference between Bulldogs and Pitbulls, it would become easier to recognize the difference between both the dog breeds with just a single glance. For more information on pets, follow Petsnurturing.