From miniature, small to huge, dogs come in all shapes, sizes, and colors. You can easily find various dog breeds including cute teacup poodles, tiny shedding Chihuahuas, and giant dog breeds such as the Russian Bear Dogs. However, there is something so unique and majestic about big dogs especially when they're white! Let's see large white dog breeds.
Large white dog breeds stand out from the rest of the dogs, and that's why you can easily notice them at first glance. The most surprising thing about the big white dog breeds is that their white fur or coat makes them look even bigger than they actually are! It makes a great visual impression and makes their appearance cute. You'll surely instantly draw towards these big fluffy dogs and want to cuddle and play with them.   
Many people assume that big dog breeds are for outdoor activities, hunting, and guarding duties. However, that's not completely true. Nowadays, many people love to live with large dogs as they're perfect companions. 
White is the color of positivity, innocence, and goodness. All of these things perfectly describe these dogs, right! That's why right now, white dogs are one of the most popular dog colors in the canine kingdom.
Do you want to adopt a white dog? There are plenty of beautiful and stunning giant white dog breeds to choose from. So, it may be a little confusing for you. Today in this blog, we've compiled a list of the top 10 popular and giant white dog breeds in the world. 
We've also described their nature, personality, height, and weight. From huge white dogs to big fluffy white dogs, we've covered every type of white dog. So, keep on reading to know interesting things about large white dog breeds.
Top 10 Popular Big White Dog Breeds in the World
Do you know about the world's Largest White Dog Breed? The answer lies in this blog. So, what Qualifies as a "Big White Dog?" Obviously, their weight! We've picked the dog breeds according to two factors: Coat color & Weight. Large white dogs have different meanings to different people. This is because big white dogs include common (Siberian Samoyed) and uncommon (Hungarian Kuvasz, Turkish Akbash) dog breeds. 

We've selected only those dog breeds that have at least 50- 65 pounds on our list. You'll find various types of breeds, including fluffy white, curly white, big white, smooth white. So keep on reading and find your favorite one!
1. Samoyed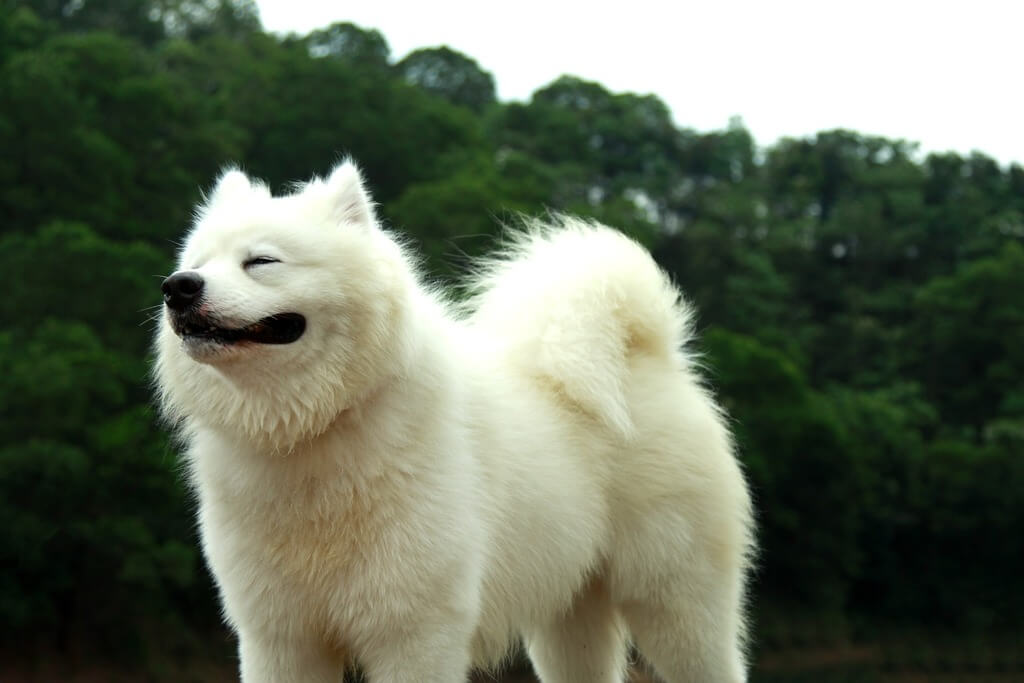 Source: kakaocdn.net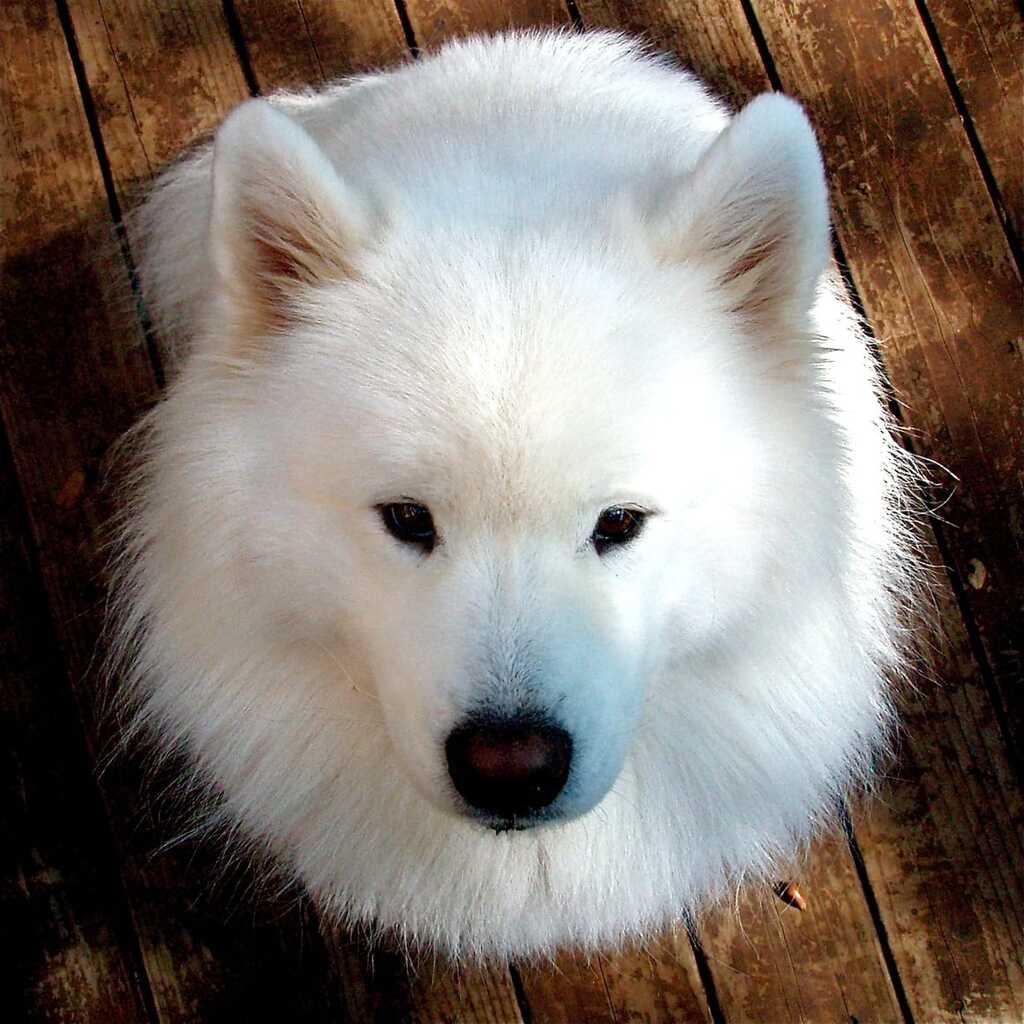 Source: dogsense.co.nz
Breed Overview
Group:

Working (AKC)

Height:

19 to 24 inches

Weight:

35 to 65 pounds

Coat & Color:

Thick double coat; colors include white, cream, and biscuit

Life Expectancy:

12 to 14 years
Samoyed dogs are smart, intelligent, and handsome. This breed has its origins in Siberia (Northern Asia), among the Samoyedic people. With a weight of around 35 to 65 pounds, this puppy is cute and adorable. Another thing that made them extra is their fluffy coat; that's why many people call them 'the ultimate big white fluffy dog.'
A male samoyed has a height of 21 to 23.5 inches, while a female is 9 to 21 inches. The corners of their mouth are naturally pointed upwards; that's why they appear they're smiling all the time. Many people have also nicknamed them "Smiley."
This dog breed comes under a working group. These dogs are powerful and energetic, but they also have a kind heart and friendly nature, which makes them a perfect family dog.
2. Bull Terrier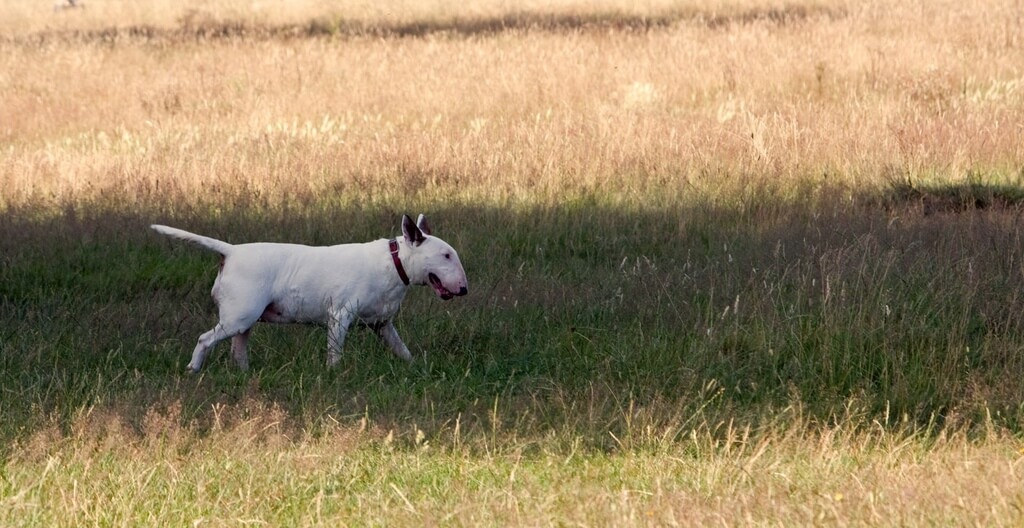 Source: meipic.com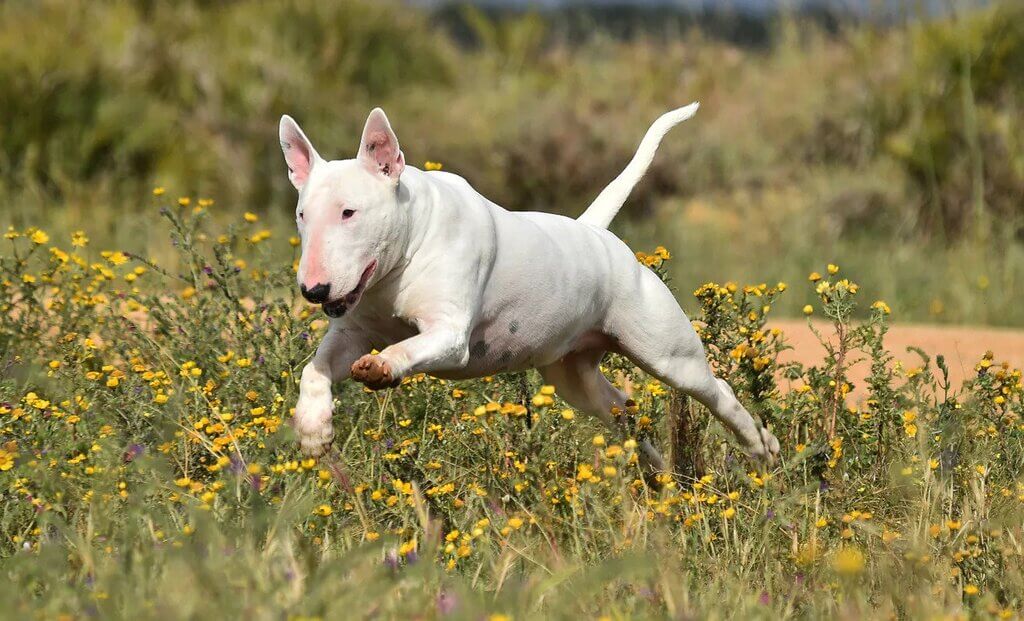 Source: petmd.com
Breed Overview
Group:

Terrier Dogs

Height:

21 to 22 inches

Weight:

35 to 75 pounds

Coat & Color:

Short, flat, and shiny; colors include White, White & Fawn 

Life Expectancy:

10 to 15 years
Bull terriers are known for their trademark unusually shaped heads which are described as egg-shaped heads. These dogs are smart, affectionate, and energetic, and they are available in various coat colors, including white (with or without other colors).
Some of the bull terriers have adorable eye patches or facial masks; however, a completely white one is still rare to see. These canines are medium-sized, muscular dogs weighing 50 to 70 pounds. However, don't get fooled by their muscular appearance and don't think that they will be arrogant. In fact, they're one of the most friendly dog breeds. 
Bull terriers love to go on long walks or play with humans and kids. If you're looking for a companion, get a bull terrier. They'll surely bring lots of color into your life.
3. The Great Pyrenees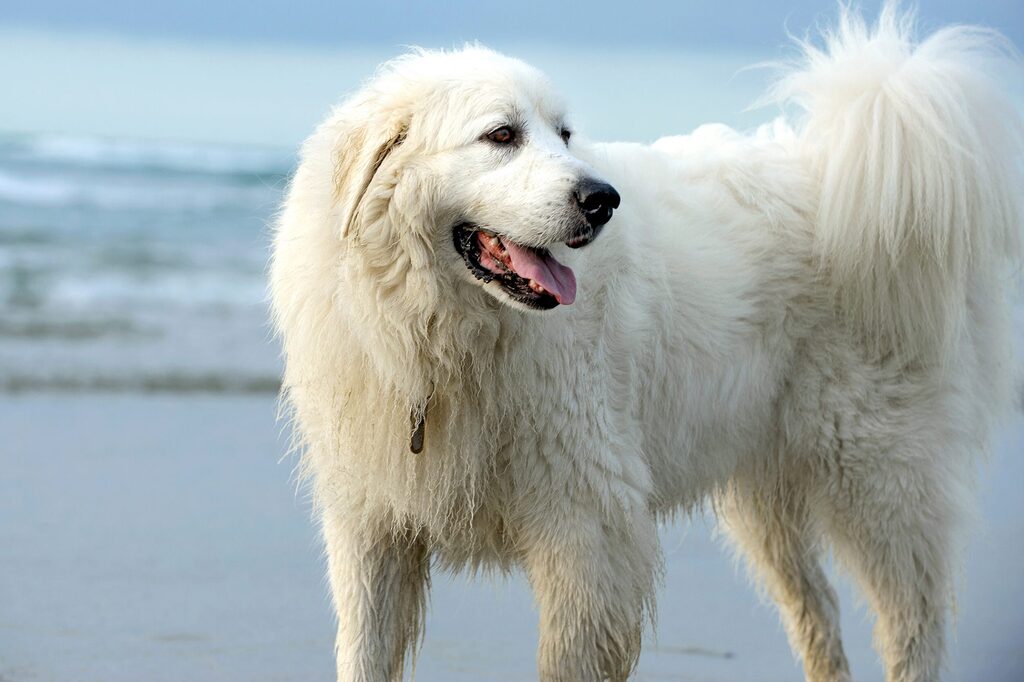 Source: meredithcorp.io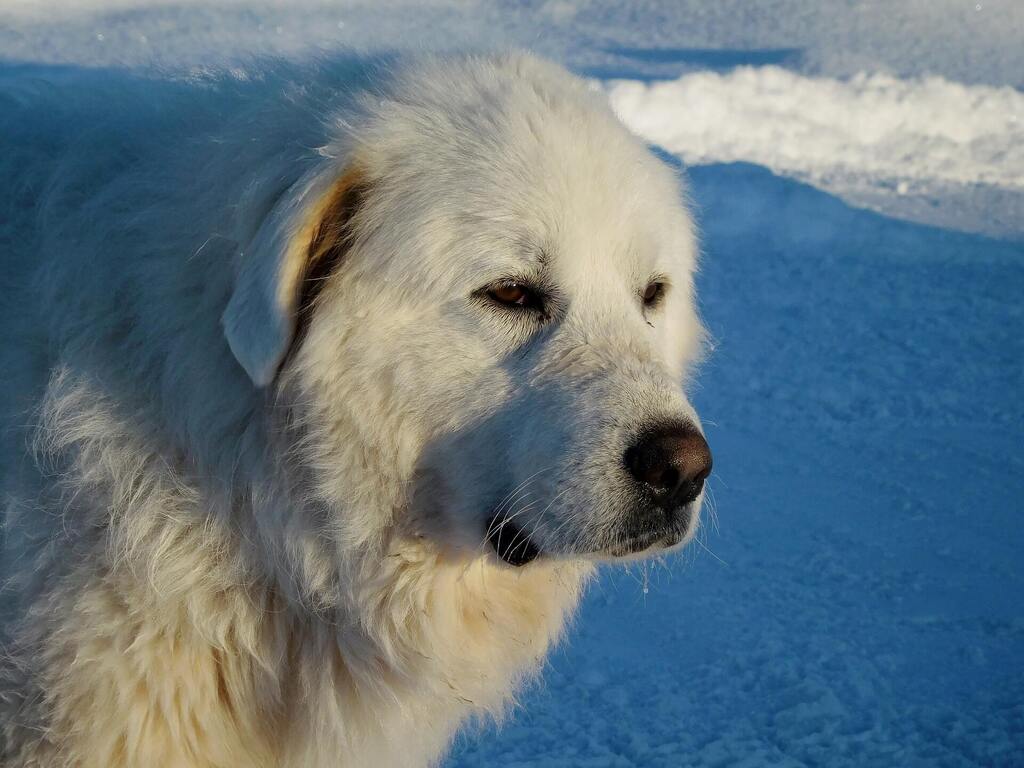 Source: and-pet.jp
Breed Overview
Group:

Working (AKC)

Height:

25 to 32 inches

Weight:

85 pounds and up

Coat & Color:

Thick double coat; colors include white with grey, red, or tan markings

Life Expectancy:

10 to 12 years
The Great Pyrenees is the largest white dog breed in the world. It has its origins in the mountainous regions of France and Spain. This giant dog can weigh around 100 pounds or more and have a thick, double coat of white fur. This makes them so unique and different from the rest of the dog breeds.  
These striking, hard-working dogs were initially bred to herd livestock and assist shepherds in the Pyrenees Mountains. However, they're also great as family companions. These giants and fluffy dogs are gentle and happy. They're always ready to go with you on any adventure. 
4. Dogo Argentino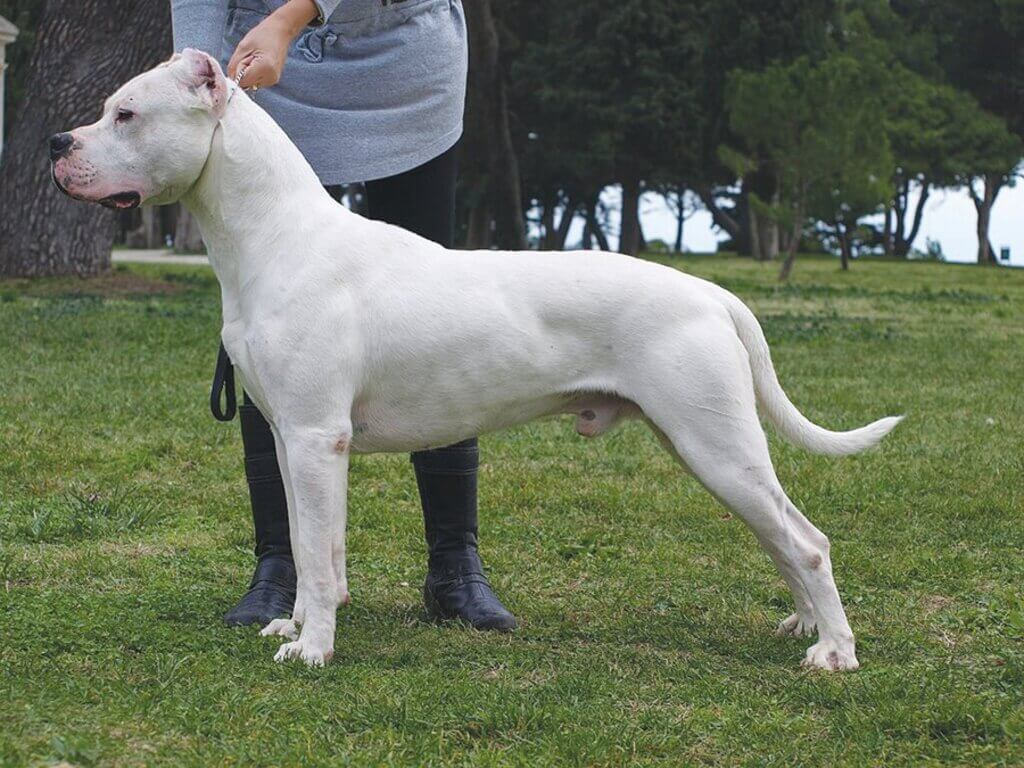 Source: creativecirclemedia.com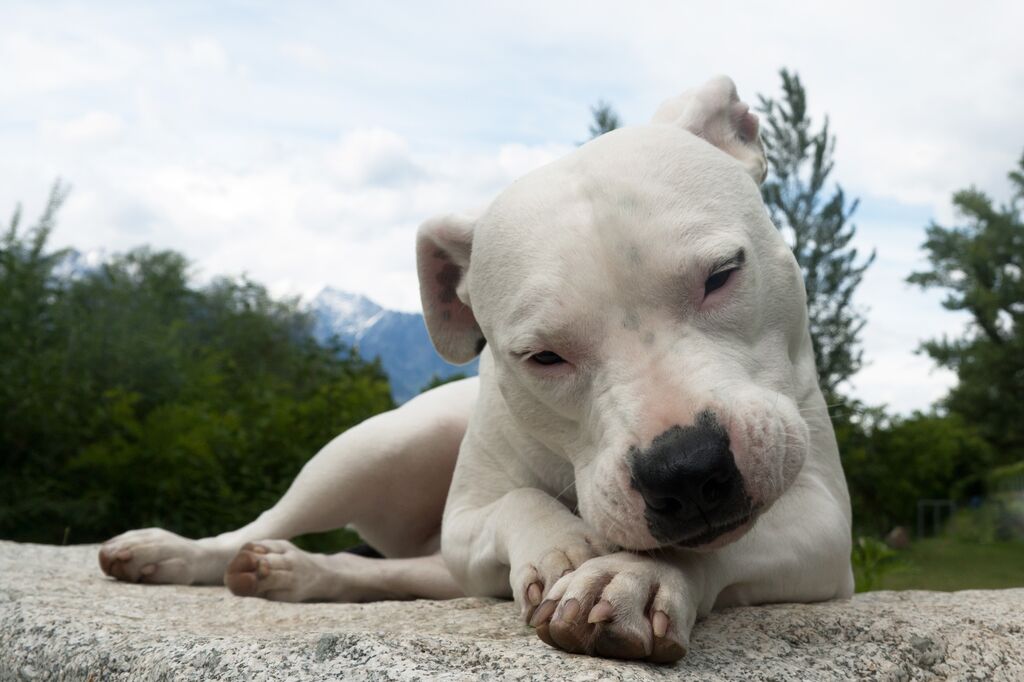 Source: peakpx.com
Breed Overview
Group:

Working (AKC)

Height:

23 to 27 inches

Weight:

80 to 100 pounds

Coat & Color:

All-white, smooth and short coat

Life Expectancy:

 9 to 15 years
Dogo Argentino, also known as Argentinian Mastiff, is a massive white dog breed developed in Argentina. They're considered one of the most powerful white dog breeds in the world. Not only this but Dogo Argentino is also considered one of the most expensive dog breeds in the world.
These dogs are friendly, cheerful, and humble pooch and have a strong muscular build and a smooth white coat.
You'll be surprised to know that this breed results from crossbreeding the now extinct Cordoba fighting dog with nine other canines! They are the Irish Wolfhound, Spanish Mastiff, Great Dane, Dogue de Bordeaux, Pyrenean Mastiff, Boxer, English Pointer, Old English Bulldog, and Bull Terrier.
5. White American Shepherd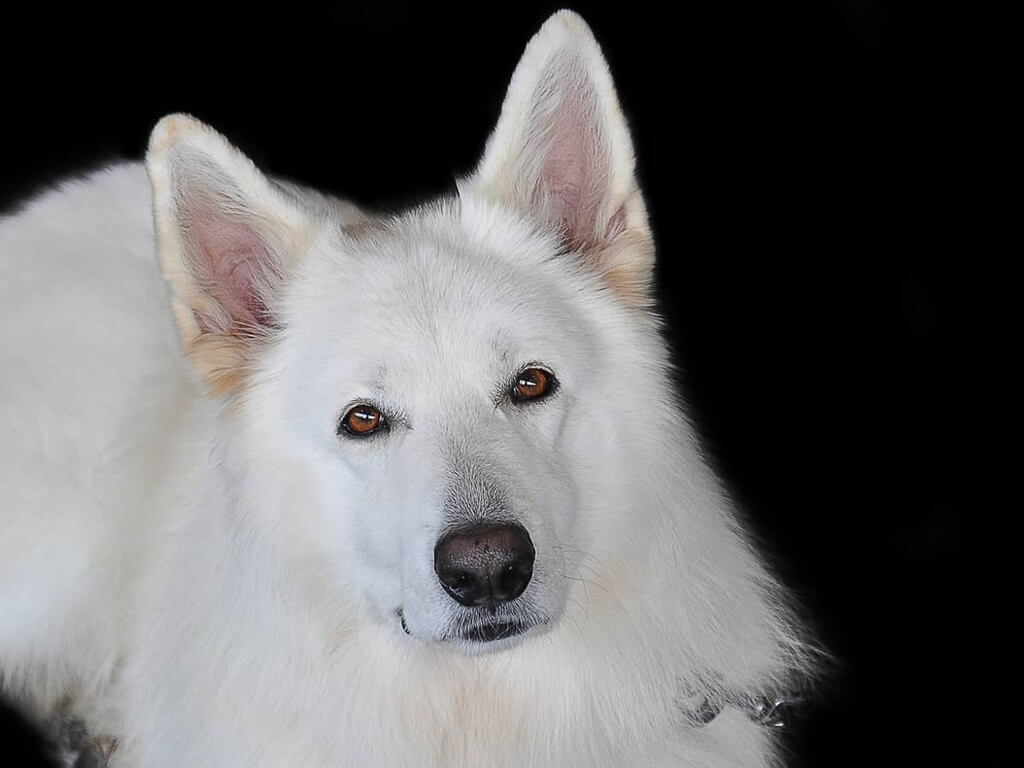 Source: saymedia-content.com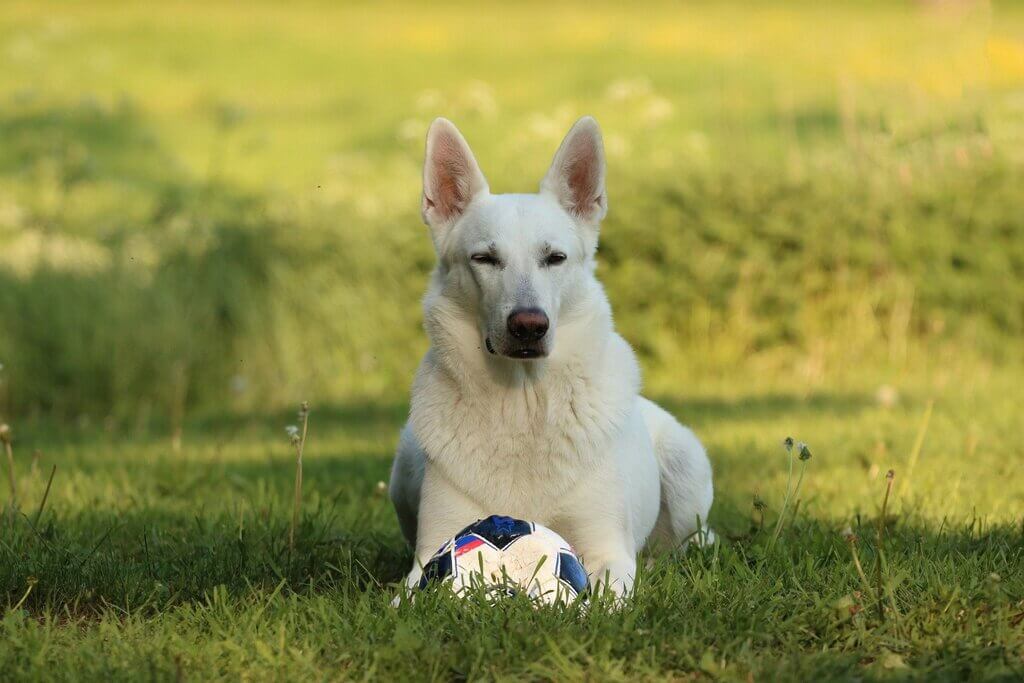 Source: josera.de
Breed Overview
Group:

Herding

Height:

22-26 inches

Weight:

77 to 85 pounds

Coat & Color:

Long white coat

Life Expectancy:

12-14 years
The American White Shepherd looks almost exactly like a German Shepherd except that they have a stunning white coat. This is a new breed that was recently recognized by the United Kennel Club in 1999. 
They're smart, powerful, and excellent at herding and protecting. Swimming, fetch, and running are some of their favorite activities. Hence they are known as running dogs. The White Shepherd is cheerful, obedient, and eager to learn dogs; however, sometimes, they get alert when surrounded by unfamiliar people. 
6. Afghan Hound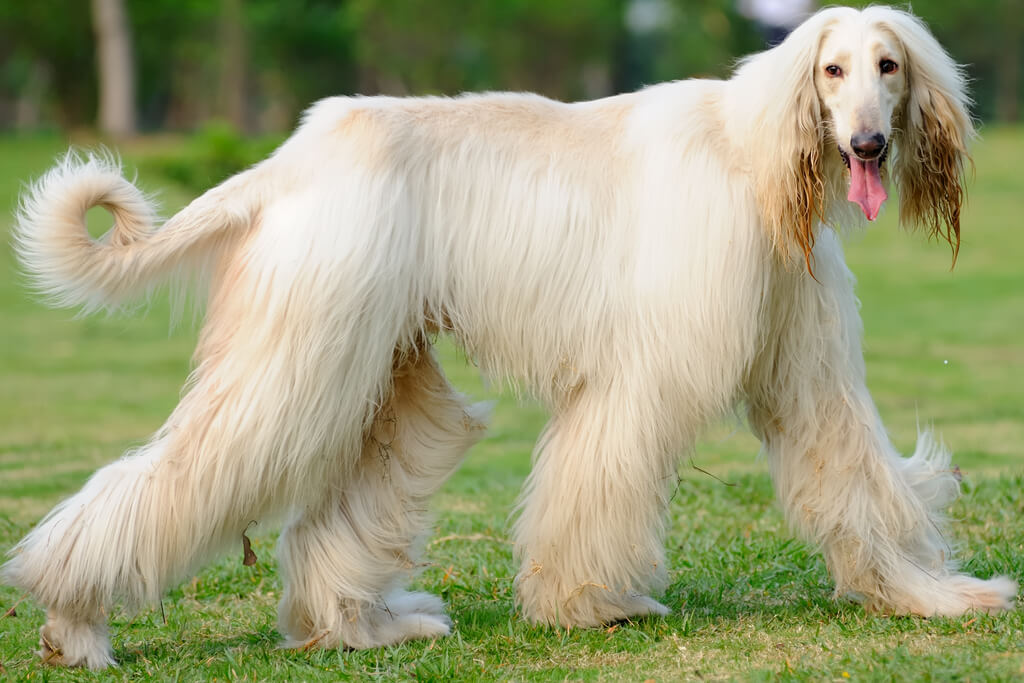 Source: dixon.philly.com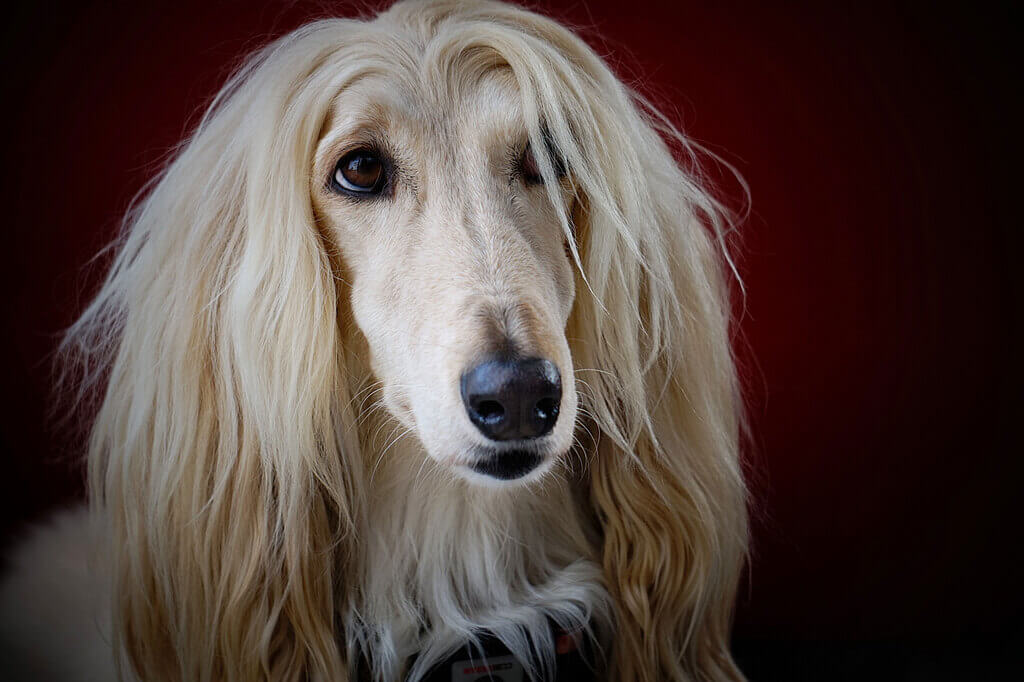 Source: ucraft.net
Breed Overview
Group:

Hound

Height:

25 to 27 inches

Weight:

50 to 60 pounds

Coat & Color:

long; colors include white, fawn, gold/yellow

Life Expectancy

: 12 to 15 ye

ars
If you're looking for a dog with a long and fluffy coat, the Afghan Hound will be the best option for you. This Big white dog breed originated from the regions around Afghanistan, Iran, and Pakistan. They're one of the most famous and common dogs in America. 
Afghan Hounds are loyal, independent, and sometimes stubborn. Due to the gorgeous long coat of Afghan hounds, they're considered the ones with the highest maintenance requirements. 
7. Borzoi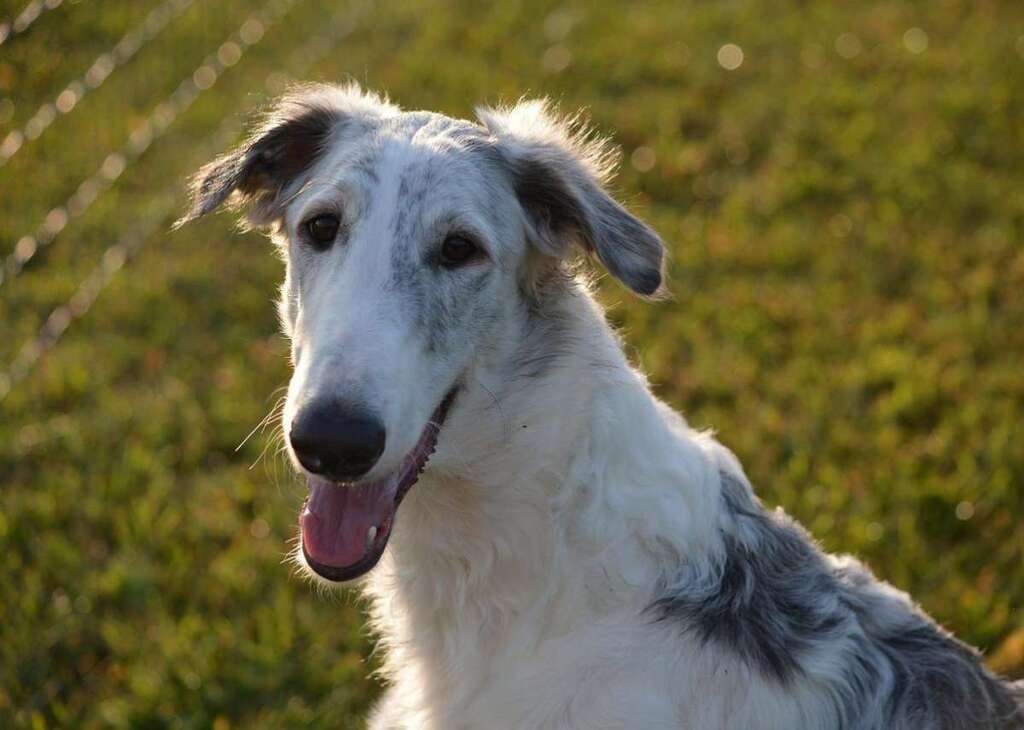 Source: hdnux.com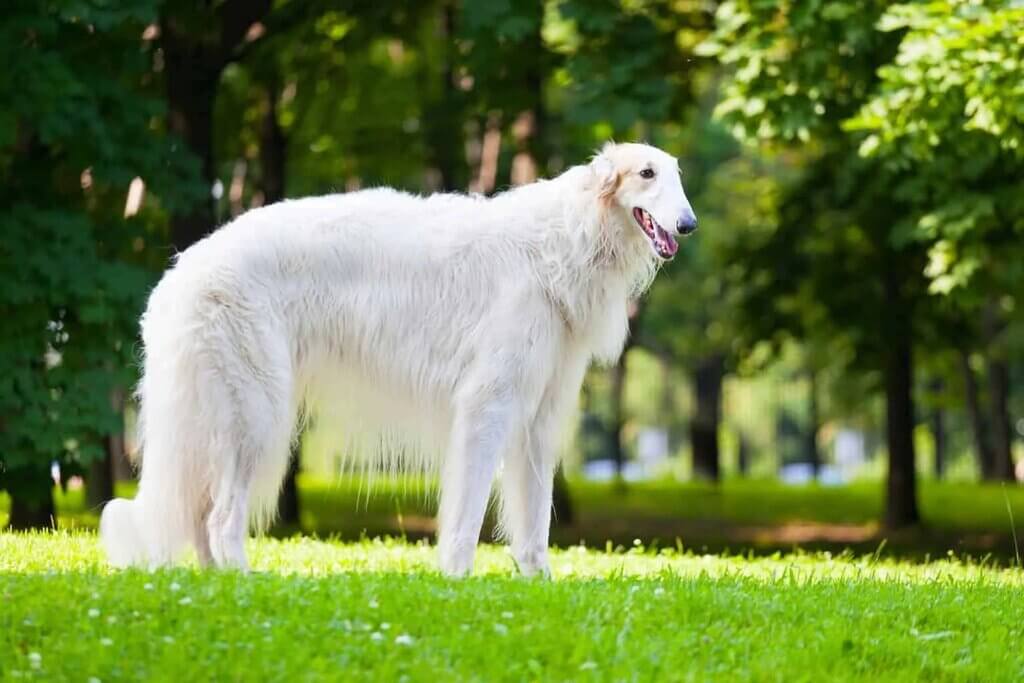 Source: hundeo.com
Breed Overview
Group:

Hound 

Height:

28 inches and above

Weight:

75 to 105 Ibs

Coat & Color:

Long silky; colors include White, Brindle, Fawn, Cream, 

Life Expectancy:

9 – 14 years
Borzoi, also known as Russian Wolfhound, is a great companion who loves to stay with their owners. They're loving and friendly, and chasing other smaller pets is their favorite activity to do.
This Russian dog was initially developed to serve as a sighthound, chasing after rabbits, foxes, and wolves. They're extremely protective and brave; that's why they're not ideal for a family with small kids. 
Russian Wolfhounds weigh between 60 and 105 pounds and are available in many coat colors, including red, fawn, brindle, cream, and black. 
8. Siberian Husky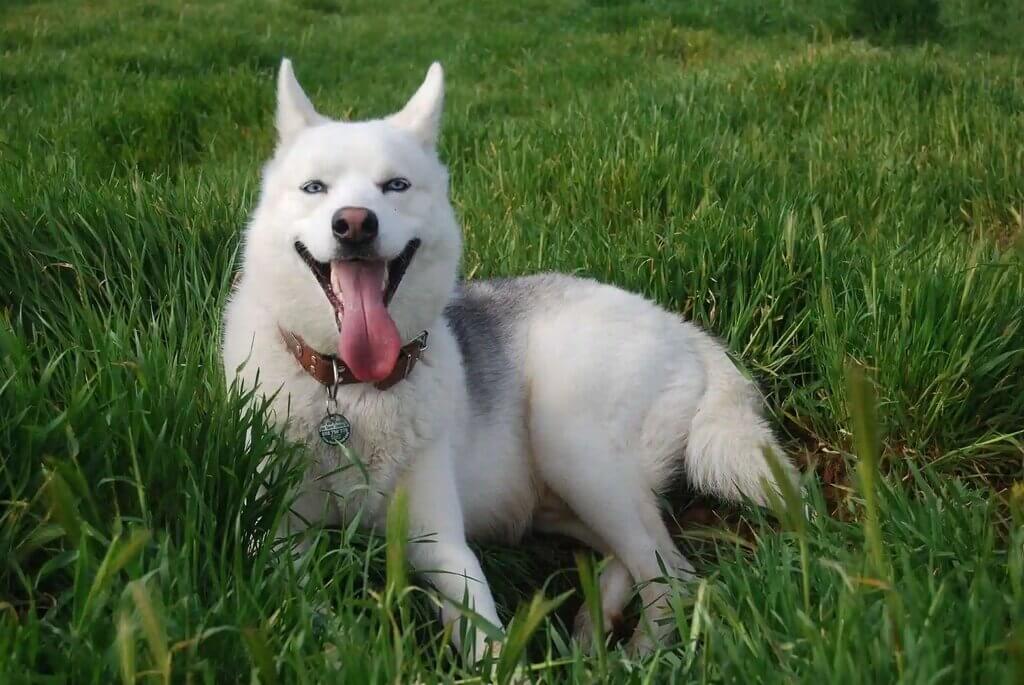 Source: jdmagicbox.com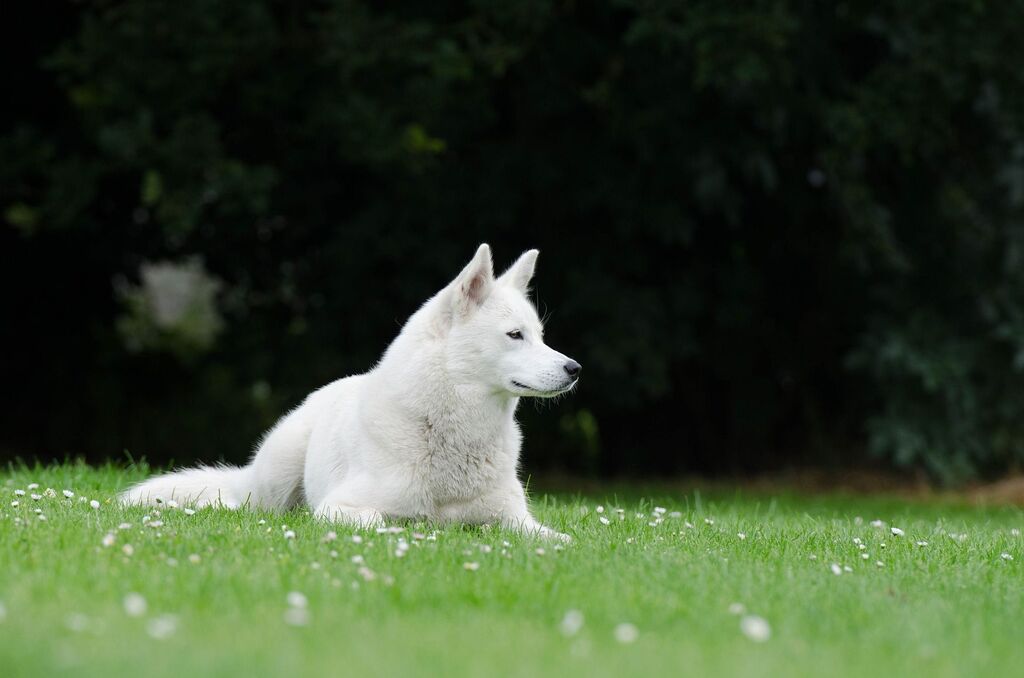 Source: pinimg.com
Breed Overview
Group: Working
Height: 20 to 23 inches
Weight: 35 to 60 pounds
Coat & Color: Double Coat
Life Expectancy: 12 to 15 years
Siberian Husky is outgoing, friendly, and energetic canines with a stunning white coat and mesmerizing ice-blue eyes. They were originally bred by the Chukchi people to hunt.   
Siberian Husky is a hard-working, loyal canine that just loves to play. So, they need a lot of training and exercise to keep them feeling healthy and happy. These huskies weigh about 35 to 60 pounds, with a double coat. They shed a lot; that's why they need excessive grooming and maintenance. 
Also Read: Mini Goldendoodle – An Ultimate Breed Guide (History, Temperament, Health, & More)
9. Akbash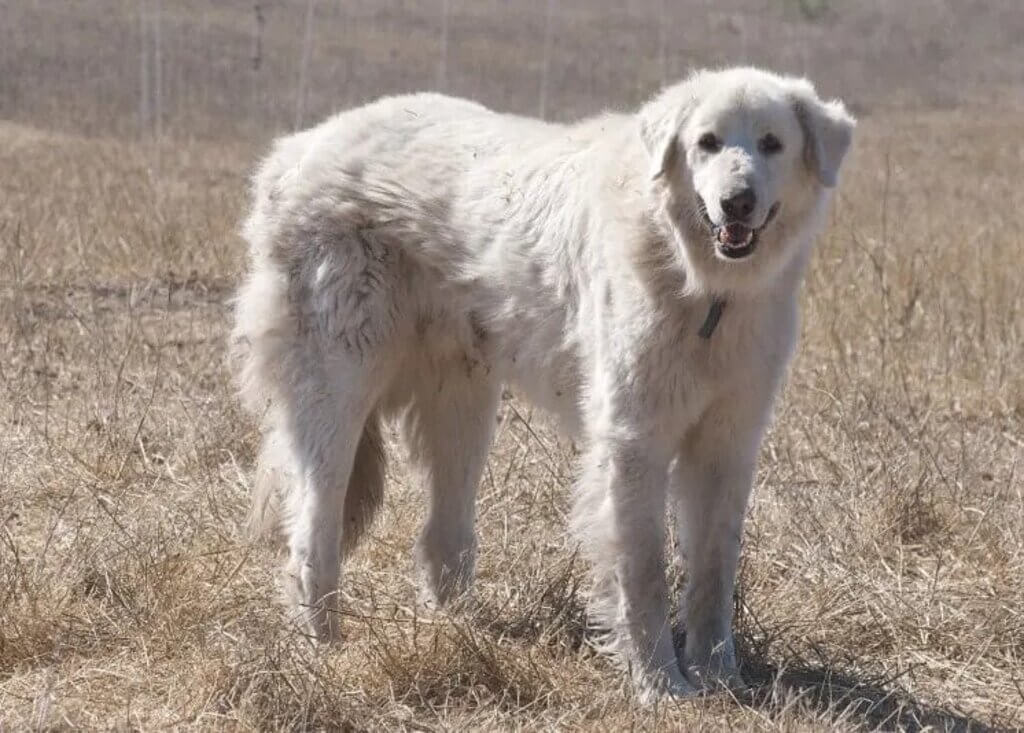 Source: thesmartcanine.com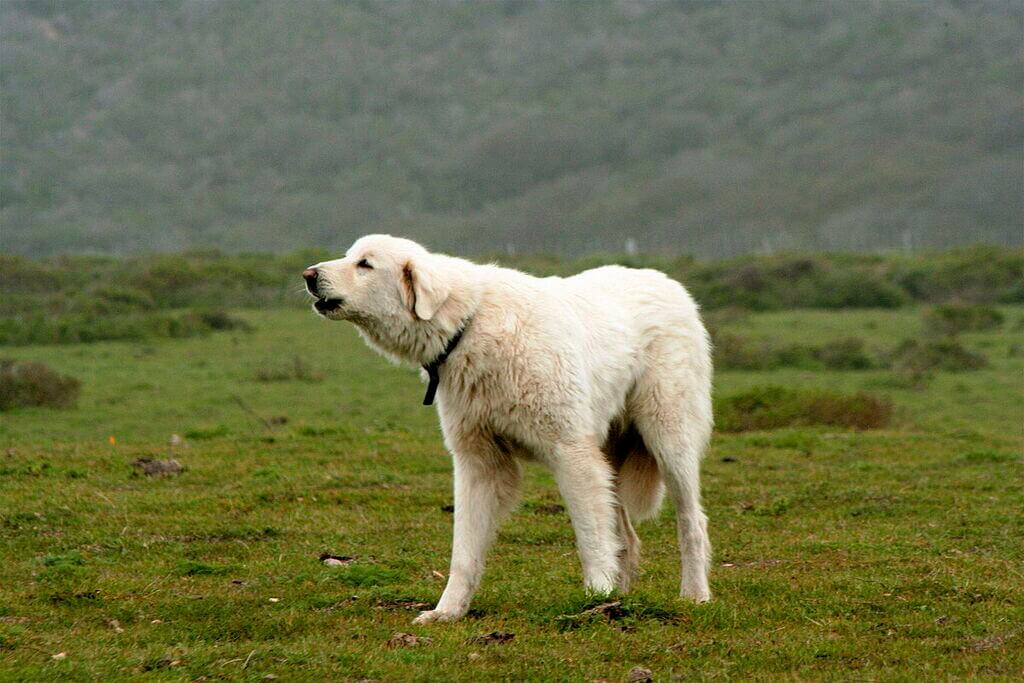 Source: wikimedia.org
Breed Overview
Group:

Working/Herding Dog

Height:

29 – 33 inches

Weight:

100 to 140 Ibs

Coat & Color:

Medium-length double coat

Life Expectancy:

10 – 12 years
The Akbash is a Turkish dog breed that was originally bred as a livestock guardian dog. You'll be surprised to know that they were developed as far back as 750 to 300 B.C. they are huge and have weighed up to 140 pounds.
Akbash dogs are really protective and love being around his family; that's why they're excellent watchdogs or guard dogs. These dogs aren't that social as compared to other breeds. You want the fluffiest white dog; you can go for an Akbash puppy. 
10. Kuvasz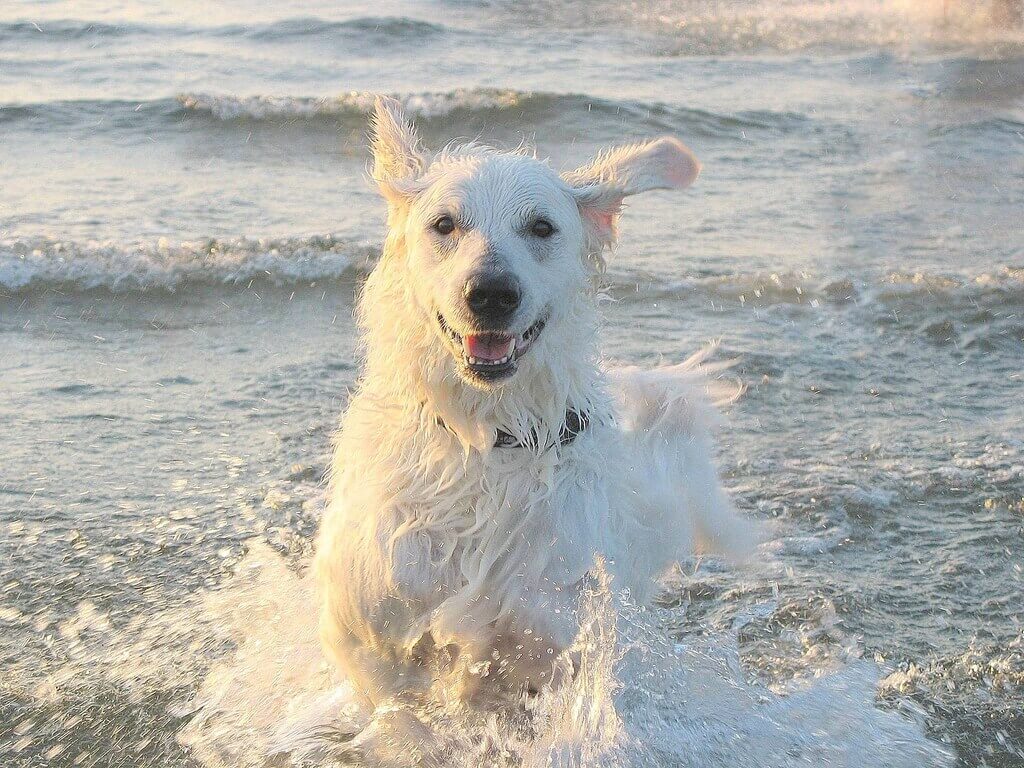 Source: cofman.de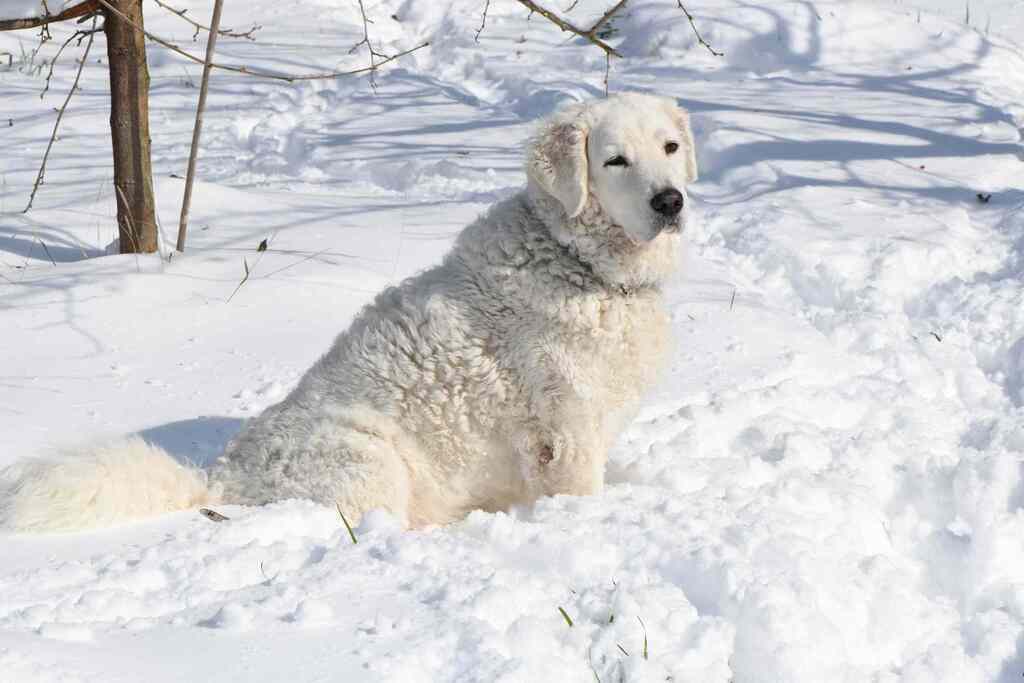 Source: thesprucepets.com
Breed Overview
Group:

Working (AKC)

Height:

26 to 30 inches

Weight:

70 to 115 pounds

Coat & Color:

Thick double coat that is straight to slightly wavy; solid white

Life Expectancy:

10 to 12 years
The last large white dog breed on our list is the Kuvasz. They were bred in the higher mountains of Hungary. They are some of the rare breeds that come in completely white color. These dogs have a dense double coat that's very fluffy. This extra layer of the coat helps insulate them against harsh weather conditions.
Their thick coats are odorless and shed a lot. So, they need regular brushing and grooming. These dogs are from a working breed; that's why they were appointed to be the guardians of flocks for Hungarian kings.
Kuvasz dogs are loyal and profoundly devoted to their masters. If you want a brave, intelligent dog, go with this gorgeous white dog.
The Bottom Line
So this is all about the large white dog breeds. It is fun to have these big white fluffy dog breeds as your companion, but they need high maintenance and grooming. Also, their diet plans are a little different from other small dog breeds. So, make sure to take care of them appropriately and enjoy a happy and energetic friend. 
Another important thing that you should keep in mind while buying fluffy white dog breeds is that these breeds are prone to some diseases such as deafness. We highly recommend adopting a puppy from an animal shelter or from a reputable breeder. This way, you'll be able to get a healthy and happy puppy.
If you are curious to know more about unique dog breeds and their health, read our previous blogs on the top 10 world's most expensive dog breeds, Cavapoo dog breed, Puppy growth Chart, Mini Goldendoodle, and many more. 
I hope you have fun reading about the large white dog breeds from across the world. Share this blog with your family and friends, who love to adopt fluffy, big white dogs. 
For more information on pet care, breeds, or pet foods, visit PetsNurturing.
To get daily updates, follow our Instagram page pets_nurturing.