One can find varieties of dog breeds with various proportions, shapes, and sizes. From small size to large, and from virtuous to horrifying one. If you want a dog who will sit on your lap and with whom you will be most comfortable then go for gentle dogs, and if you desire for awesome giants then muscular dog breeds will be best for you. As the name suggests, muscular dogs are those dogs who are powerful, strong and of course muscular. Some of the dog lovers even go for well-built muscular, robust and handsome dogs. Today, for those crazy dog lovers we are going to give you a list of best muscular dog breeds.
Here in this article, we have mentioned six muscular dog breeds (as we stated above) along with some of its features like height, weight, life span, and breed group. and to add more information we have described their personalities.
Also Read: A Breed Guide on Walrus Dog: Mixture of Basset Hound and Shar-Pei
Without any delay let's move on to the topic,
The American Pit Bull Terrier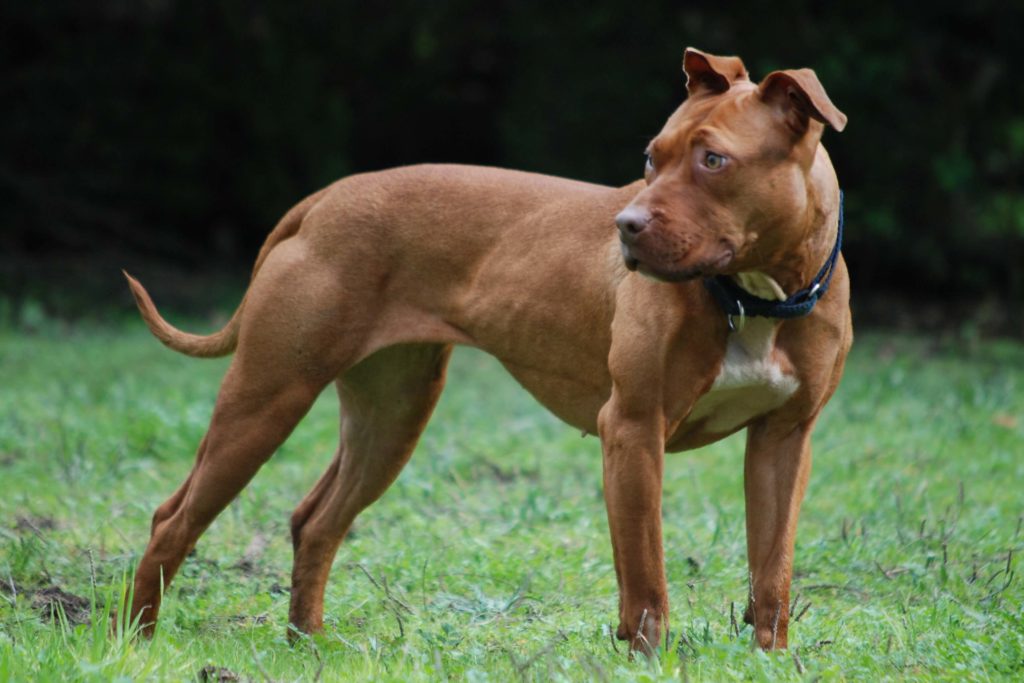 Source: wikimedia.org
Breed Group:- Companion Breed Group
Height:- 17" to 22"
Weight:- 55 to 70 lbs
Life Span:- 10 to 12 years
If you are searching for the best muscular dogs then go for the American Pit Bull Terrier as it comes in the first position of the list. If you give them all the required diet which is needed then you will be amazed after getting the result. Because of their muscular personality, usually, they are used to fight one another, which is outlawed. But now their athletic ability is used in sports like weight pulling and dock jumping. Apart from this, because of their search, rescue power, and loyalty towards the owners makes them one of the best police protection breed. 
The American Staffordshire Terrier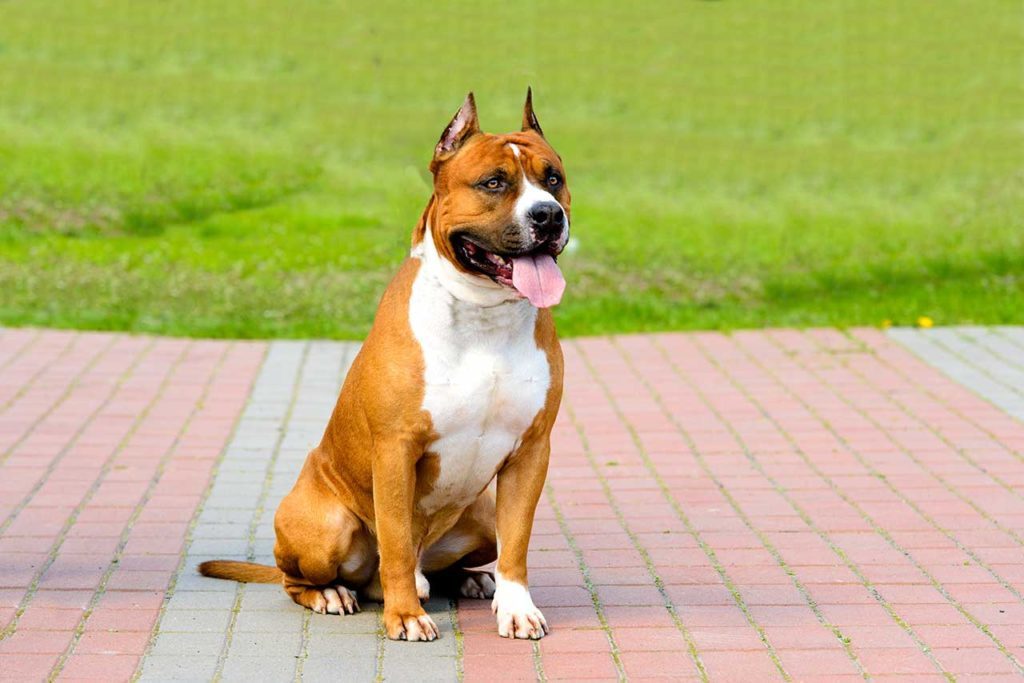 Source: dog-learn.com
Breed Group:- Terrier Group
Height:- 17" to 19"
Weight:- 40 to 60 lbs
Life Span:- 10 to 15 years
The next best muscular dog is the American Staffordshire Terrier. This breed shares its traits and temperature and is similar to the American Pit Bull Terrier. They are also known for their playful nature. Apart from this, they are also famous because of their energetic and wild manner personality, solid structure, agility, and even for the best performance given in the dog shows. This breed is quite dangerous and is needed to keep in cold temperatures during summer days because they have a low tolerance for outdoor temperature. 
Doberman Pinschers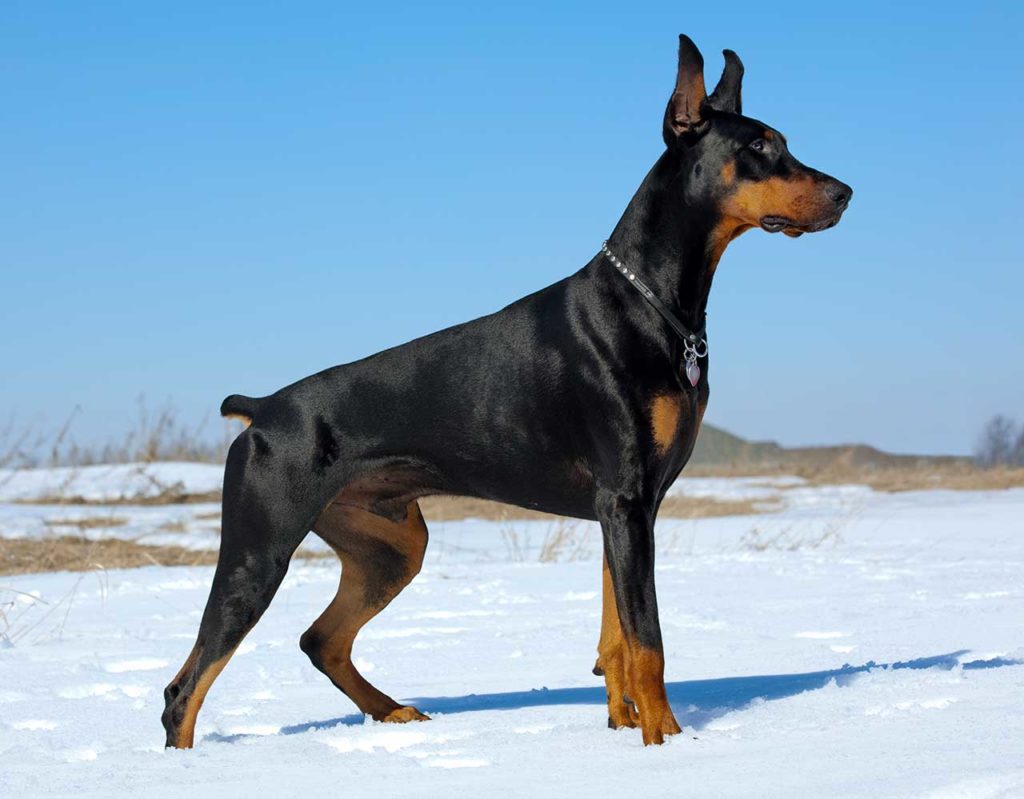 Source: dog-learn.com
Breed Group:- Working Group
Height:- 24" to 28"
Weight:- 77 to 99 lbs
Life Span:- 9 to 12 years
They are mainly trained to perform the functions of guard and police dogs. But their arresting personalities have impressed many dog lovers so they have trained them as family pets. While getting the training, they are extremely responsive and mentally alert. You will often watch the Doberman Pinschers on dog shows, movies, television and many more. 
Boxers
Source: bestdogfoodforboxers.com
Breed Group:- Working Group
Height:- 21" to 25"
Weight:- 55 to 71 lbs
Life Span:- 9 to 15 years
The American Boxers owes the origin to the Mastiff type of dogs and an adorable family dog. They are terribly stubborn, energetic and headstrong, and very suspicious of strangers. These qualities make them eligible guard dogs. Their jaws are very strong and hence, they have a powerful bite. Therefore, they keep hanging on the large prey. They are very strong and active and need constant exercise to prevent bad behavior like licking, digging, and chewing. According to the studies, in the United States, they are in the 7th position in the list of the most popular breed of dogs. Therefore, you should go for a good training session so that you cannot lose control over your dog.
Rottweiler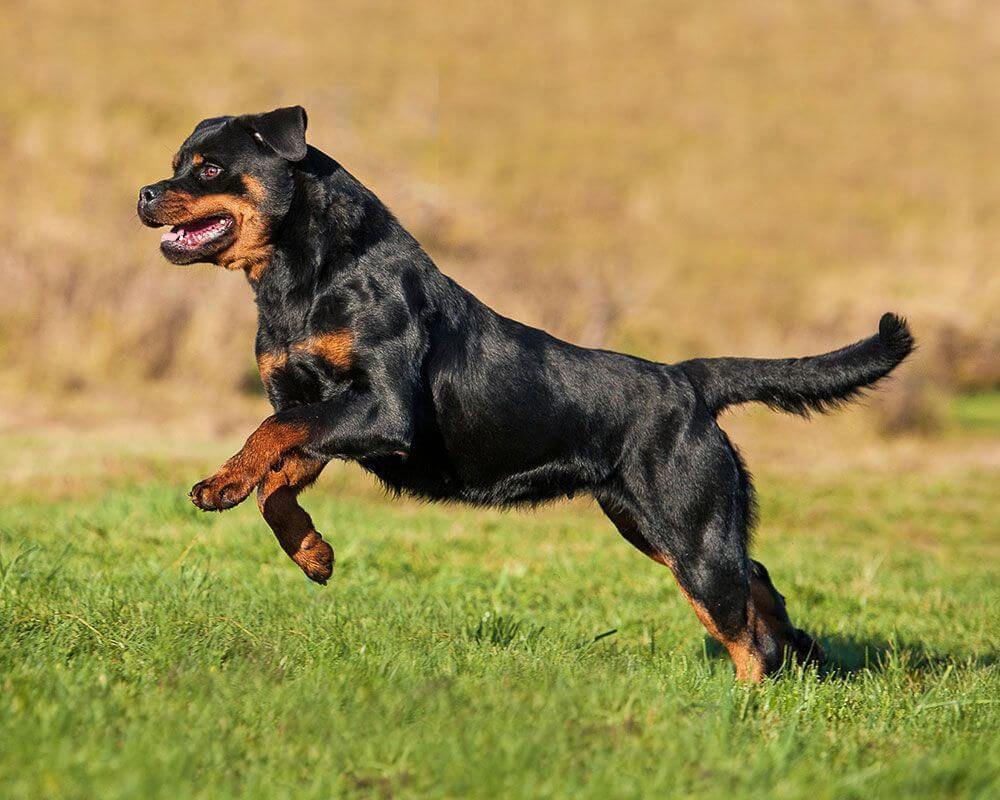 Source: pinimg.com
Breed Group:- Working Group
Height:- 22" to 27"
Weight:- 77 – 132 lbs
Life Span:- 8 to 10 years
A dog with perfect herding and protecting skills is slightly aggressive towards other animals. You will need to be firm and confident while giving them training. They were used to pull carts and herd the livestock, but then they also worked as rescue and police dogs. They have tough looks but a big soft heart. You will love to have them around. Make sure you give them training and socializing them at an early age is a must. Confident, intelligent and loyal are some of its personality traits.
Dogo Argentino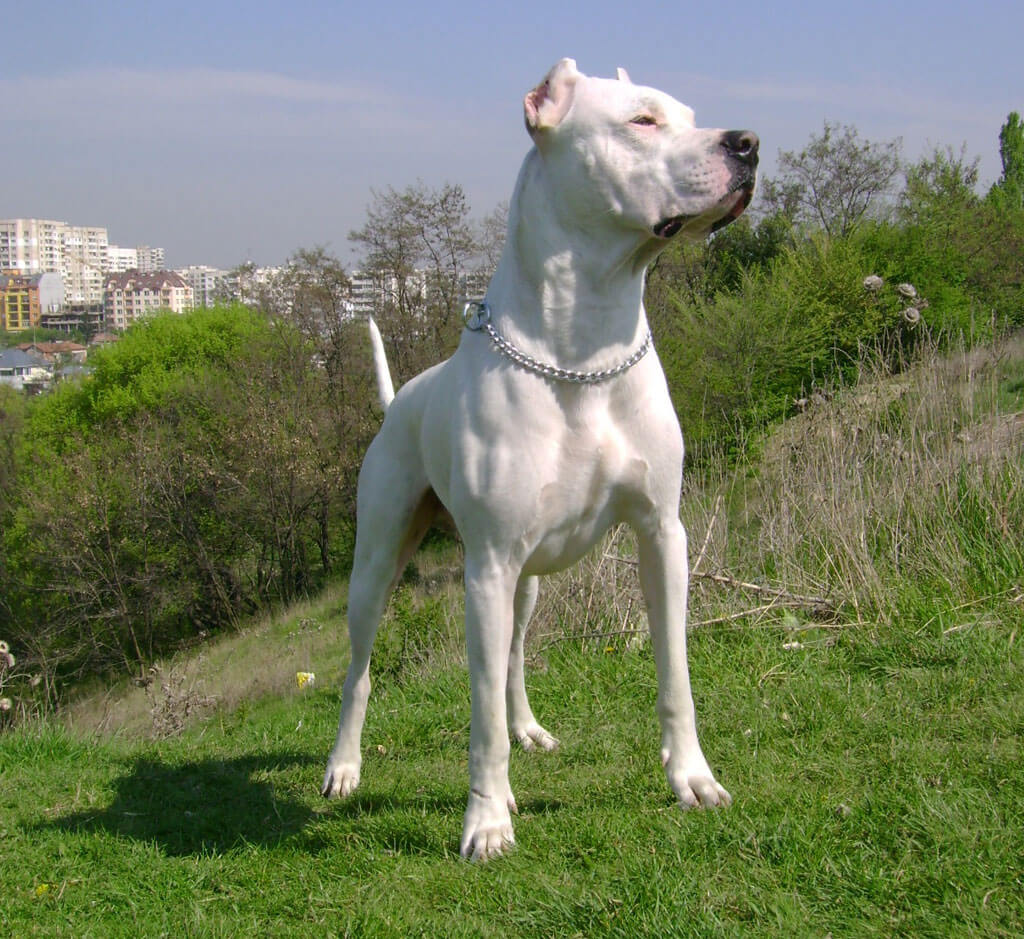 Source: mascotarios.org
Breed Group:- Working Group
Height:- 24" to 27"
Weight:- 80 to 100 lbs
Life Span:- 10 to 12 years
Dogo Argentino, a mastiff breed dog, bred for hunting. They are enough brave and tough dogs to pick up a fight with larger animals and defeat them too. They will do anything for their master and loved one, and this makes them loyal as well as best guard dogs. But this smart enough dog needs quality time with its owner, in order to stay calm and well-mannered. It doesn't have a six-pack body, but it is muscular enough to attract the eyes of many.
Final Outcome:-
All you need is a Muscular dog with you to protect yourself from dangers and have the attention of people (oh, by the way, attention will be towards your dog, not you!). Above were the six muscular dog breeds that make an excellent companion as well as a guard dog. Hurry up & finalize that is your type!
For more information on breeds, visit Petsnurturing.